Internal Bifold Doors
Internal bifold doors (also called internal folding doors, internal sliding doors or concertina doors) are fantastically flexible. They allow you to create an open plan living space that can be divided into smaller spaces if necessary. You get the best of both worlds when you buy an internal bi fold door from Vibrant Doors! Our high-quality wooden interior folding doors are designed to give a feeling of warmth and cosiness. Fitted with clear or frosted glazed panels, they allow natural light to flow throughout your home.
From £111.66 - £1,409.00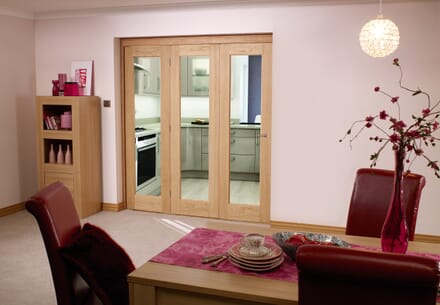 Our Roomfold Standard range of internal bifold doors offers a top hung internal folding door without base track allowing your flooring to flow through between 2 rooms.
Features:
1681mm to 4188mm
Clear or frosted glazing
Best for value
No base track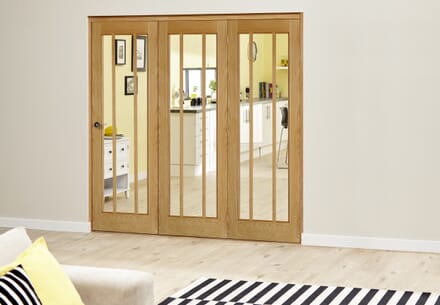 Quality Internal bifold door system from Climadoor, includes matching frame low level threshold, guides and drop bolts. Allows bigger panel sizes and wider range of openings.
Features:
1620mm to 4662mm wide
Clear or frosted glazing
Smooth operation
Low-level bottom guide track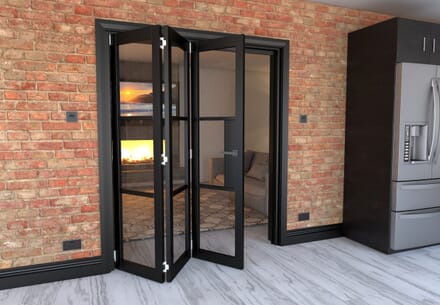 Roomfold Grande internal folding door systems, with adjustable high grade stainless steel hardware and no tracking at floor level for openings up to 4000mm wide.
Features:
1135mm to 3901mm wide
No base track
Superior grade hardware
Largest choice of opening options
Available In: White / Oak / Black
Black Heritage Roomfold Grande
This luxury internal bi-folding door system offers the style enthusiast the crème-de-la-creme of internal folding door systems, with these ultra-modern black glazed internal doors. Our Roomfold Grande range stands a step above the rest, offering high-quality stainless-steel hardware, no track at floor level and bigger door panels, living up to its Grande name. You can be assured that we only use the best quality materials for our door systems, with solid core engineered oak doors and toughened clear safety glass and high-quality hardware from Brio UK, the UK's biggest internal folding door system hardware supplier.
Prices from £559.00 - £1,409.00
View Range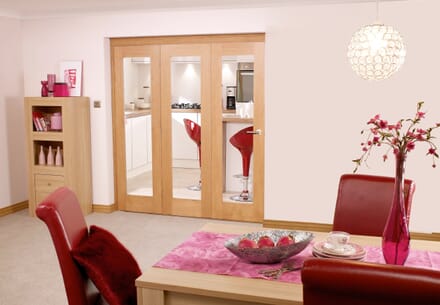 900mm - 4700mm
Beautiful internal bi-folding door sets in prefinished or unfinished oak. The Climadoor collection of oak internal bifolds are exceptional value for money and offer all the options you need. Browse the collection today and find the perfect internal bifold for your home.
900mm - 4700mm
Clean and light, white primed internal folding doors are ideal for any home. With a smooth factory primed finish these doors can either be left white or painted in a colour of your choice. Browse the range below and find your perfect internal bi fold doors today!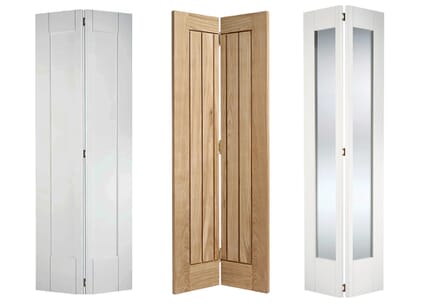 610mm - 914mm
Ideal for smaller homes, single bifold doors are the perfect space-saving solution. We have a range of slimline bifold doors designed to suit smaller openings, available in oak or white finishes with glazed or solid panels. All doors are supplied with fitting accessories (exc. frame hinges) and full instructions.
Internal bifold doors are interior doors that fold back panel by panel, rather than opening out on a standard hinge like traditional French doors. Depending on the size of the opening, you may have three or four panels. Internal bi fold doors are fantastic for creating a seamless transition between rooms, perfect for lovers of open-plan living spaces!
We are delighted to offer a wide range of designer oak internal bifold doors with glass for you to choose from. Whatever the style of your home, we're sure that there's an internal bi-fold doors system for you. From Roomfold Standard to Roomfold Deluxe folding internal doors, we've a variety of traditional and modern styles, all with a 10 year guarantee. You really are spoiled for choice!
Internal oak bifold doors are a fantastic way to connect the living spaces in your home, whether it's kitchen to living room, dining room to playroom or bathroom to bedroom. They're stylish, elegant and hardwearing and look great in both new build and older homes.
For smaller spaces and openings, we also offer a wide range of single-leaf internal bi fold doors, available both with and without glass. These single internal folding doors are ideal for small kitchens or bathrooms where a full-width door may take up too much space. Like our multi-panel interior bifold doors, these single doors are available either glazed or unglazed, and prefinished, white primed or unfinished.

Bifolding Doors and Open Plan Living
If you have limited space in your home or you want to create storage space or division between rooms, internal folding doors are perfect for you. They act as stylish and contemporary room dividers. Their glass panes provide an unobstructed view whilst also creating clear spaces with privacy and sound-proofing. Open your folding doors up for spacious living and easy access, and close them to create interior partitions or 'zones'. Use your internal bi fold doors in combination with sidelights to create a "wall" of windows and really let light flow through.
Made to Measure Bifold Doors
Our bifold internal door systems are available in a wide range of sizes. However, if you've got a door opening that's awkwardly sized, we also offer bespoke internal bifold door sets. Give us a call to discuss your requirements.

Folding Door Hardware & Accessories
Our high quality solid timber internal bi folding doors are supplied complete with frame, track and running gear, all in an easy to assemble kit for quick installation. As there's no base guide on the NUVU Roomfold, and a low-level base guide on the Climadoor Roomfold Deluxe, you can enjoy a wider choice of frame sizes and door panel sizes. When it comes to door furniture, we supply our bifold interior doors without door handles and drop bolts so that you can match them to the existing handles on your current doors and windows.

Choice of Internal Folding Door Finishes
Timber is our specialty, so you can be assured that our oak veneer and white primed bifolding doors options are of the highest quality. Choose from pre-finished or unfinished to suit your budget and requirements.
Unfinished Interior Bifold Doors
If you want to completely customise your new internal bi fold doors, then opt for unfinished oak. This allows you to stain, paint or varnish the doors to match your home's decor. Our unfinished bifold doors are ideal for experienced DIYers or those who want a fully custom look.
White Primed Bifold Doors
Our white primed internal oak bifold doors come with an immaculate white factory primer finish. They can be hung as they are for a bright, clean look, or finished off with a coat of paint in the colour of your choice.
Pre-finished Internal Bifold Doors
If you're looking for doors that can be hung with minimal fuss, then our fully-finished bifolding doors are the doors for you. Finished with a smooth factory-applied lacquer to show off the beauty of the oak veneer, they'll save you time as you won't need to wait for paint or varnish to dry. All you need to do is fit the handles of your choice and you're good to go.

Glass-Paned Folding Concertina Doors
One of the reasons so many people opt for installing interior bifold doors sets is their glazing. Large glass panels create a light and open look. Clear panels provide an unobstructed view throughout your home whilst frosted panels allow light flow while also protecting your privacy. These concertina style folding doors are popular for kitchen, office space, living room and dining areas but internal glazed bifold doors can also be installed in bathrooms and bedrooms.
All our glazed bifold internal doors come fitted with toughened glass for safety, so there is no need to worry about children and pets. They're also energy efficient. All our internal bifolding doors have low u values so they'll keep the heat where it's needed. So, if you're looking for a new, high-quality oak internal glass door that'll add a touch of class, elegance and plenty of natural light to your living space, look no further! Buy your new internal bifold doors from Vibrant today.
Take a look at our information section for internal sliding door fitting guides, FAQs, troubleshooting tips and more.
Buy Bifold Doors Online from Vibrant
We've got a lot more bi fold doors and timber doors to choose from. Complement your new bi folding internal doors with our range of solid oak internal doors. or internal French doors. If the outside of your home could do with a face-lift too, why not check out our range of high-quality external bifold doors online or read our guide on how to choose the best material for your bifold door? All our doors come with a comprehensive guarantee against manufacturing defects, and you'll get free UK delivery on orders over £750.
Articles & Information
Looking for more information?
If you have a question about which isn't covered by one of our handy guides, why not drop us an email and we'll be happy to assist.
Contact Us