Internal Pine Doors
Pine is a naturally beautiful wood that works perfectly with traditional decors due to its soothing, warm, yellow tones that make for a relaxing environment, which is precisely what a home should be. It's also incredibly versatile as it can be simply varnished to show off the natural grain, or painted or stained to suit your decor. It's also lightweight, yet strong, making it perfect for day to day use.
We stock a range of pine internal doors with options that celebrate the knots, showcasing them in all their glory, as well as doors that are more subtle and suited to modern spaces. Shop the range below.
Our Internal Pine Doors Range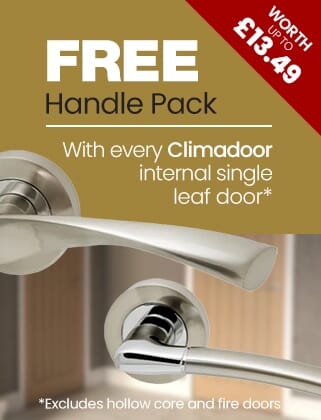 Filter Products
Internal Pine Doors at Vibrant Doors
What Are Pine Internal Doors?
Pine refers to the wood used to create these stunning doors that are installed inside your home, as opposed to your front or back door. This material makes for an incredibly lightweight door with the same insulating properties you'd expect from hardwood products.
The great thing about this material is that we can really celebrate its untouched beauty with the light naturally-occurring grains and knots that help you feel closer to nature whenever you're near them, perfect for a more rustic, lived-in look.
What Is Knotty Pine?
Knots are those darker circles that naturally occur in wood. They are sort of their own decoration and can either be left as it is or put through a staining method, for example, to increase the luxury and elegance of such a simple but beautiful material.
The pine interior doors we stock are unfinished, making them perfect for staining or painting (although you will lose the natural beauty of the wood if you paint over it). We recommend staining or varnishing to showcase the natural beauty of the wood.
What Is The Difference Between Clear Pine And Knotty Pine?
The term 'clear pine' refers to a pine internal door that has 'removed' those characteristic knots we mentioned earlier. This creates more of a modern and contemporary look rather than the more rustic, knotted look which solid pine doors are known for.
Advantages Of Pine Doors
There is a multitude of benefits to choosing internal pine doors. They are:
naturally beautiful

incredibly cost-effective

smooth to the touch

soft and mellow in appearance

strong and durable, yet lightweight

easily updated through staining or painting
And so much more.
Why Buy Pine Internal Doors From Vibrant Doors?
Whatever living space you're upgrading with a pine door, you can really add your own personal touch to our unfinished products. Whether you choose to stain, paint or prime and leave it as is, you can enjoy our beautifully manufactured doors from well-known brands such as XL Joinery, LPD Doors and more.
All of our high-quality versatile doors are available at fantastic prices and come with a ten-year guarantee.
We stock a variety of styles to suit any home including knotty and clear pine internal doors with up to six panels. If you want to encourage the natural flow of light, we also stock glazed options, including:
Clear glass.

Clear bevelled glass.

Decorative glass.

Frosted glass.
As well as a variety of unglazed options, if you prefer the solid pine look.
Please browse our selection of internal pine doors and get in touch if you have any questions at all.