Patio Doors
Patio doors can help to create an easy flow between your outdoor and indoor living space, as well as letting lots of natural light into your home. If you enjoy spending time in your garden or on a smart patio area, getting the right patio door will make a huge difference. Many external patio doors consist of large, double glazed glass panels that let in sunlight when closed and slide or fold open to connect to the outdoors almost seamlessly. Our range of patio doors includes external folding doors, sliding doors and exterior French doors. Browse our selection below and buy your new patio doors online today!
More Patio Doors Ranges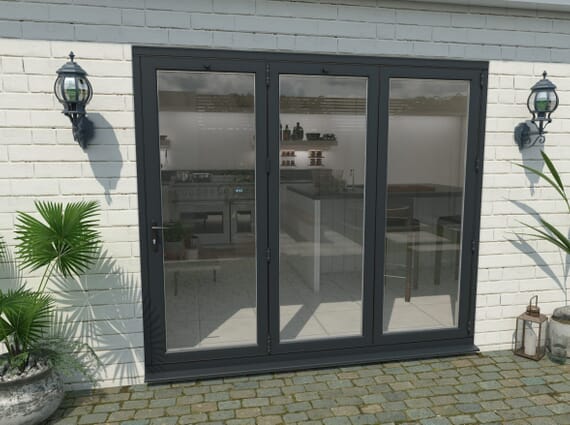 Aluminium is a popular choice for patio doors. It's lightweight, strong, thermally-efficient and stylish. Our aluminium patio doors are perfect for adding a contemporary touch to your home. Slim frames and large double glazed panels give you the best possible view of your garden or patio, and let in plenty of natural light. Browse our thin frame aluminium patio doors range below and buy your new glass doors online today!
View Range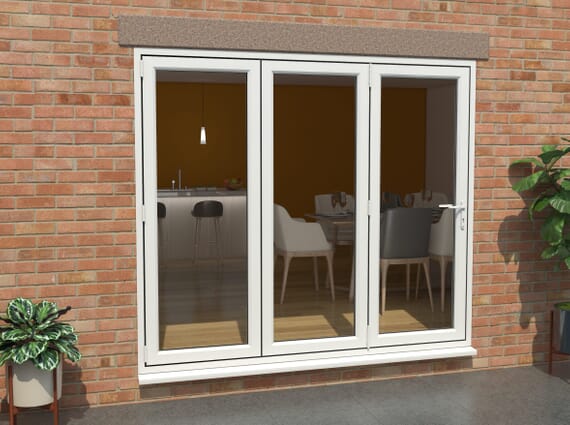 Looking to give your garden or patio a bit of an upgrade? Look no further than our great range of uPVC patio doors! Whether sliding doors, French doors or external bifold doors, you're spoilt for choice.
View Range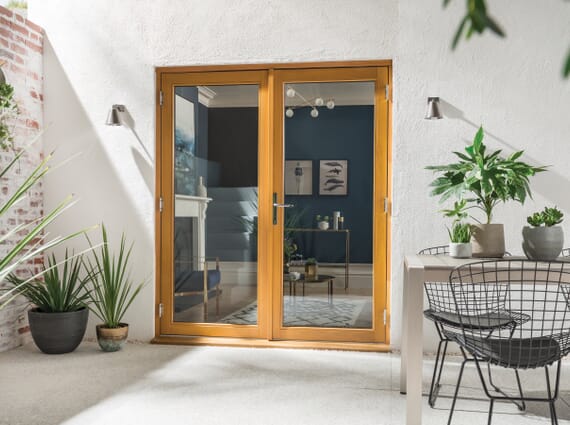 Upgrade your patio or garden with a stylish set of wooden patio doors from Vibrant. Patio doors are designed to give you easy access to your outdoor space and to let plenty of natural light into your home, and these doors deliver on both counts! Whether you're looking for French doors or bifold doors, your search for the perfect wood patio door is over. Browse our timber external glazed doors range below.
View Range
---
Here at Vibrant, we have a fantastic selection of external glass patio doors for you to explore, from 2-panel sliding patio door systems to multi panel bifold door sets. Make the most of your outdoor space and shop our range today!
What Are Patio Doors?
Patio doors are basically any doors which open from your home, giving access to your garden or patio area. Usually the term is taken to mean a door which features some sort of glazing, whether this is large single panels (as in a bifold or sliding door), or multiple smaller panes (as in some French doors). The glazing allows plenty of natural light into your home and allows you to have a great view of your outdoor space.
The term "Patio doors" is a general one, covering sliding glass doors, bifold doors and French doors. These are simply different styles of patio door. Sliding glass doors open by sliding past each other along a track. Bifold doors, also known as folding sliding doors or concertina doors, also sit within a track, but fold back on themselves before sliding to one side. French doors simply open outwards from hinges.
Our Range of Glazed Patio Doors
We have a wide range of high-quality patio door products in a variety of styles, materials and colours, for you to choose from. From classic white aluminium external French doors, to space-saving sliding patio doors and bifold patio doors, you're sure to find the ideal option to make the most of your outdoor space. We also have a selection of uPVC patio doors, hardwood patio doors and aluminium patio doors to choose from, if you're looking for something fresh and modern. The, quality, energy-efficiency and low-maintenance upkeep of these patio doors make them a smart and cost-effective option, while the slim frames ensure you'll get the best view of your patio or garden.
French Patio Doors with Side Windows
If you want to maximise the amount of light into your home, why not consider adding sidelights to your patio doors. All of our French patio doors can be customised with side windows for a light, modern and airy look.
White, Grey or Black Patio Doors
Our glass sliding patio doors, French patio doors and bifold door systems are available in a range of colours. With our uPVC external doors you can choose from black or white, and our aluminium doors are available in black, white or grey. Of course, if you would like another colour to match the decor or style of your home, just let us know!
Patio Door Sizes
All of our external patio door systems are available in a choice of standard sizes and panel configurations to suit your needs. From simple 2 or 3 panel bifold or sliding patio doors, to larger 5 or 6 panel patio door systems, we have something to suit every door opening. If you're looking for something a bit more bespoke, we also offer made to measure patio doors for larger openings.
How Much Do Patio Doors Cost?
Our patio doors prices start at just £499, making them incredibly affordable. The cost of your new patio doors will naturally depend on how many panels you need, the size of door you require, and the style of door and material you choose. Aluminium patio doors, for example, tend to be more expensive, while uPVC is a more affordable option. Hardwood patio doors are generally somewhere in between.
However, getting new patio doors can actually save you money. All of our external glass doors are highly energy efficient. They feature double glazed panels and have low u values, so they'll help to cut your energy bills by reducing heat loss. In addition, new doors can even add value to your home, should you choose to sell it!
Are Patio Doors Energy Efficient?
In a word, yes! As mentioned above, all of our glass exterior doors feature high-quality double glazing, which helps reduce heat loss. uPVC and timber are natural insulators, while our aluminium patio doors incorporate a thermal break to stop heat loss. As a result, all the products in our patio door range have fantastic low u-values and can help save you money on heating bills.
Are Glass Patio Doors Secure?
The large expanses of glass in many patio doors can be a concern when it comes to home security. However, all the products in our patio door range feature a multi-point locking mechanism, internally-beaded glazing and toughened safety glass. Many styles in our external doors range are also compliant with Part Q of the Building Regulations, meaning they incorporate enhanced security features such as reinforced profiles.
Buy Patio Doors Online at Vibrant Doors
Our extensive patio door range is fully available online, and at fantastic affordable prices. We offer excellent choice and quality, a 10 year guarantee and free delivery on all orders over £750, so what are you waiting for? Order patio doors online today!
Why not give your internal doors a bit of a facelift too? Whether you're looking for internal bifold doors or French doors for open plan living, fire doors for added safety, or glazed interior doors to let light flow through your home, we've got something for you in our range.