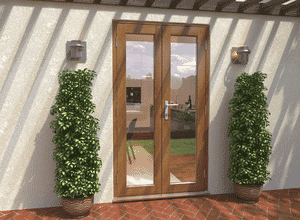 58mm Thickness
U Value: 1.5W/m2K
Solid Laminated Oak
From: £1,069.00
Find Out More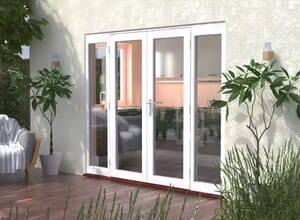 58mm Thickness
U Value: 1.4W/m2K
Engineered Treated Softwood
From: £779.00
Find Out More
What are External French Doors
Our luxurious ClimaDoor high performance 54mm solid Oak doors are truly striking and will instantly add value and appeal to any property. These solid oak wood exterior French doors are offered fully finished only with superb thermal performance. You have the option to choose either full height glass doors, to get the most light into your home, or an 8 lite (Georgian bar) option, giving you a more traditional look. You'll find our doors affordable and the list price includes VAT. Don't let the low cost fool you. All our oak patio doors, hardwood French doors, and white patio doors come with a 10-year manufacturer's guarantee against manufacturing defects.

Choice of Size, Colour Options, Materials & Finish
Our timber French door range provides a selection of exterior patio doors to suit all budgets. Whether your tastes are modern or more traditional, we've got the French doors for you. The modular NUVU external french doors collection is available in a wide range of styles and sizes to fit openings from 1200 (4ft) wide up to 3000m (10ft). It gives you great value for money with no compromise on quality or performance. You can select from a range of different sidelight sizes to match your opening with a pair of exterior french doors of your choice. The NUVU doors offer a range of sidelight widths to give you flexibility in choosing the right sized white or oak patio door screen for your brickwork opening. Take a look at our Measuring French Doors Guide for more info.
We specialise in timber French windows (not upvc) which can be easily finished to your chosen look whether you choose solid oak or softwood. Choose from high-quality unfinished oak veneer, white primed or prefinished exterior doors. You can select your own paint or stain, or install a prefinished door straight away. We have a range of colours and finishes available.

French Windows Security
The security of your exterior French doors is vital, so that's why we provide multi-point locking systems to keep your home safe. Double glazing is a must and what's more, each glazed panel is made of toughened safety glass for both security and thermal efficiency.

Thermal Efficiency
All our wood patio external door sets are fitted with energy saving double glazed toughened units for maximum thermal efficiency. This means your wooden patio doors are draught-resistant so your home will feel cosy no matter the weather. The NUVU range offers a low U-value of 1.6W/m2K, with the ClimaDoor collection offering a specification to achieve an even lower U-value of 1.5W/m²K. This exceeds current Building Regulation requirements. Your energy efficient new doors will help reduce your utility bills even further.
French Door Furniture
All our external French door sets are supplied with hardware, including fittings, door handles, hinges, latches, locks and accessories.
Wooden French doors aren't just for the exterior, don't forget to check out our oak internal French doors to encourage open plan living (internal glazed doors spread light throughout your home). Or take a look at our external bi fold doors if you really want to bring the outdoors indoors and open up your home and garden.
Let plenty of natural light into your home - buy your new doors today!