Internal Panel Doors
Here, you'll find a wide range of pine, oak and hardwood panelled doors perfect to complete your home interior. Whether you're looking for a door for your living room, kitchen, bathroom, or bedroom, you'll be spoilt for choice by our collection of excellently priced 2 panel, 4 panel and 6 panel internal doors, in a variety of materials. Every door you find on our site will come from reputable brands such as XL Joinery Doors, Climadoor, Jeld-Wen Doors and more.
Our Internal Panel Doors Range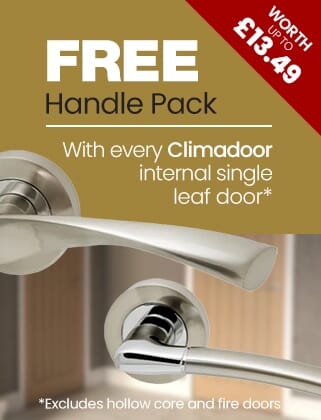 Filter Products
Internal Panel Doors at Vibrant Doors
Our Panelled Door Range
We stock a wide range of panelled doors, in a variety of materials including hardwood, oak, walnut and pine, so you're sure to find the perfect door for your home. With dozens of panel configurations to choose from, from traditional 4 and 6 panel designs, to modern 3 or 5 panel styles, you're spoilt for choice. We also offer glazing in many of our internal panel doors, to really let light flow through your home.
What Are Panels On Doors For?
Incorporating solid panels into an internal door gives it additional character, enabling you to select an option that will best complement the interior decor of your room.
One panel design can transform a door into something classic and traditional, whereas another will exude a cool, contemporary aesthetic.
Whether you opt for a one- or six-panel door, you'll be surprised the difference a single panel can make.
Complement Your Interior Panel Doors With Glazing
There are many advantages to opting for glazing in your internal doors, one being the impact it can have on the level of light (both natural light and the glow from lightbulbs in your next room) in your space. We stock various options to ensure you find something that matches your tastes. When you shop with us you can choose from:
Clear

Clear bevelled

Clear glass (with or without frosted lines)

Decorative glass

Frosted glass (with or without clear lines)

Unglazed
And of course, you have the option to bypass the glass altogether and stick with solid panels.
Primed, Finished or Unfinished Internal Doors
There are a variety of fully finished doors (also referred to as pre-finished) available to purchase with us, perfect if you're looking for something that's ready to be installed straight away.
We also have options that give you more control over the finished product. Our primed doors are great if you want to paint a particular pattern or decoration onto part of the door or paint the entire thing in a certain colour to match your tastes.
Or, if you want to add your own flair to everything, from the stain, prime and colour, we also have a range of unfinished doors, ready for you to make your own.
Don't Forget Your Door Furniture
Whatever option you select from the multitude of styles and materials, don't forget about your door handles. From levers to doorknobs, the accessories can deepen the modern or traditional feel you're trying to create.
Why Shop with Vibrant Doors?
Whether you're working on a self-build or renovating a home you've lived in for years, there are many benefits of shopping online at Vibrant Doors.
Firstly, we can assist with any made-to-measure requirements, either helping you with technical advice or utilising the best joinery factories in the country on your behalf, we will work with you to help you install the right panel doors in your home.
Whatever material you choose for your panel doors, be it oak, pine or hardwood, you can rest assured that the thermal efficiency of all the doors we stock satisfy part L of the building regulations.
You'll always enjoy fantastic prices when you buy your interior doors with us and, in the unlikely event that there's a problem, you can make use of our ten-year guarantee, protecting your purchase against any manufacturing defects.
If you have a question about any of the internal doors on our site, please do get in touch. We'd be happy to help in any way we can.