Internal French Doors
Discover open plan living made easy with elegant internal French doors. Available in a range of styles, our designs are ideally suited to every type of property. Maximise natural light in your dining room. Provide easy access to your outdoor space. Or create light, airy vibes throughout your entire home. Whatever your vision, find your perfect fit today.
From £239.99 - £1,451.10
1200mm - 3000mm
Traditional internal French doors are perfect for making your home's layout feel open and flowing. They're ideal for areas of the house that you want to let the light filter through.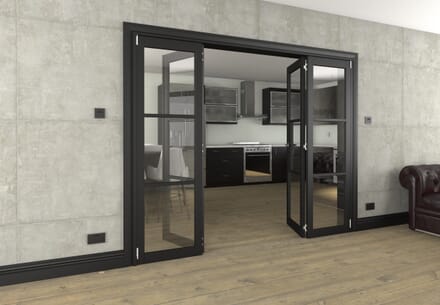 1700mm - 2900mm
Folding French doors are internal door systems that combine both the benefits of traditional french doors and bifold doors. Uniquely designed to have a central opening, but also have sidelights that can be folded right back against the adjacent walls to open up the space.
★ Featured Product: New In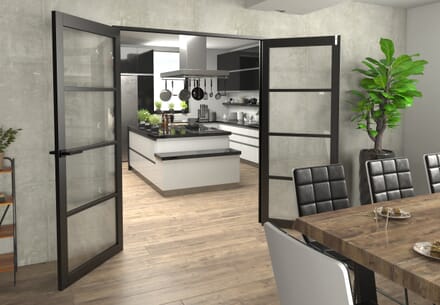 1200mm - 2900mm
This elegant and modern black glazed internal French Door systems give the modern interior designer a stylish urban look to your room.
Our Internal French Doors
Internal French doors: a popular choice
Browse our collection of the best double doors available – the ideal way to enhance your home. Made with the highest quality materials, our range includes the most on-trend designs created to make any room shine. Don't miss out! Order now.

What are French doors?
A French door is a pair of interior double doors that open outwards via hinges. This allows full access to the whole width of the door opening - great for creating the illusion of extra space. French doors originate from 17th century France where they were first introduced as floor-length windows to let in extra light and allow access to balconies. Fancy.
Are French doors in style?
French doors aren't just for the patio. With their large glass panels and sleek sightlines, these door pairs remain a classic design that feature many benefits. Adding French internal doors inside your house is a brilliant way to soak up natural sunlight, create a welcoming environment and boost property value. And with their handle mechanism and toughened glass, they're ideal for enhancing home security too.
What types of French doors are available?
Choose between classic white, timeless oak or striking black French doors. Great for introducing a modern twist to living rooms, bathrooms and more.
Want something completely bespoke? Choose a set of internal double doors supplied unfinished or a white primed set. This means you can paint them in the colour of your choice. We also have a range of options in bevelled glass, clear glass and frosted glass.
What are French folding doors?
For something different, take a look at our Frenchfold design (also known as a freefold system). This signature product combines the benefits of both French and bifold doors. The central opening access works like normal and is accompanied by sidelights that can be folded back to completely open up the space when you don't want a room partition.

How do I measure internal double doors?
We stock sizes to accommodate openings for 2 - 4 doors. This includes W4 (4-foot-wide opening), W6 (6-foot-wide opening) and W8 (8-foot-wide opening). If you've got a larger door opening, pair your internal doors with sidelights to truly maximise light flow. Oh, and don't forget to ask us about special requirements or bespoke options required for your next renovation or development project.

How do I install interior French doors?
All our double doors come supplied with frame pack, door leaves and installation instructions. Door hardware isn't included so make sure to add handles, locks and fittings to your order. You can fit your doors yourself or employ a professional joiner. Delve into our internal French door fitting guide for more information on installation.

Buy online now
Shop with Vibrant Doors and order exactly what you need, fast. Whether you're looking for double internal doors or room dividers, place your order online and we'll take care of the rest. And don't forget to take a look at our collection of external French doors while you're here. Need a little guidance before you purchase? Contact our team.
Articles & Information
Looking for more information?
If you have a question about which isn't covered by one of our handy guides, why not drop us an email and we'll be happy to assist.
Contact Us