Sliding Doors
Sliding glass patio doors are the perfect choice for when you want to maximise the amount of natural light coming into your home. Unlike bifold doors and external French patio doors, sliding doors can accommodate larger sashes, so you get more glass and less frame. This gives the doors a sleek and contemporary look, which is sure to enhance any home or garden. Browse our range below and buy your new glass sliding doors online today!
From £814.00 - £6,199.00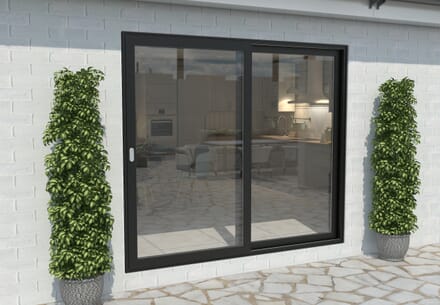 1500mm - 4500mm
Looking for a modern and stylish patio door system for your home? Our gorgeous external aluminium sliding patio doors add a modern touch to any property. With slim aluminium frames and large glass panels, they offer an almost uninterrupted view of your outdoor space and let in maximum natural light.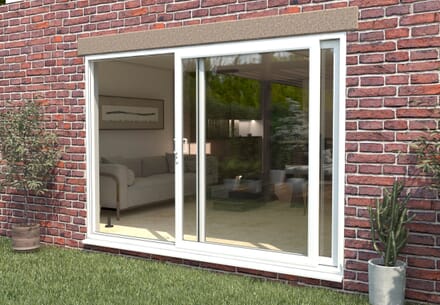 1500mm - 4500mm
Sliding patio doors are a fantastic way of bringing natural light into your home. With narrower frames than either French doors or bifold doors, our uPVC sliding doors offer unmatched views of your garden or patio. And, as they slide within their own tracks, they are ideal for smaller properties or for balconies. Explore our beautiful range of uPVC sliding patio doors below and transform your home today!
Our Sliding Doors
Sort Products
Filter Products

What Are Sliding Doors?
Sliding doors are just that, doors which sit on a track within the opening and slide open or closed. Rather than folding back on themselves like a set of bifold doors, or opening outwards like French doors, they slide horizontally along their tracks. This makes them ideal for balconies and smaller gardens, or for rooms where there is not much floor space.
Our smooth-sliding external glass doors are the perfect marriage of door and window, creating a seamless transition between indoors and outdoors when open, and allowing for an almost uninterrupted view of your outdoor space when closed.

High-Quality Sliding Patio Doors
We work with some of the world's best door manufacturers and the highest-quality materials, so when you choose to buy from Vibrant you know you're getting lasting performance as well as gorgeous design and fantastic service. All our exterior sliding doors come with a 10-year guarantee and excellent thermal efficiency to satisfy Part L of the Building Regulations. Not to mention, they look great in any home!

What Sizes Are Sliding Doors?
As with our bifold doors, our sliding patio door systems can be tailored to virtually any opening. They are available in a range of sizes and panel configurations that will fit all standard-sized openings. But don't worry if you've got a larger or awkwardly-sized opening – we offer a bespoke made to measure service designed to ensure you get the doors you've been looking for!
Twin-track and Triple-Track Patio Doors
Depending on the size of the opening and number of panels required, our exterior sliding patio door systems are available with either two or three tracks.
Twin-track sliding doors allow two or more doors to open in opposite directions. These are generally best for 2-3 panel sliding door systems. The doors can be configured so that each door slides, or that one remains fixed in place.
Triple-track sliding doors are used for sliding door systems with 3 or more panels. The triple tracks allow for a much broader scope in configuring how the doors open. This can allow you to open up much more of the opening.
uPVC and Aluminium Sliding Doors
Our external glass patio doors are available in both uPVC and aluminium. Which you choose depends on the style of your home, your budget and the look you wish to achieve. Both materials are available in a variety of colour options (white, black or anthracite grey), and in a variety of sizes. If you're looking for a more affordable option, our uPVC sliding doors are available at great low prices. If slimmer frames and a more modern look are what you're after, you may prefer our aluminium patio doors.

Double Glazed Sliding Doors
Whether uPVC or aluminium, all of our exterior sliding glass doors feature double glazing for enhanced energy efficiency and noise reduction. You'll save money on energy bills and enjoy peace and quiet at the same time!
Are Sliding Doors Safe?
Our glazed patio doors come equipped with both toughened safety glass (to BSEN12150 and BSEN1279) and multi-point locking systems. So they are both safe and secure. The glazing is internally beaded, which makes it much harder to remove, further enhancing your home's security. Another safety advantage of sliding doors over folding doors or French doors is that it is harder for little fingers to get trapped in any hinges, so if you've got children, they're a great choice.
Whether you're building a new home or upgrading your existing patio doors, you're sure to find something to love in our external sliding doors range. Buy your new sliding patio doors online today, and get free delivery when you spend over £750!
Prices include VAT.