There are a lot of considerations to balance when choosing the perfect doors for your home. Especially when there's such a wealth of styles, textures, colours and materials to choose from. Traditional yet timeless, shaker style doors have a long and interesting history. Yet their clean lines and simple geometric patterns give them an enduring charm that is perfectly suited to all kinds of interior design concepts. 
It's this versatility that has seen shaker doors boom in popularity recently. But what makes a shaker door? How did they get their distinctive name? And how can you incorporate them into your existing interior design concept?
In this post, we'll aim to furnish you with everything you need to know about shaker doors.
What Are Shaker Doors?
Shaker doors are internal doors that are modelled on a simplistic design that is traditionally used for kitchen cabinet doors. 
Whether internal door or cabinet door, Shaker design doors are characterised by their simplicity, with a flat centre panel surrounded by a raised wooden frame. Internal shaker doors may use a single large panel or multiple smaller panels. Some shaker doors have a pane of clear or frosted glass standing in for one or more panels.
Due to their origins, shaker style doors tend to be fairly austere in their design, with very little detailing or profiling.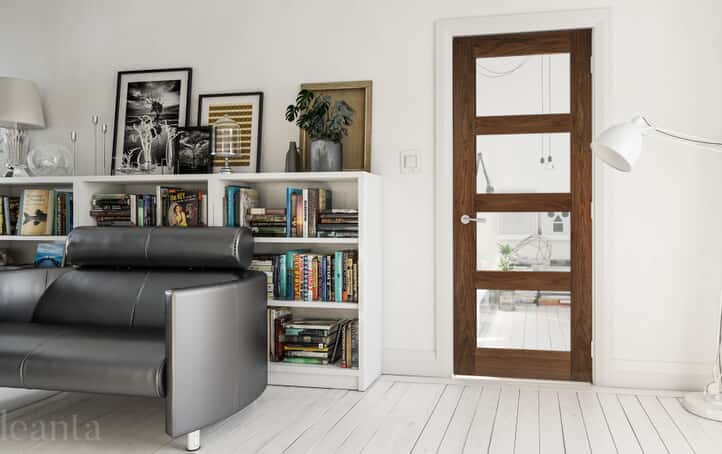 A History of Shaker Style Doors
The humble design of the shaker door may seem at odds with its quirky name. So, where did shaker doors get their name? Don't worry, it's nothing to do with how sturdy they are!
In fact, shaker doors get their name from the 18th century religious group that created them. The 'Shaker Society' was the nickname given to a religious group called the United Society of Believes in Christ's Second Appearing. Why were they nicknamed the Shakers? Because their methods of religious worship involved lively dancing and speaking in tongues.
An offshoot of the Quakers, the Shakers were as well known for their fine woodwork as they were for their lively worship. They left their home in Manchester for the new colonies in America in the 1700s, eventually settling in New England. There they garnered much acclaim among their fellow colonists for their quality craftsmanship, creating furniture of outstanding quality from native pine and cherry trees.
For Shakers, the crafting of furniture was as much a religious experience as their frenetic form of prayer. They believed that quality craftsmanship was their way of honouring God, and valued function over form.
Hence, shaker doors are known for their simple designs that let the quality of the craftsmanship and the beauty of the wood speak for themselves. Intricate designs and finishes were seen as vanity by the Shakers. Instead, their designs had a humble beauty that celebrated symmetry and simplicity.
Are Shaker Doors Modern?
As we can see, shaker style doors have a strong sense of tradition. But they're also a great fit with modern design concepts. Which may be why they're so popular at the moment.
Little did they know it, but the religious ideals that informed the Shakers' work at the time may have played a key role in the longevity of their designs. Although they are technically classed as a traditional design, the form as well as the function was built to last.
Because they eschewed any design flourishes that might date their work, the shaker style emphasised clean lines and simple patterns letting the beauty of the timber shine through.
As such, a shaker door is well suited to more modern and minimalist design concepts as well as traditional and rustic designs.
Wherever your tastes lie, there's a good chance that you can find the right shaker style door for your home!
Shaker Doors FAQs
We hope you've enjoyed learning about the history and heritage of shaker doors. But if you still have any questions about this versatile design, we'll do our best to answer them below.
Q: Can You Paint Shaker Doors?
Yes, absolutely. While the shaker style is intended to let the natural grain of the wood speak for itself, you can paint or stain your shaker doors in any colour you choose. This helps to ensure a perfect fit with your interior design concept and enhance the versatility of this timeless classic.
Q: What Are Shaker Doors Made Of?
Shaker doors are invariably made from timber. While some cheaper models are made from polyurethane-treated MDF, we favour quality timber shaker doors made from engineered hardwoods like oak and walnut.
Our shaker doors have a solid oak core for increased stability, security and thermal efficiency, with a reassuring heft. We have multiple solid wood shaker doors that are available with or without glazing.
Q: Are Shaker Style Doors Expensive?
The versatility of shaker doors means that there's a model to suit every budget. However, you don't need to sacrifice quality of craftsmanship for cost when choosing a timber shaker door. Our Coventry White 4 panel shaker doors, for instance, start at just £89.25 per door.
Q: Where is the Best Place to Hang Shaker Doors?
The beauty of a shaker type door is that it's a good fit for virtually any room. They're a great fit for bedrooms and living rooms because their simple design is conducive to rest and relaxation. Bifolding shaker doors are ideal for spaces in which usable floor space is limited, while glazed shaker doors and room dividers work brilliantly when connecting kitchens and dining rooms.
Shaker type doors are so versatile, your only limit is your imagination.
Get Shaker Doors and More from Vibrant Doors
The Shaker Society has all but died out today. A religious curiosity that has mostly been consigned to the history books. But it's comforting to know that their legacy lives on in these beautifully simplistic and supremely versatile interior doors.
Browse our selection of interior doors and you'll see a huge range of solid wood shaker doors. We have single-panel, 2 panel and 4 panel shaker doors rendered in engineered hardwoods such as oak, and walnut. You'll find glazed and unglazed options in a range of finishes as well as unfinished shaker doors for you to finish or paint in any way you wish. 
Our selection also includes bifolding shaker doors as well as stunning shaker style room dividers. We use only the best materials in our doors, and they boast both timeless design and a distinct style. Take a moment to browse our range and see how shaker style doors can help transform your interior.