Your doors can be a fantastic way to complement and enhance your interior aesthetic. But they can do more than just look pretty. They can also be extremely practical! If you have a small living space, a narrow doorway, or a space with tricky dimensions, the right space-saving internal doors can enhance your living space. They can provide you with more usable floor space, as well as cleverly creating optical illusions to make your space look and feel larger.
If you're frustrated by the cosy confines or dinky dimensions of your living space, you may want to take a look at some of our popular space-saving doors.
How Do Doors Save Space?
Never underestimate the power of the right internal doors to transform your living space! We stock a range of doors that are designed especially for the challenges presented by tight spaces.
The way in which a door opens can play a big part in determining how much space it requires. Traditionally, your internal doors open inwards. And while this has obvious health and safety benefits (nobody wants to collide with a door while they're crossing the landing), it can impede on the amount of usable space you have in the room.
Fortunately, we offer a range of doors that open in clever and creative ways. So you can get the most out of your available floor space in cosy or tricky spaces. What's more, many of the doors we offer feature gorgeous glazing to flood your living space with natural light. This creates the illusion of more space and creates a wonderful sense of flow.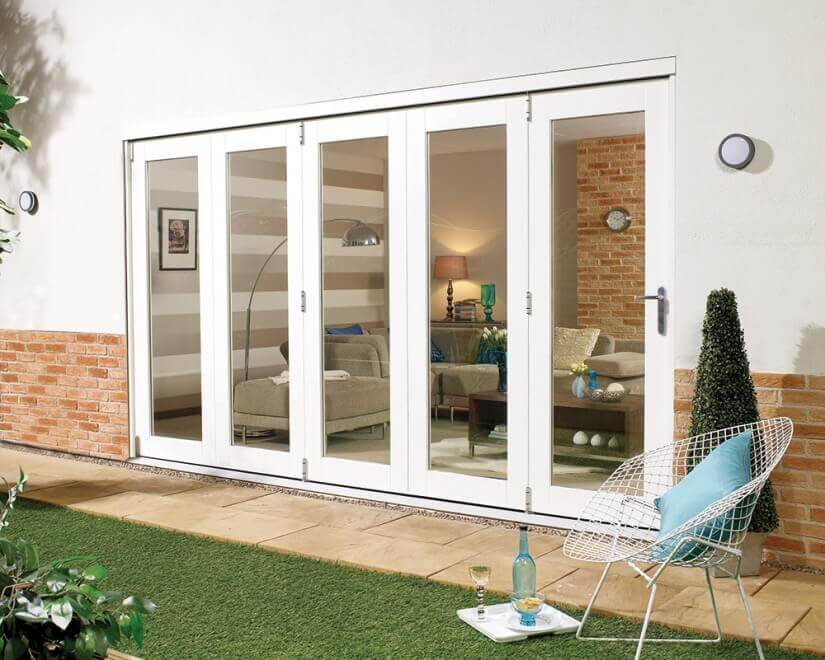 The Best Doors for Tight Spaces
Whatever your taste in interior decor, there's a space-saving door that's perfect for your home. Whether you favour a clean and contemporary look, or something more rustic, we have a creative way for you to save space with your doors. From barn doors to bi fold doors, we'll help you find the perfect solution for your space!
Take a look at some of our favourite space-saving doors for homes of all kinds.
Sliding doors
Who says sliding doors are only for your exterior? Sliding doors do not need to swing inwards or outwards, so their profile remains flat. They slide elegantly to one side, granting easy access to the next room. Sliding doors are available in a huge range of materials and styles, from engineered oak to toughened glass, aluminium, or composite. 
Sliding door pairs can make for a more dramatic way to connect your living spaces, sliding across at either side to create a grand entrance. A great fit for kitchens and dining rooms or space-saving wardrobes.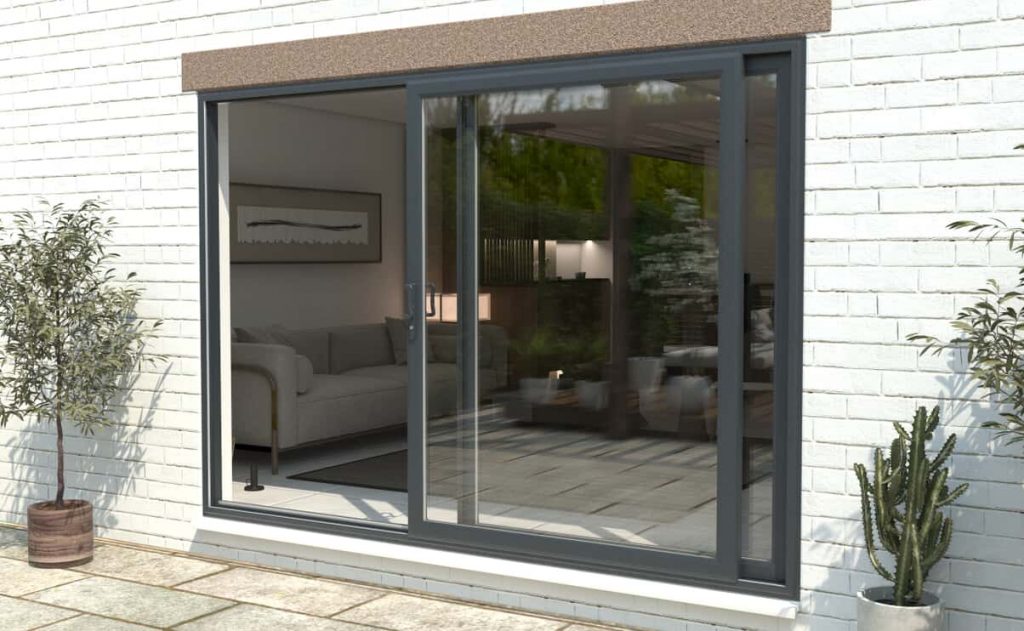 Bifold doors
If you have a narrow living space, sliding doors may not necessarily be practical. Bifolding doors are an elegant solution to the problem of space. Internal bifold doors are extremely versatile and lend themselves well to virtually any living space. They are available in all kinds of styles and materials, and are just at home in traditional or contemporary settings. 
As the name suggests, bifold doors fold inwards upon themselves rather than opening inwards. This lowers their profile and provides you with more usable space. And because there are a wide range of glazed bifold doors available, they can bring a beautifully airy and spacious feel to any room. A perfect fit for en-suite bathrooms, dining kitchens, balconies and terraces.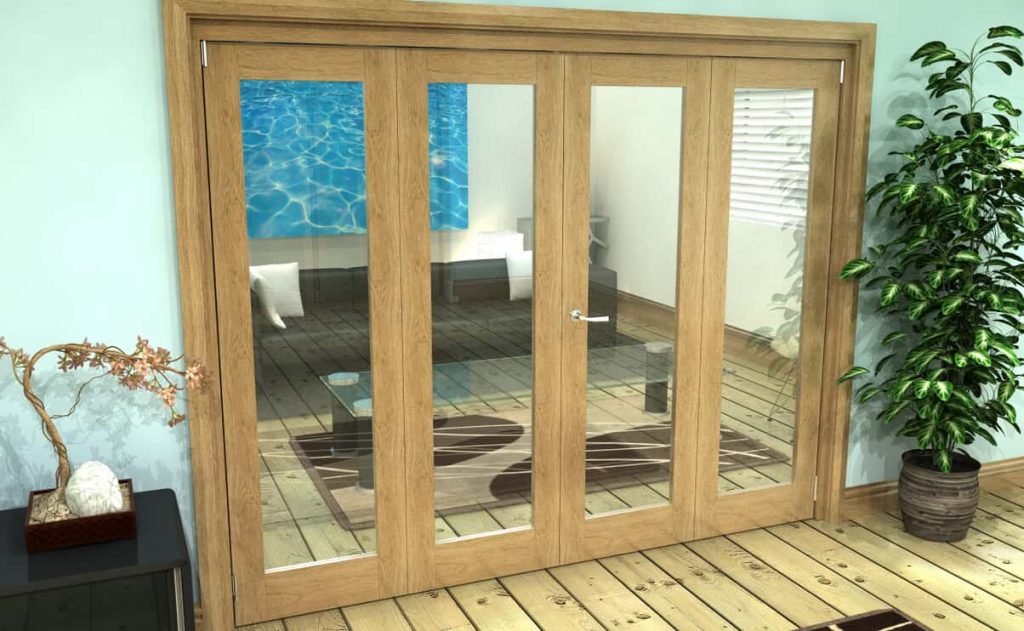 Pocket doors
A pocket door is a type of sliding door. Rather than sliding along the wall, it slides into a pocket concealed within the wall itself. This is a wonderfully neat solution for rooms where the door is usually open, such as children's bedrooms.
Because the door is completely hidden from view, these are a great fit for properties with contemporary / minimalist aesthetics. They're also great for small and tight spaces, as every inch of the doorway and its surroundings is usable.
So, if you're looking for a way to save space in your home, pick a pocket!
Barn doors
Barn doors are a charming addition to all kinds of spaces, and work very well with rustic and farmhouse interior aesthetics. Simple yet elegant, a barn door is a classic timber internal door that's hung on a metal bar above the doorway. They're incredibly simple to install and very low maintenance. If you're looking for a simpler alternative to a sliding door, these versatile doors work well in kitchens, pantries and en-suite bathrooms.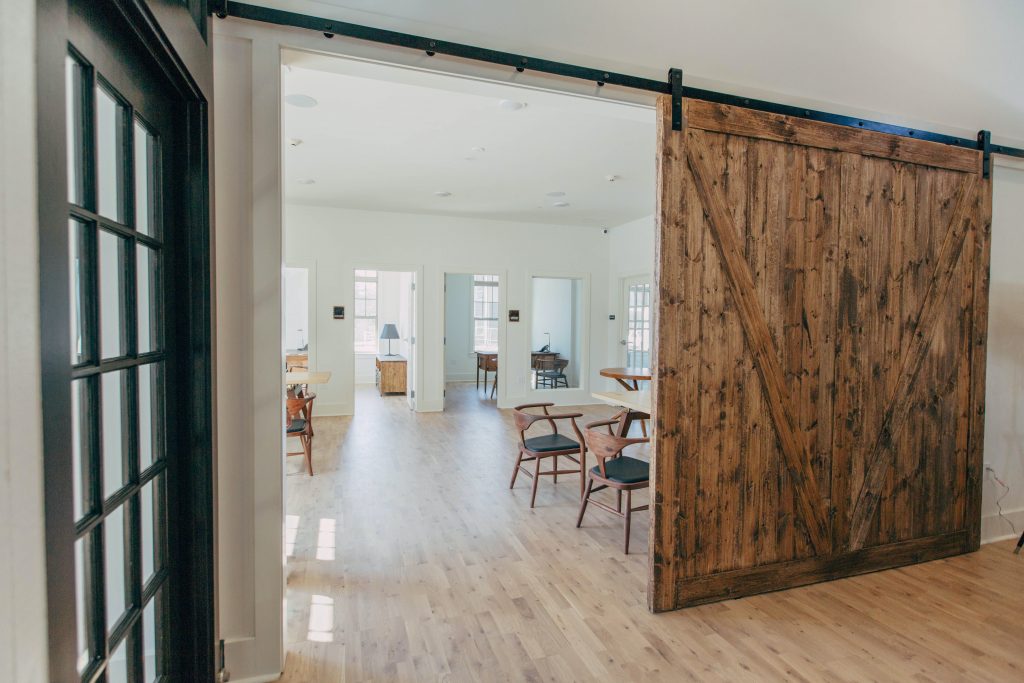 Concertina doors
The term 'concertina doors' may conjure images of tacky discoloured vinyl accordion doors. But there's much more to these versatile doors. These work like a cross between bifolding doors and sliding doors, and are commonly used as room dividers.
They can be made from a range of materials and glazed with clear glass, or frosted glass to preserve your privacy. Perfect for spaces that are too small to build a separating wall. Because they have more panels than bifold doors, they have a much thinner profile, allowing you to use more of your doorway.
Dutch doors
Dutch doors are simple wooden doors that bisect horizontally halfway up. So you can open the other half to let more natural light into the room and create a greater sense of space. They are a great fit for kitchens, providing keen cooks with privacy while also allowing delicious aromas to drift through the home.
Dutch doors can be used for internal and external doors, and work particularly well with farmhouse aesthetics.
Garage-style doors
A very unorthodox but effective way to save space, garage-style doors open upwards rather than outwards, and are stowed unobtrusively in the ceiling. A perfect fit for converted spaces like home gyms, studios and guestrooms.
Take a look at our great range of space-saving doors
At Vibrant Doors, we strive to bring you a great range of space-saving door options at market-leading prices. Take a look at our stunning selection of bifold doors and room dividers, available in a range of styles and materials. Or, if you prefer, we also have a gorgeous range of sliding doors that help to create a dramatic transition between rooms while maximising usable floor space. 
Wherever your tastes lie, we're sure to have the perfect space-saving doors for your home!