Last updated on March 16th, 2022 at 05:32 pm
Next time you re-decorate, put some thought into choosing the design of your interior doors. If you choose doors that match or complement the design of your interior then they can add a lot to the atmosphere of your home.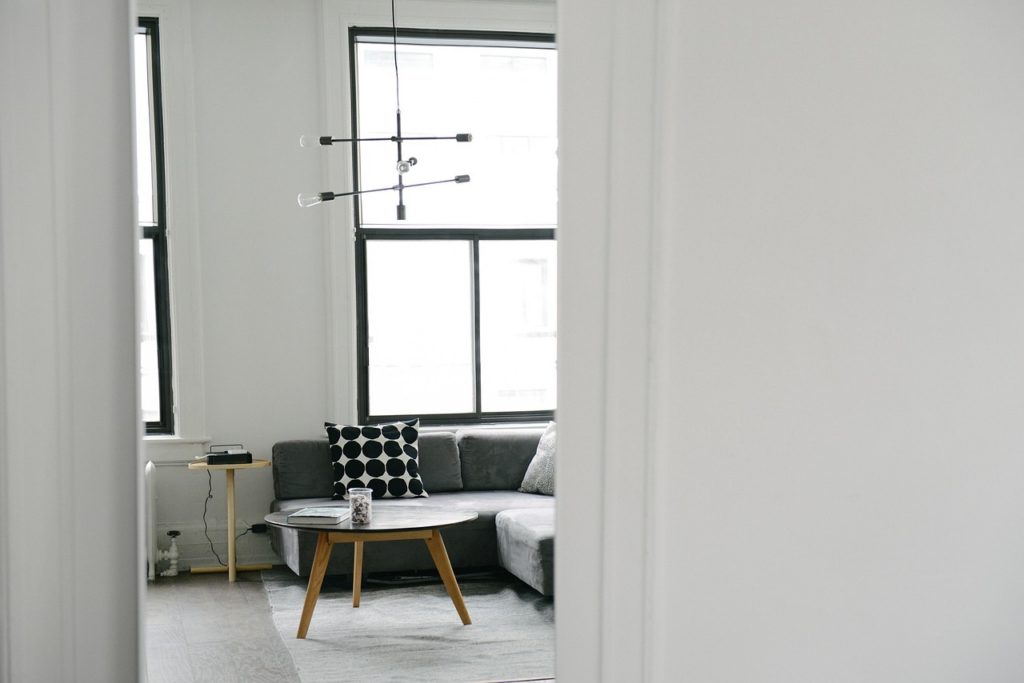 Why Replace Your Doors
If you have just moved in to a new home and the current doors are plain blanks, or cheap ugly, moulded hollow skin doors that don't match your high-tech, sleek furnishings, then it makes sense to replace them with something more modern.  Alternatively if you're trying to tastefully create a period look, you shouldn't overlook the influence of selecting the right internal doors. Today you can get sleek glass doors that make your dining room brighter and more welcoming, classic cottage doors that will add to the country feel of your kitchen, and simple but stylish doors that offer a contemporary finish for your décor.  Here are some tips for picking interior doors that will make your home look great.
Choosing the Best Internal Door Design For Your Home
There are several different designs of interior door.  The most common designs are panel, moulded, flush and solid core doors.
Panel doors are traditional, and are now generally made in joiners shops because they have the flexibility to meet a varying range of sizes. Lower cost solutions are available in standard sizes, and are available in oak and walnut.
Moulded doors have a hollow core, and inner frames which are made of softwood. They are very light and not that durable in certain environments but in today's new build market many national house builders look to install the cheapest solution "to fill a hole", so these doors are very popular.  Glazed options are also available.
Solid core oak, hardwood or walnut, or solid white primed doors look and feel like high quality doors, adding true value to your home.  Whilst these are generally more expensive than moulded panel doors, they do give that natural look, and also, you feel the quality when opening and closing the door, with some real weight. You hear the "clunk" rather than the "click" when they close.
Flush doors are made by sandwiching a honeycomb layer of card or chipboard between sheets of plywood or hardboard. The outer part of the frame is made up of thin battens, so only a small amount can be cut from each side to fit the door to an unusually sized opening. Flush doors are cheap to make, and incredibly lightweight.  These types of doors are used in low cost applications where look is not important. Other types of flush doors are available, such as oak veneered or walnut veneered, and these can add a real wow factor, particularly if they have a solid core.
Once you've decided on the type of door you're after, it's up to you to choose your favourite design. You can find more advice on choosing internal doors in our internal door advice centre.
How To Choose Internal Door Size
If you're replacing an interior door, you will probably be able to choose from one of the standard internal door sizes.
When measuring your door opening, here's how to determine the size you need:
Width: measure the existing door frame horizontally at the bottom, middle and the top. Take the widest measurement and record it, this will be the width you need for your new door.
Height: measure the existing door frame vertically at the left, right and centre. Record the longest measurement as the height of your new door.
If the standard door sizes aren't quite right you can make some small adjustments to internal doors. However, this is harder to do with flush doors so you may want to avoid this style if you anticipate needing adjustments.
Choosing Wood For Interior Doors
Generally, the wood you select will depend on the appearance you'd like inside your home. Most doors are made from woods like oak, pine, and walnut. You might also notice interior doors described as hardwood. Each of these has a different look, so it's worth learning a little more about them before you make your selection:
Oak wood is strong, dense and hard, making it ideal for use around the home. Oak internal doors are light in colour, and will display some grain markings that give the wood an attractive appearance.
Pine is a softwood that's light in colour. Pine doors are fairly resistant to shrinking and swelling, and can often be a more cost effective option than hardwood doors.
Walnut is a hardwood that's strong and grained, making it quite an ornate choice. Walnut doors can vary in colour from dark, chocolate brown to shades of yellow.
Hardwood is a term used to describe wood that comes from deciduous trees. It isn't necessarily any harder than softwood, which comes from coniferous trees. Where the wood isn't specified this may be because a mix of different hardwoods is used in the production of the door, or simply because the type of hardwood is lesser known.
You'll usually see two options when it comes to internal doors; pre-finished or unfinished.
Prefinished doors are ready to install as they are. You won't need to paint or varnish them, as this has already been done in the factory. An example is the Seville oak door.
Unfinished doors need a protective coating adding before you install them. They may be a little cheaper to buy, but you will need to stain, varnish, wax or paint them yourself before installation.
If you are buying unfinished doors, or simply want to make sure your interior doors look exactly as you desire, you might be thinking about selecting paint. Here are our top tips on which paint to pick:
Type: Oil based paints are generally the most hard-wearing, and are traditionally used for painting wood. However, you might also want to consider using a breathable paint for wooden doors.
Finish: Satin, semi-gloss or high-gloss paints are usually best for doors. All these finishes are washable, so you can remove marks and stains. A high gloss finish is the most durable of paint choices, but if you don't like the shiny look you could opt for the semi-gloss or satin instead.
Colour: The choice is yours! Most people opt for lighter colours to make sure their doors don't overpower the room. White is always a popular choice, but that doesn't mean you can't break the mould!
Safety and Security Tips
Interior doors are designed primarily for decoration and noise reduction, rather than security. If you have lodgers or live in some form of shared accommodation and want to be able to lock certain doors then you should look for a sturdy door that can take a strong lock.  Panel doors are usually the best choice for this.
For the best sound reduction you should always look for a solid core door, whether it be a flush type or a panelled type with the general principal the heavier the door the better the sound reduction.
Building regulations dictate that loft and garage doors should be fire resistant, and some local authorities encourage people to use fire-resistant doors throughout their property.  These doors are far thicker than normal doors and come with closing mechanisms to ensure that the door shuts behind you when you leave the room.  They can resist fires for 30 minutes or more, which could save lives if you find yourself stuck in an upstairs bedroom waiting for the fire brigade to arrive.  As fire resistant doors have become more popular in residential properties, retailers have started offering more appealing designs, so it should be easy to find one that suits your décor. Always look for an "fd30" approved door for compliance with building regulations in these type of circumstances. Most door types can be offered with an fd30 certificate, because whilst the design looks the same, the core materials in the door are changed to materials which are more fire resistant.
In Conclusion
It's important to make the right decision when choosing a style of interior doors for your home. You'll see them, open them and close them every day so it's essential to make a choice that's right for your lifestyle. Take your time, assess your options and test things out before committing, and enjoy the process!