Last updated on January 20th, 2016 at 02:11 pm
The front door is one of the first things that your visitors (and prospective home buyers, if you're putting your property on the market), will see. For this reason, it's important to have a stylish and attractive front door. A nice paint job is a good starting point, but details, such as the letterbox and the door knocker, matter too.
Even if you primarily use a doorbell, it's worth buying an attractive door knocker. Firstly, you can use it if the doorbell breaks down, and secondly, having an ornate or interesting door knocker is a great ice-breaker and something that will add a touch of class to the exterior of your home.
Choosing the Right Door Knocker
Ideally, your door knocker should fit in the middle of the door at about head height, and be coloured in a way that stands out from the rest of the door. If you live in a period property, you should choose an authentic looking period door knocker. If you live in a more modern home, you have some more freedom when it comes to choosing the style of your door knocker.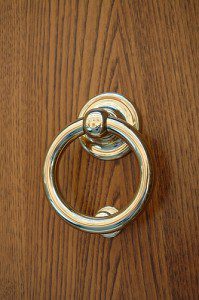 A simple, timeless door knocker such as this circular one will suit most homes, but it may be a little too understated for a period property.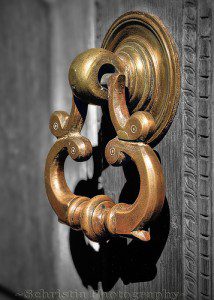 Something more ornate, such as this design, will also suit almost any door. Note the aged appearance of the knocker, which adds to the charm. Reclamation yards can be a great place to pick up genuine antiques for an authentic aged look, perfect for period houses.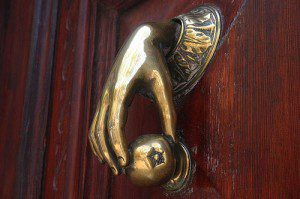 If you're looking for something bolder, and more showy, consider something like this hand knocker, which is incredibly popular in many parts of Europe.  This style of door knocker works best on heavy, wooden doors.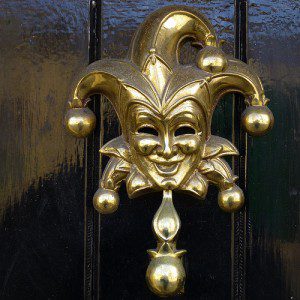 You can find door knockers that look like almost anything, from skulls and whales to horses (and of course the lucky horse shoe).  They can be a great way to show your personality on the face of your house. Not all door knockers have to be serious. This eye-catching Jester is a great choice if you want to lighten the mood, but still want a functional door knocker. You can find similar designs featuring cowboy boots, faeries, and even gargoyles with nose rings or tongues which serve as the knocking mechanism. This jester is the perfect compromise between levity and timeless appeal, and is not so chintzy that you would regret fitting it after a couple of years!
Form vs Function
If you decide to opt for a door knocker instead of an electronic doorbell, choose one that you will be able to hear. There are several different kinds of door knocker. Some are made of wrought iron or painted steel, and others are made of copper. If you like the aged copper look, don't buy a new door knocker. Instead, purchase an antique or reclaimed one. It can take a long time for copper to develop the dark, attractive aged look naturally.
To protect the finish of your door, opt for a knocker that comes with a built-in strike plate. The strike plate will amplify the noise made when the door knocker is used, and also protect the surface of the door from damage.
Hopefully these tips will help you find what you want among the wide range of door knockers available. Let us know in the comments which of the above is your favourite!