Last updated on June 27th, 2016 at 03:38 pm
Why are fire doors required?
In many buildings there is a requirement for products, such as doors, screens and ceilings to resist the passage of fire. These products help control the spreading of fire, which in turn protects life by giving time to allow occupants to escape. Fire Doors are one area of a property where legislation enforces design standards to achieve certain minimum ratings. The legislation and period of time required for fire resisting doors is set and monitored by Local Authorities through Building control, and typically most residential fire doors will need to meet a minimum standard of 30 minutes before failure, or in some circumstances 60 minutes.
The locations for fire doors are determined through risk assessment, and typically they would be in areas between access / egress routes, and potential fire sources, such as cookers in Kitchens, or where flammable liquids might be stored such as garages.
Testing and Certification of Fire Doors
It is up to the manufacturer of the door to provide Third Party test evidence, in compliance with British Standards (BS476), and European Standard BSEN 1634-1, to confirm that the door design performs to a minimum standard under proper test conditions using a furnace under controlled conditions (850 degrees C for 30 mins, or 950 degrees C for 60 mins). From this test, a report is written to confirm the results, from which the manufacturer can undertake to manufacture products under an auditable quality management system (3rd Party audited) to confirm that any doors manufactured is of a similar quality to that tested. A typical quality management system would be something like ISO 9001. There are many different systems but most fire doors would have an FD30 certificate, or an FD60 certificate of compliance.
Construction of fire doors
Fire doors are constructed differently to normal "none fire rated doors". They are manufactured using different materials, with solid cores with differing fire resisting properties and are generally much heavier due to the materials used. As such they are normally much more expensive than a standard door. Any glazed fire doors have to use special fire rated glass, which is typically thicker than standard toughened or annealed glass which cannot stand the potential temperatures found within a house fire. Again, this can be costly with many glazed fire doors being either double, or treble the cost of standard door leaf.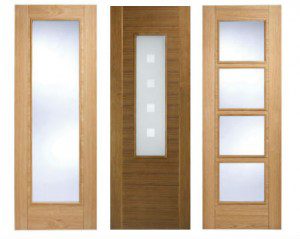 But it's not just the door you need to consider, doors are installed in frames – usually timber which can again burn. Door frames used for fire doors, also have to have a rating, again, either FD30 – rated to last 30 minutes, or FD60 – rated to last 60 minutes depending on the Authority requirements for you design. Typically an FD30 fire door would come with an FD30 fire door frame manufactured from a softwood material of minimum density. The door would be thicker – 44mm versus a standard interior door of 35mm, and the frame would encompass an "intumescent strip" which when heated, expands to seal the gap between door and frame to keep the fire under control. FD60 doorsets typically come in a 54mm thick door, with a hardwood frame. All fire resisting doorsets must have an intumescent strip to be able to meet the legislation, with some fire door sets also requiring smoke seals.
Help and advice
The key really is to understand where fire doors, and fire door frames need to be located. Talk to a specialist who can advise on what door types within their ranges have both a standard design, and a FD30 rated design, or in some instance an FD60 rated design and ensure that you install certified products to be able to prove to the Building Inspector that your new build property, or extension complies. If you have any questions about your fire door needs, feel free to give us a call on 01332 239941.
All our quality fire doors are 44mm thick and FD30 rated. Follow the link to see Vibrant Doors' full range of oak, walnut, pine and pre-finished white fire doors.