Your external doors play a pivotal role in creating your exterior's aesthetic. That's why we pride ourselves on supplying an outstanding range of external doors to suit all personal tastes and architectural styles. But we understand that there's a lot more to your external décor than your front and rear doors. It also includes all your outdoor spaces: your front and rear gardens, your pathways, and even your drive. If you're lucky enough to have patio space, this can go a long way towards defining the aesthetic of your home's exterior.
With the warmer weather comes a desire to gather together with family and friends under the sun, sipping icy drinks and enjoying delicious food. A patio is the perfect place to bring everyone together for barbecues, garden parties or idle chit chat on a lazy Sunday. However, if you feel like you have a less-than-perfect patio, we have some tips to help you revitalise your outdoor space and make it the envy of your friends, family and neighbours.
Let's take a look:
1. What Do You Want from Your Patio?
It's easy to become overwhelmed when preparing to give your patio a new lease of life. Visiting your garden centre or browsing online can reveal so many beautiful furnishings, materials, accessories, plants, trees and shrubs that you quite literally don't know where to begin.
Indeed, when you attempt to create your dream patio design without a clear plan, it can lead to excessive spending as well as a mismatched and a space that doesn't quite meet your needs.
As such, before you start planning, shopping and getting quotes, it's pertinent to ask yourself some important questions:
What do you want the space to add to your garden?
How will you be using the space? Relaxing? Dining? Entertaining?
Who will be spending the most time in the space and what are they most likely to be using it for?
What building materials would complement the age, style and construction of your property? Paving slabs, natural stone, landscaping?
What colour palette will complement the exterior of your home?
If you'll be building from scratch, consider your patio positioning. You'll need to think about which parts of your outdoor space get the most light throughout the day. If your patio space will spend a lot of time in the shade, you may need to consider installing heating and lighting solutions. If it's a particularly sunny spot, you may want the option of shade
2. Divide the Space into Zones
A patio is a multifaceted space that can serve a multitude of different functions. It can be a place where you retire with a good book and a long drink after a stressful day's work. It can be a place where you go to meditate, stretch or do yoga. It can be a space where the family comes together to dine alfresco. Or it can be all of the above.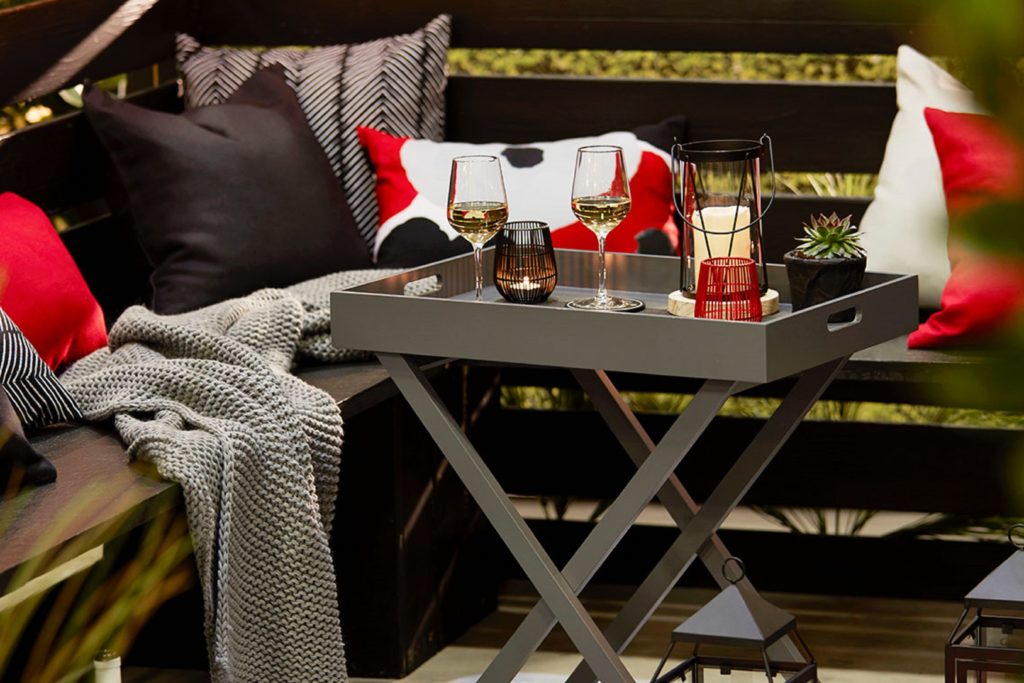 It's often a good idea to compartmentalise your space, assigning different areas for dining, eating and socialising. A table and chairs can dominate a dining area, while loungers denote a space for relaxation and a fire pit or log burner is naturally conducive to gathering around for conversation.
To create zones on your patio without creating barriers, raised decking can create ascent or descent into different areas of your patio, while shrubs and large planters (or even plant pots perched atop breeze blocks) can also be used as dividers that separate the space into different zones without devouring it.
3. Take Account of Your Space
In your zeal to revive your outdoor space, it can be easy to get carried away, take yourself to the nearest garden centre and splurge on new furniture and accessories. However, before you start buying new items to populate your patio, it's vital that you account for the usable space available to you. There's nothing more frustrating than finding the perfect patio dining set only to take it home and find that it doesn't fit comfortably in your space.
Take precise measurements of your patio space, keeping in mind the zones you have marked out for different intended uses (dining, relaxing, etc.). This will help you to consider the size and positioning of the furniture you choose so that it helps your outdoor space to feel spacious and well proportioned. Nothing makes a porch look cramped and cluttered more effectively than furniture which is too large and cumbersome for the space.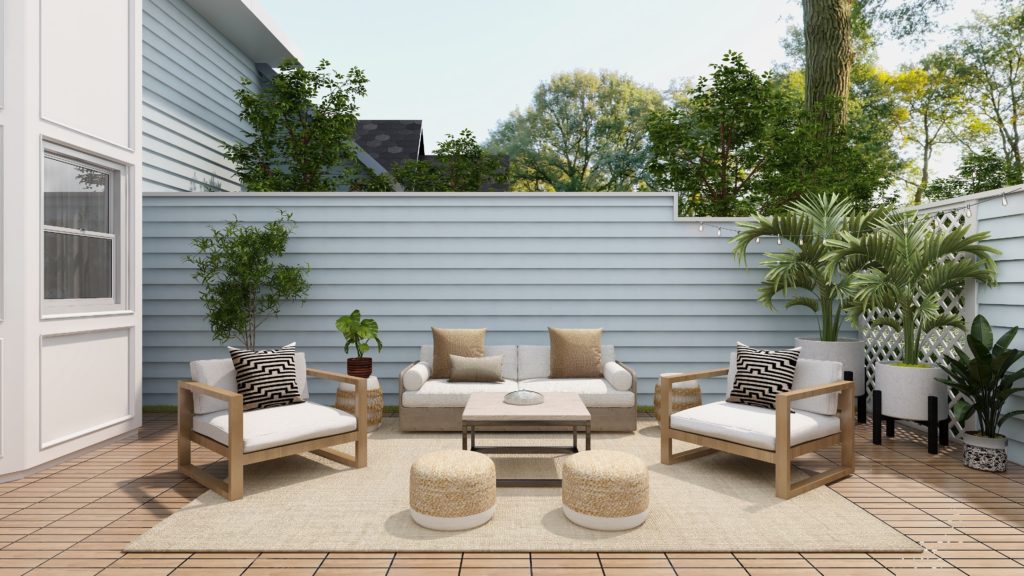 4. Decide on a Budget
Just as your enthusiasm to fill your patio with pretty things can make you run out of space quickly, it can make your budget run dry even faster. Like most things, your patio can be a monetary black hole if you don't keep an eye on the escalating costs. So before you start browsing websites and garden centres, it's a good idea to decide on a set budget. By all means build a small margin into this budget but have a clear idea of the maximum amount you are prepared to spend on your patio.
As well as furnishings, plants, decking and other purchases, you'll need to account for any labour costs necessary to make your patio all that it can be. If you need to get an expert in to re-pave or expand your patio space, it's important to shop around for quotes before you start looking for furniture. You don't want to fall in love with a patio set that is beyond your budget.
5. Plan Your Plants
When designing your perfect patio, plants can become an afterthought in the wake of sun loungers, dining tables and chairs, log burners, fire pits and water features. However, your plants make all the difference between a good patio and a perfect patio. What's more, plants are living things with needs that need to be carefully considered.
As well as being pleasing to the eye, and adding a splash of colour to your exterior decor, the right plant choices can bathe your patio area in subtle natural perfumes that can aid relaxation and delight all the senses.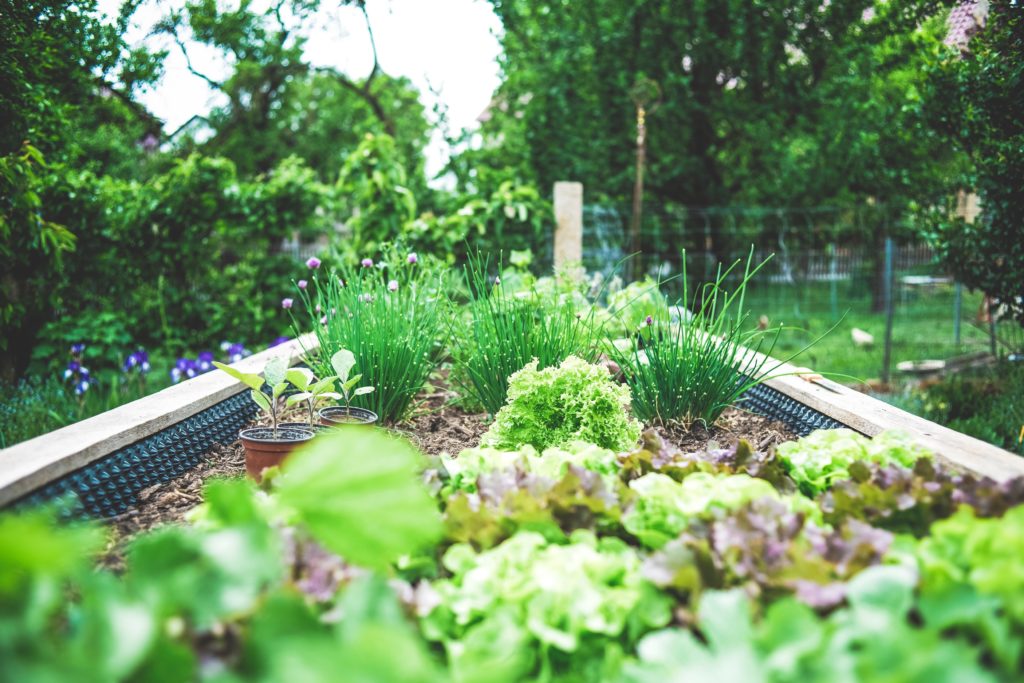 Aromatic herbs like sage, thyme, rosemary and, of course, lavender are great choices for this, as are flowering plants like sweet pea, nepeta (catnips) and buddleia (butterfly bush). Plant these in good quality compost and use a slow-release fertiliser to keep them moist. This will help to ensure luscious growth and explosions of colour throughout your patio space.
What's more, climbing plants like clematis, wisteria and ivy hanging from a trellis can afford you greater privacy while helping to segment the space.
6. Don't Forget the Boring (but Important) Stuff!
Designing the perfect patio is extremely creatively rewarding. However, there are also logistical considerations that will need to factor into your planning. Are there any groundworks required or building regulations that may be affected? Will you need to account for draining or access to manhole covers? Are there any tree roots or pipes that could impinge on the groundworks you have planned?

If you're using a professional garden designer, you likely won't need to consider these logistics too much, as they will be enfolded into the service they provide. However, if you want to DIY your patio, these are things that you will need to consider.
7. Adding a Flourish
You have the fundamentals of a great patio. But it's missing something special. A little extra flourish that adds a sense of drama to your patio décor. If you're looking for something extra special, look to the elements. Fire pits, outdoor lighting and water features are perfect for adding a visual flourish and a certain dramatic flair to your exterior's aesthetic. If you're a fan of cooking, an outdoor kitchen or pizza oven could also be a great addition around which to socialise.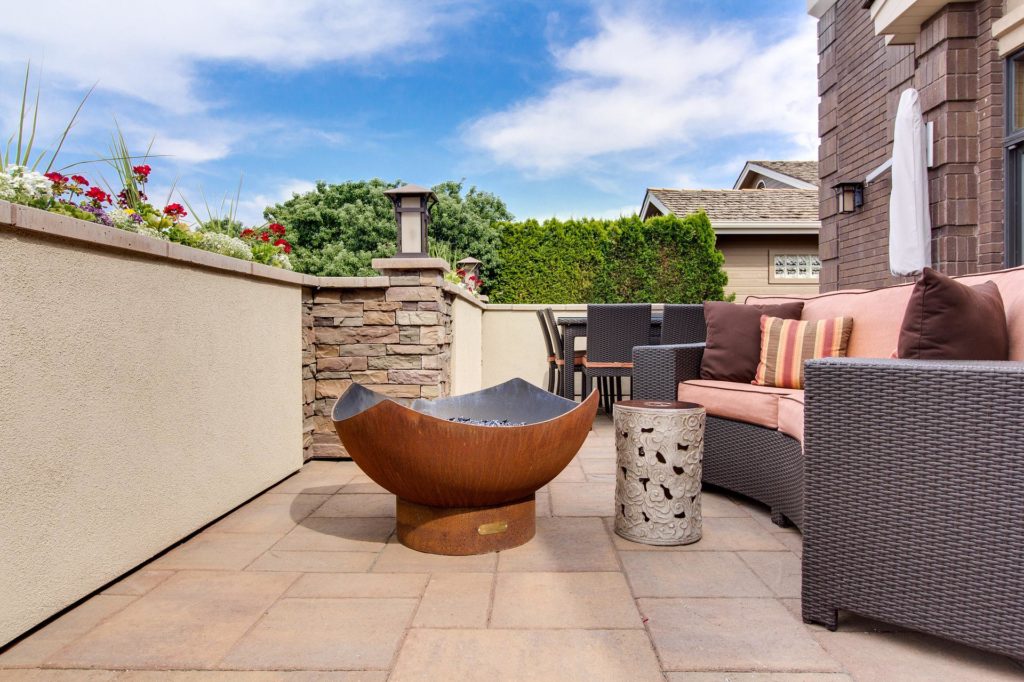 What's more, they are also great focal points. As well as drawing the eye, they are wonderful spaces to congregate, sit, chat and tell stories, helping to make your patio a more social space.
8. Make it Personal
Remember that your patio is an extension of your home. As such, it should have the same sense of personality as your interior, so that it maintains a sense of visual continuity while also looking and feeling like a space that is inherently yours.
Feel free to experiment with different colours, shapes, materials and textures to create a space where you can feel relaxed, centred and completely at home.
9. Choose the Right Patio Doors
Your external doors are a key feature of your home's external décor. And this is even more the case when it comes to your patio doors. Double patio doors create a bold and visually dramatic transition between your internal and external living space, while creating a sense of visual continuity between both.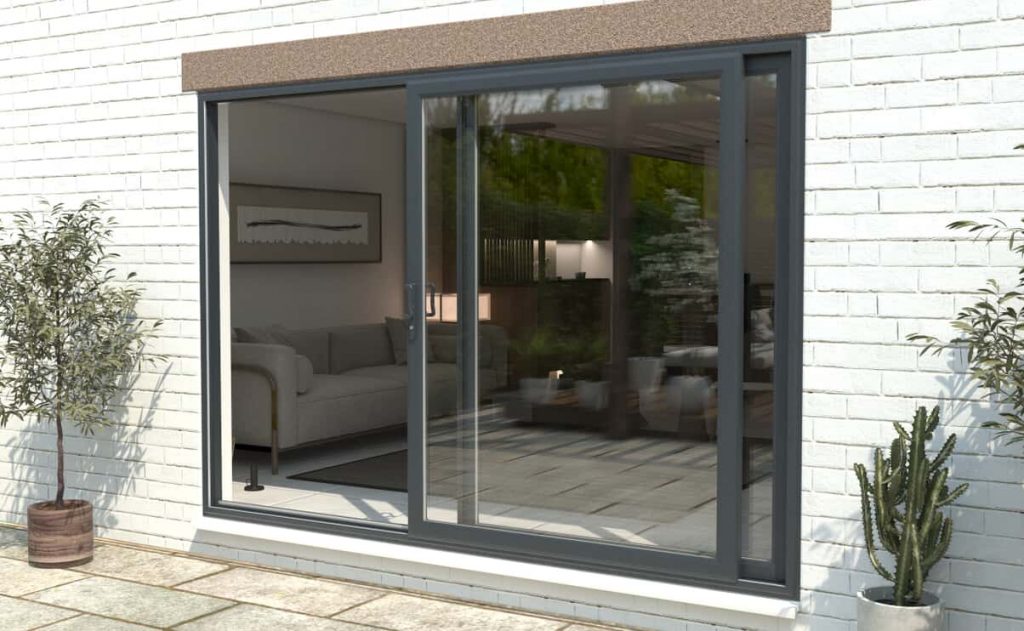 If your patio design is an extension of your interior aesthetic, your patio doors can either heighten or undo that sense of continuity. As such, it may be worth replacing your patio doors while revitalising your outdoor space.
We have an outstanding range of stunning glazed patio doors in timber, UPVC and aluminium. From external French doors to space-saving sliding doors and stylish bifold patio doors, we have an outstanding range of styles and sizes to add perfection to your patio.