Last updated on January 20th, 2016 at 02:08 pm
The humble letterbox is not something that usually gets a lot of attention. Most people are happy to stick with the letterbox that came with their front door – but did you know that there is actually a huge range of letterboxes to choose from, and that there are different sizes, shapes, and features to suit all kinds of home.
Standard letterboxes are quite simple and minimalistic – they have a slot, and the post-man pushes mail through them. If you're not happy with the one you have – either because you don't like how it looks, or because you feel that the one you have is too small, consider the following before you buy a new letterbox:
The size: very old post boxes tend to be quite small, and designed to accept only standard sized envelopes. If you get a lot of newspapers or magazines delivered, then you should opt for a bigger, deeper letterbox.
Extra features: a draft-excluder is a must-have for any modern letterbox. In addition to a draft-excluder, consider the way the letterbox itself opens. A letterbox with a flap that springs shut to cut down on drafts even more is always a good choice.
Door thickness: traditional letter boxes run through the door, if you have a very thick door then the range of choices open to you may be limited.
Wall-mounting: instead of having a letterbox on your door, why not try a wall-mounted letterbox with a lock? These have the added benefit of improved privacy, and are a good option if you have a pet or a small child that likes to play with the mail when your back is turned.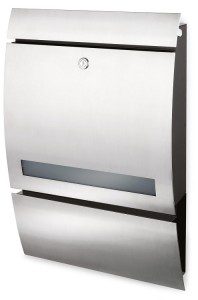 If you do a lot of online shopping, then maybe a full-sized parcel box with a lock would be a better choice than a standard letterbox or mailbox. Even a relatively deep door-mounted letterbox is going to struggle with all but the thinnest of parcels. If you choose a parcel box, make sure that it is mounted securely to a wall, and that it has a good lock. Check the box for parcels frequently – nothing screams "burgle me" like an overflowing parcel delivery box.
If you opt for a mailbox that catches your letters, make sure that there is a large drop from the letterbox opening to the base of the box. It is common for thieves to fish mail out from shallow letterboxes. Opportunistic thefts like this are far more common than thefts where the criminal broke open the lock.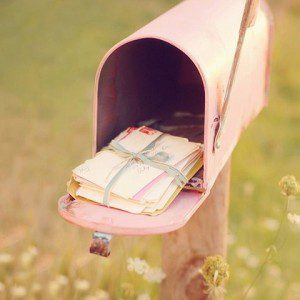 If you choose a standard letterbox, think about how it will alter the look of your door. If you have an imposing black front door with a brass knocker, choose a letter box to match. If you have a more modern looking property, pick something sleek for your letterbox, such as clean plastic or brushed steel.
The range of colours available for letter boxes is quite limited. It's a good idea to pick something fairly neutral, so that you can keep that letter box even if you decide to re-paint your door.