When picking a new door to buy, you may not give much thought to the hinges that make it operable. But before you buy, it's vital that you know which hinge is best suited for the type of door you're buying and its function.
Door hinges can play a decorative role or enable additional functionality. In this post, we're going to explain the different parts of a door hinge, the materials they're usually made from and the different types of door hinges and their uses.
Parts Of A Door Hinge
Door hinges are the hardware that's used to connect your internal, external or fire door to its frame. This is the mechanism that gives the door its essential open-close functionality.
A door hinge is comprised four parts: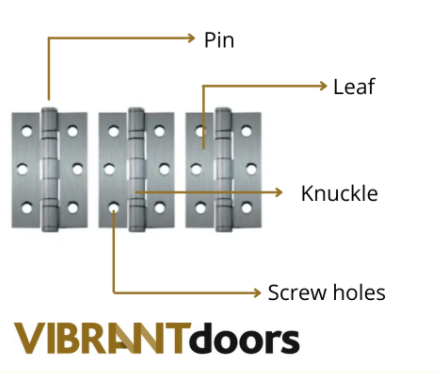 Knuckle – These are the looped parts in between the leaves.
Leaf – Not to be confused with a door leaf. Every hinge has two leaves, and are the flat parts that attach to the door and frame.
Pin – This looks similar to a nail; it's a long thin piece of material that slides between the knuckles. This central pin secures the two leaves together, making them operable.
Screw holes – These are the holes within the leaves and are what make it possible to attach the hinge to the door and frame.
What Are Door Hinges Made Of?
Door hinges are made of different materials, such as brass, bronze, copper, pewter and stainless steel. The type of material you choose will depend on the function of the hinge.
For example, if you're looking to install a front door or back door, you'll need a stainless steel hinge so that it does not rust. For internal doors, you have more options depending on what functionality you want (like a swinging door, for example), whether you want the hinge to be displayed (if you don't, then a concealed option if your best choice) and, of course, if your home has any fire doors (you'll need a fire butt hinge) etc.
In the next section, we'll discuss the different types of interior and exterior door hinges and where you may want to use them.
The Different Door Hinge Types
The type of door you're installing (i.e. external and internal) will impact the type of hinge you need to buy. Here's a helpful list of the different options and uses so that you don't end up out of pocket with hinges that aren't practical:
1) Butterfly Hinge
Use: Interior doors.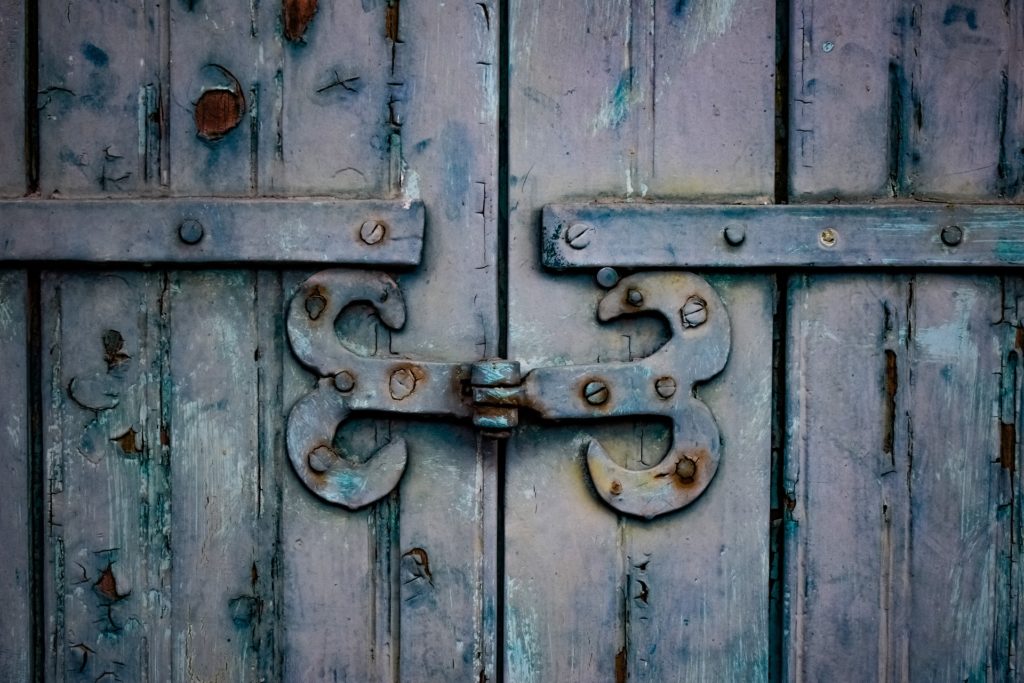 This can only be used on interior doors as they can't support a heavy load.
They get their name by their shape, resembling that of a butterfly's wings and are the best option if you want to draw the eye to your door hinges.
2) Butt Hinge
Use: Interior doors.
There are three common types of butt hinges:
Plain – These consist of two leaves, usually rectangular, with knuckles in the centre held together by a pin.
Ball-bearing butt hinge – Also referred to as ball-race hinges, these have capsules of small ball greased bearings positioned between the knuckle joints. This is a great choice for heavier internal doors.
Spring-loaded butt hinge – Also known as self-closing butt hinges, these have a spring installed that will cause a door to close automatically. Great for rooms where you want to keep the heat in. These can also be used on fire doors.
Butt hinges are the most common types of door hinges.
3) Case Hinge
Use: Exterior doors.
These share similarities with butt hinges, except that these are often decorative.
They are great for wider, heavier and bigger doors; making them a fantastic option to use on external doors.
4) Concealed Hinge
Use: Interior and exterior doors.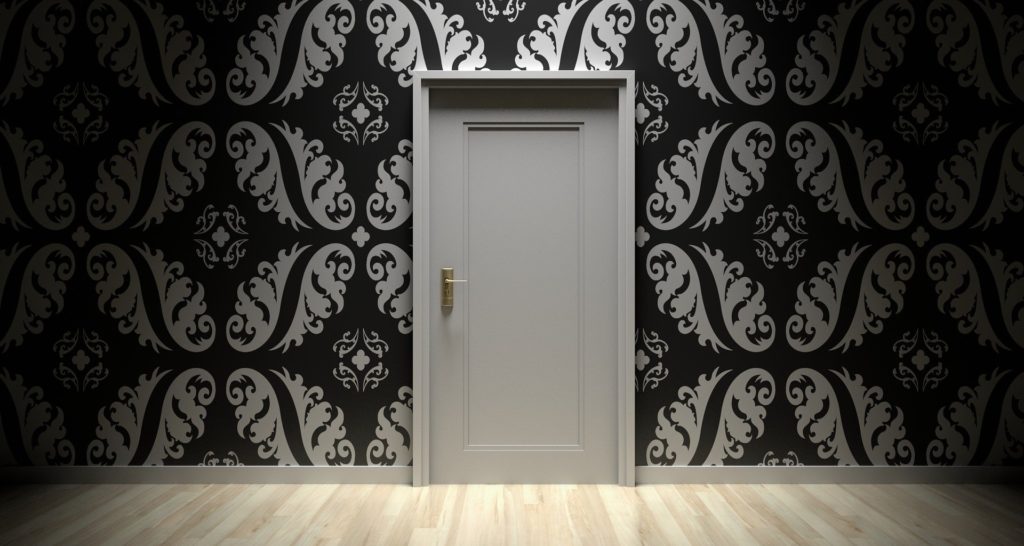 Concealed hinges are also referred to as invisible hinges, as they are designed so that you won't even get a glance at them when the door is closed regardless of which side you're on.
These are an exceptionally good choice for entrance doors, as they are impossible to tamper with when the door is shut, giving an extra layer of security and peace of mind.
5) Fire Butt Hinge
Use: Fire doors.
While technically within the butt hinge family, the main function of this hinge is for fire doors. If you're buying this type of hinge be sure to check that it has the appropriate Certfire label and that it complies with BS EN 16341.
6) Flush Hinge
Use: Interior doors.
These are quick and easy to install as you don't need to cut into the door or door frame. You simply attach them with screws.
This may be the best option for any internal lightweight doors if you're looking for a quick swap.
7) Heavy Duty Hinge
Use: Exterior doors.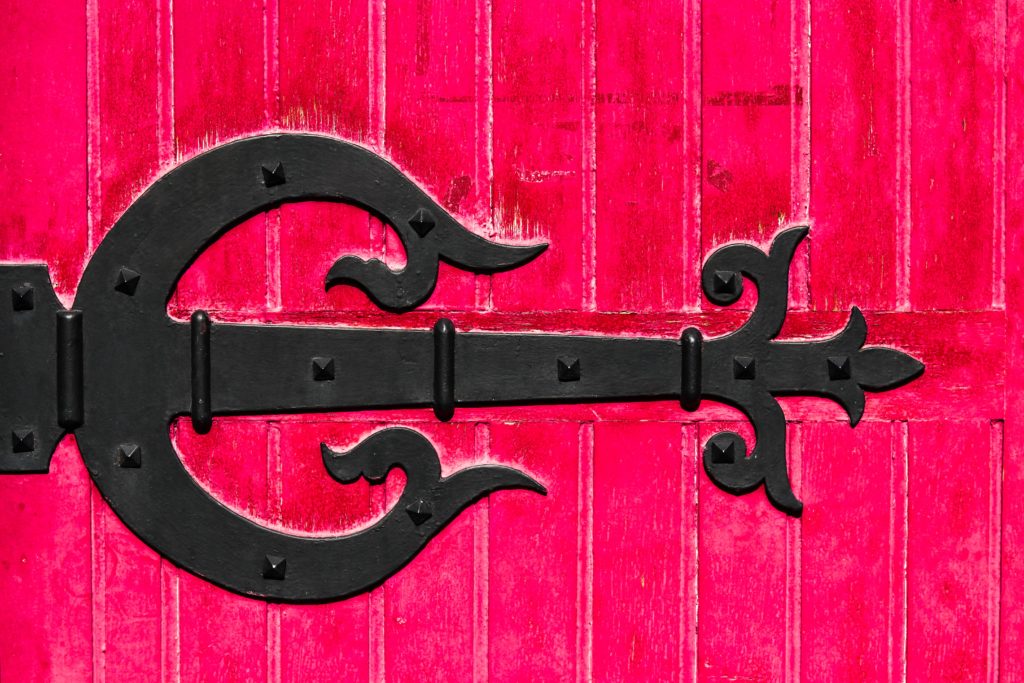 This type of hinge is mostly known for its thicker material, which is why it's used on weighty front doors that get used regularly.
The great thing about this type of door hinge is that it can be made to replicate other entrance door hinges.
8) HL Hinge
Use: Exterior doors.
These are similar to olive knuckle hinges in that they make a characteristic 'H' shape, however, they go the extra mile and attach to an 'L' shape hinge for extra support.
These are designed for particularly heavy wooden doors.
9) Offset Hinge
Use: Interior doors.
We've all been there, where we've ordered a piece of furniture and realised that it won't fit through the door. For situations like this, when you know you'll be bringing in (and taking out if you move) large, bulky or oddly shaped furniture, an offset hinge is your best option.
These open the doors and swing them away, providing a gap of up to two additional inches.
You might consider using offset hinges for rooms that need bulky furniture like bathrooms, kitchens, bedrooms and living rooms.
A similar option is a Take Apart Hinge, which allows you to regularly remove and rehang the door whenever you need to move furniture in or out.
10) Olive Knuckle Hinge
Use: Exterior doors.
You'll know this type of door hinge just by looking at it. When the door is open, you'll see the characteristic 'H' shape of the hinge, making it a particularly beautiful option for front doors.
These are also considerably durable, making them an even better choice for exterior use.
11) Parliament Hinge
Use: Interior and exterior doors.
Also known as projection hinges, these go well in apartments or for doors that separate living space from the dining room or as a back door to your garden.
They look similar to butterfly door hinges and allow the door to open 180 degrees.
12) Pivot Hinge
Use: Interior doors.
Pivot hinges are also known as knife hinges, and allow a door to open both ways. Imagine the types of doors they use in commercial kitchens – the option to open and close the doors both ways is made possible because of the pivot hinge.
It's a great (and fancy) hinge to use for your domestic kitchen or dining room, both practical and guaranteed to be a conversation starter.
13) Rising Butt Hinge
Use: Interior doors.
While still technically a butt hinge, a rising butt hinge deserves a description of its own. These hinges are a great option if you have a fluffy or high carpet to contend with, as they will raise the door by half an inch when opening, and will sit nearly within the door frame when closed.
Which Hinges Are The Best For Doors?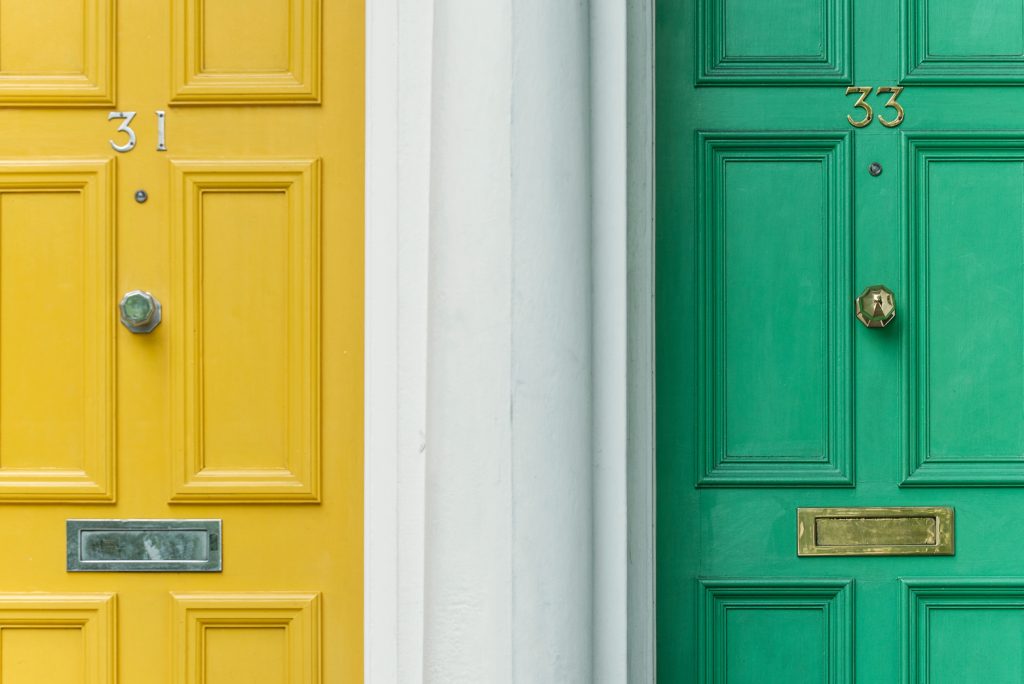 Best Hinges For Internal Doors
The best option for any interior door is ball bearing hinges. That's because they generally provide smoother, quieter opening and closing, and reduce friction, perfect for any door that's going to get a lot of use.
Best Hinges For External Doors
As we mentioned previously, the only material you can use for exterior hinges is stainless steel. When it comes to the actual type of hinge, a ball bearing hinge could be your best option.
At Vibrant Doors, we sell hinges as part of our door handle packs, ensuring a nice, complementary finish. Why not browse the selection or get in touch if you have any questions at all.