Last updated on April 13th, 2022 at 09:15 am
Everybody has a right to feel safe at home.
Whether you're moving into your own home for the first time, living alone or with family, when you close your front door and lock it, you should feel safe and relaxed.
Why Do You Need to Consider Door Security?
Thankfully, the 2021 ONS report has shown incidents and offences of burglary have fallen. Yet, sadly, a report from Aviva states that burglaries taking place while residents are home are actually more common. The report cites ONS data stating that between April 2019 and March 2020:
In 64% of burglary incidents, someone was home.
37% of residents knew the burglary was happening.
One in four attempted and successful entries occurred during daylight.
55% of incidents happened when it was dark.
Seven out of ten burglary incidents were reported during the week (Monday to Friday).
Additional research shows that 76% of intruders gain access via a door and that over half (59%) come through the front entryway.
While door security is just the first step (see our additional tips to secure your home at the bottom of this post), it's clear that knowing you have one of the safest front doors available can give you considerable peace of mind and help to keep you, your family and your belongings protected.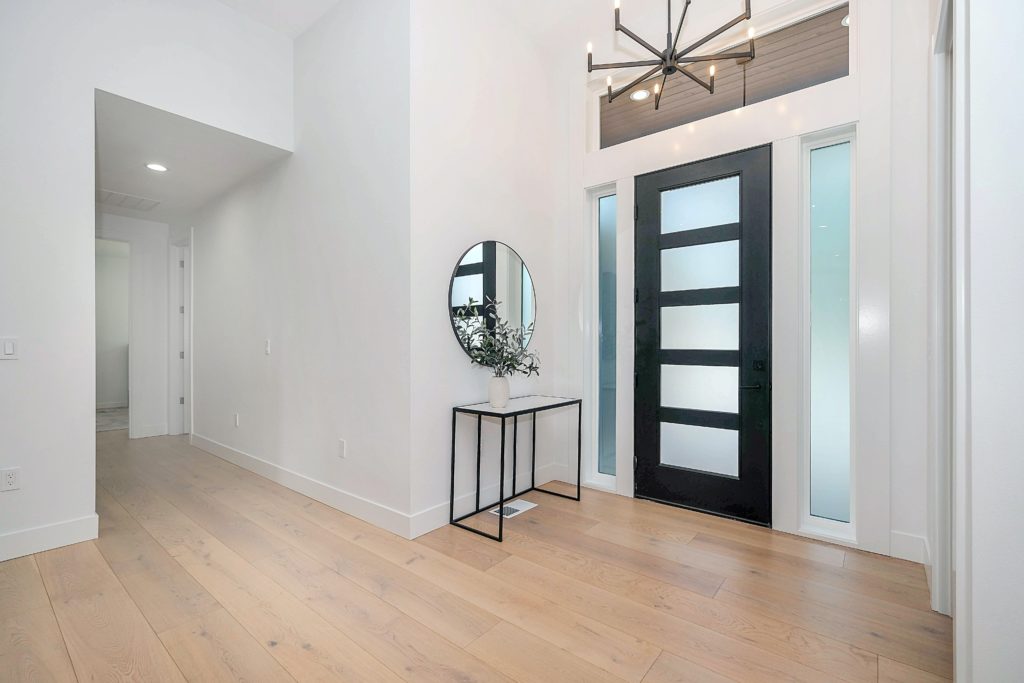 Is it Safe to Have a Glass Front Door?
Front doors with glass panelling can make from a striking exterior and help you see who is at your front door before opening it, yet we are regularly asked if it's safe to install these.
It's true that glass can easily be smashed, but the glass used as door material is often much sturdier than you think. In fact, many doors come with glass panels that are double or triple glazed.
What Type of Front Door is the Most Secure?
When it comes to replacing an external door, you're spoilt for choice. Let's look at some popular external doors that are also considered the most secure:
Composite
This may be the most modern door design, incorporating numerous materials to increase robustness, durability and protection.
Composite doors may look like normal doors but their modern advancements are quite extraordinary. Composite's makeup includes a solid timber core and a steel frame surrounded by other materials such as uPVC, glass-reinforced plastic (GRP) or laminate.
Wooden
From Softwood to Engineered Oak, there are tons of options when it comes to buying wooden doors. They suit a variety of homes from new builds to traditional cottages and a natural wood look is a classic option that will never go out of style.
More than that, they are considered to be a secure front door choice.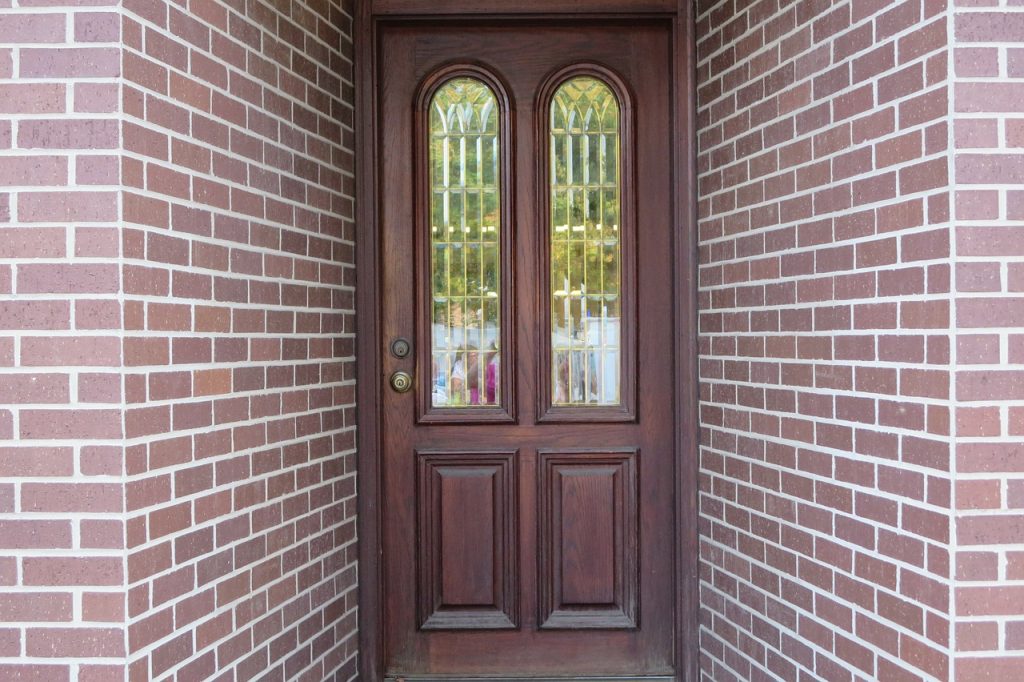 Hardwood
Hardwood doors deliver exactly what they say on the tin. They are solid wood front doors known for durability and sturdiness. If you're interested in a natural-wooden door, opting for hardwood may give you additional peace of mind.
They will keep your home safe and warm and will withstand the British weather for years.
UPVC
It wouldn't be a post about door security if we didn't talk about safety options for your back door as well as your front door.
From bi-fold and sliding to patio and french, UPVC doors are cost-effective, low maintenance and secure. Historically, UPVC doors haven't had the best reputation for security; however, this has had more to do with the type of lock and not the durability of the door itself.
The great news is that things have improved significantly over the years, so uPVC now makes it onto our list of the most high-security external doors.
So, What is the Most Secure Door?
Answer: Composite Doors
When it comes to front door security you really can't get better than a composite door.
Because of the mix of materials used, these doors can withstand substantial force, increasing the security of your home considerably.
Composite doors are generally stronger, more durable and safer than those made from other materials.
A Note on Front Door Locks
Considering the material of your new front door regarding the safety features it offers is an excellent first step. But it is only the first step.
The type of lock you invest in will impact how burglar-proof your door is. Here's a quick rundown of the options:
Smart lock: One of the more modern safety features, a smart lock is controlled by your phone and will let you see who is walking through your front door when you aren't home.
Mortice lock: Embedded within the door, these are most common in wood front doors and are incredibly difficult to force open, making them a popular lock to keep potential burglars out.
Rim locks: These sit on the surface of your door and are one of the oldest locking mechanisms. While they will make your front door look more secure, these aren't the best option as they can still be pried open with a credit card. Feel free to install these as a visual deterrent, but pair them with an additional lock for extra security.
Multi-point locks: Why have one lock when you can have multiple? Sitting within the door, a multi-point lock will still be operated with one key but can help you feel much safer. These locks are common options for composite or UPVC doors.
Security chain: Another oldie but goodie. These are fantastic for when you're home alone and somebody knocks on your door. With the security chain pulled across, you can open the door slightly and, if there is any danger, it will be much more difficult to force the door open. We've created a guide on how to install this type of lock, which you may find interesting.
Self-locking deadbolts: These will automatically lock your door once closed. To open them, you'd need to turn the latch.
Cylinder locks: Single cylinder locks are opened with a thumb turn from the inside and a key from the outside. A double cylinder lock needs a key to open it from either side of the door. A double cylinder option may be best if your lock is positioned near a window or your letterbox.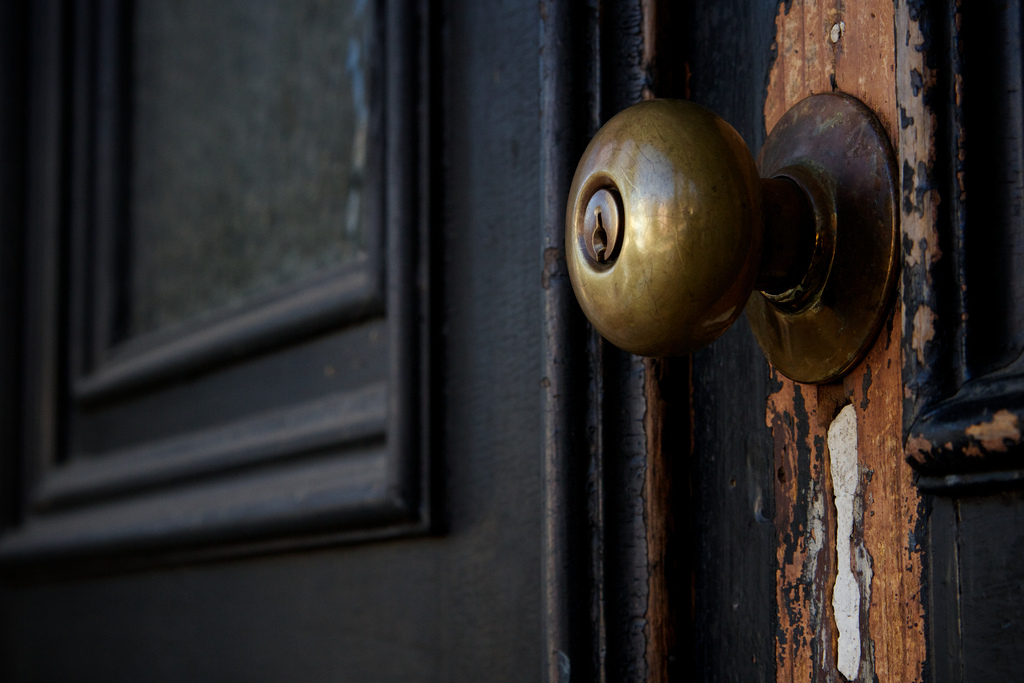 A Few Extra Safety Tips from Vibrant Doors
We want everybody to be as safe as possible in their own homes and have peace of mind that you've done everything you can to secure your home.
With that in mind, here are a few final tips to keep your home burglar-proof:
It's vital to have sturdy locks installed, but if you can have additional locks that are on display, these will act as a further deterrent.
If you do install an external lock, make sure you clean it regularly (particularly if you don't use it often). If your lock looks like it isn't used regularly, burglars will know.
Have a look around the outside of your home, is there anything that a burglar may be able to use to prise open a door or window and access your home?
Maintain bushes and trees in your front or back garden so they can't be used by burglars to scope out your property.
Don't leave calendars in view, if a burglar can see when you'll be out of the house, it will increase the chances they'll wait until then to break in.
Invest in automatic motion sensor lighting and additional lighting to give burglars fewer places to hide.
A security camera (even if you don't use it) will help put potential intruders off.
If you're replacing your entrance door, either to give your exterior a makeover or to replace one that's seen better days, you'll undoubtedly want the extra security of knowing you've purchased one of the safest doors out there.