Since the early 1990s, open-plan living has been presented as an ideal and highly desirable home setup. It's easy to see why. Whenever we're presented with open-plan areas in lifestyle blogs or estate agents' websites, we see clean, uncluttered and inherently social spaces. The kinds of places where we can cuddle up with the whole family in front of the TV or schmooze with friends at a house party without ever feeling crowded. Whenever a household wants to breathe new life into their home, one of the most common places they start is by knocking down walls.
Open-plan living eschews dividing walls between living areas, favouring a more multifunctional communal living space. Albeit, one that is segmented with different areas fulfilling different functions. For instance, a kitchen / dining area is one of the most common open-plan configurations. But one can also reconfigure their living space into an open kitchen / living room or conglomerate their living room, dining room and kitchen. For obvious reasons, bedrooms and bathrooms are usually still segregated. But anywhere families, partners, spouses or housemates gather together is amalgamated into a larger and more open space.
Here we'll look at the popularity, benefits and potential caveats of open-plan living.
Why Is Open-Plan Living So Popular?
There's a huge demand for open-plan living across the world, especially in countries like the UK where property is expensive and space comes at a premium. Architects and renovators tend to experience a lot of demand for it, and it's much less common that a client requests to add more walls to a property.
Why do people like open plan living so much?
Perhaps because it's so compatible with contemporary living. Many households have moved away from formal dining, preferring instead to gather in the living room to consume their meals together. It creates a much more relaxed and informal gathering space, while 'opening up' living spaces that can feel cramped and confined.
What Are the Advantages of Open-Plan Living?
Although it does have its caveats (we'll get to those later), an open plan layout brings with it a range of aesthetic and practical benefits.
Some of the most common reasons why households choose open-plan living spaces include:
Social space
Open-plan spaces are inherently social. They encourage people to come together, with furniture arranged in a way that is conducive to conversation and interaction. Family members or housemates can share a space and enjoy one another's company, yet have enough free space to be able to engage in separate activities.
Keep an eye on the kids
Families with young children can find it difficult to keep an eye on their youngsters in divided living spaces. Walls can become an impediment to parenting when a precocious toddler scoots from room to room at an unnerving speed.
Open-plan living allows diligent parents to keep an eye on their little ones, while still affording them space to explore and play.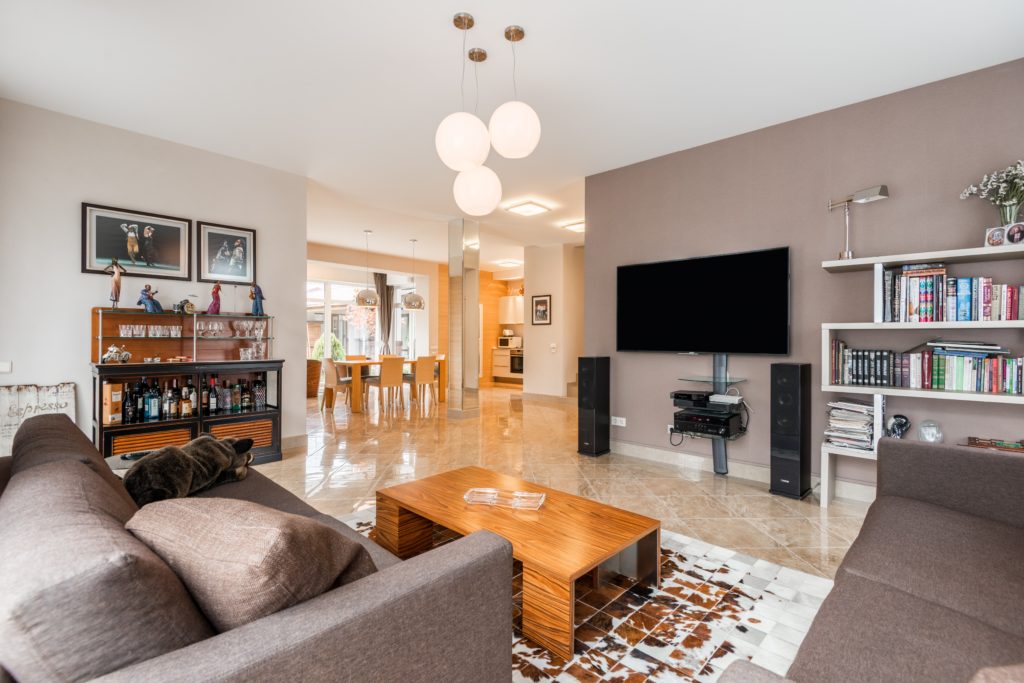 Great for entertaining
The pandemic and subsequent lockdowns have left us all hungry for social interaction. We've missed spending time with our friends and family, and want to make up for lost time with them. Another great thing about open-plan living is that it makes for easy and relaxed entertaining. Whether you're planning a dinner party, or simply having a few friends over for a movie night, open-plan living makes it easier for friends and family to come together.
Natural light and space
Eliminating the walls between adjoining rooms makes for lighter and airier living spaces. With no (or fewer) walls to block the incoming natural light from your windows, there's much less chance of an open-plan space becoming gloomy. When renovating their properties, many householders aim to enhance this influx of natural light by adding skylights and lanterns, or supplementing their doors with sidelights on either side, or installing new French or bi-folding patio doors.
Places the kitchen at the heart of the home
Food is a great way to bring family and friends together. So it's no surprise that the kitchen is often considered the heart of the home. However, the layout of some properties can make the kitchen feel like it's located in a vacuum, separated from living and dining spaces.
Virtually all open-plan living configurations amalgamate living and dining spaces with food preparation spaces. So that no matter who's cooking, they're not precluded from interacting with the rest of the household.
An open-plan living area makes it easier for people to gather together to enjoy the food they love.
Clutter, begone!
In a consumer-capitalist society, we're all going to acquire more physical possessions as time goes by. But as our possessions accumulate, they can become harder to store. And when we stop bothering to store them away, they become clutter.
Not only can clutter undermine your interior design aesthetic, it can elevate stress levels, impede concentration and take a surprising toll on your mental health. The great thing about open-plan living is that it gives clutter nowhere to hide. Nooks and crannies where clutter can gather are largely eliminated and smart storage solutions are employed to prevent clutter from impacting your lifestyle.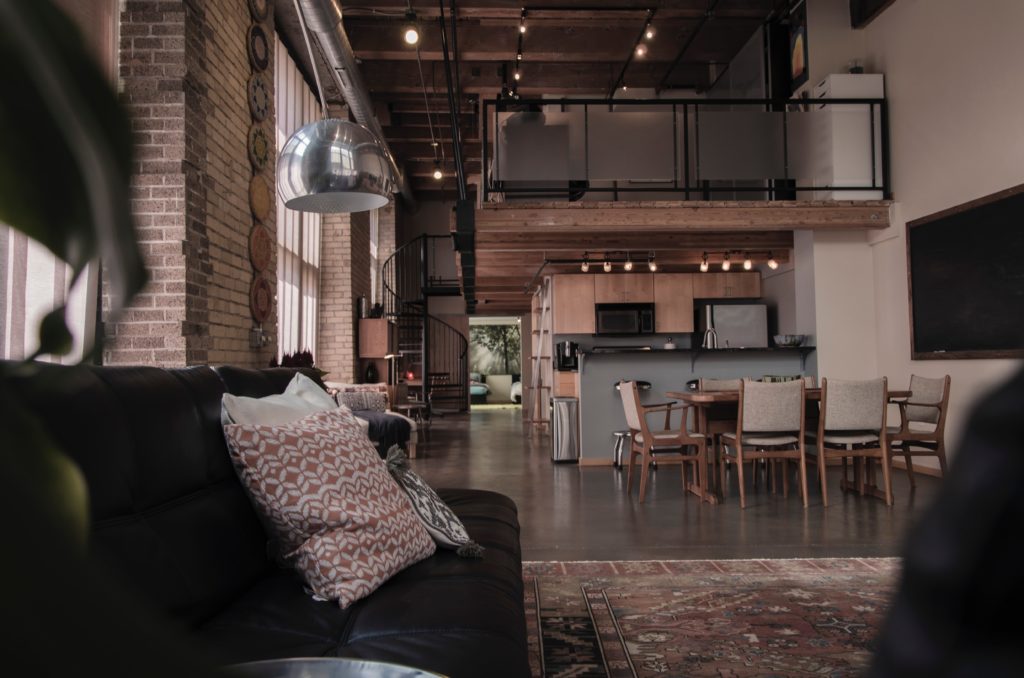 Does Open-Plan Living Add Value?
Open-plan living doesn't just add value to your lifestyle, it can even add value to your property. Reorganising a living space to make it open-plan can lead to an increase of up to 15% in value. That's around an extra £38K added onto the average house price.
Open-plan living is highly desirable, and can also make your property more appealing to buyers. So not only are you more likely to sell your property when it's time to relocate, you're also likely to make more from the sale.
The Disadvantages of Open-Plan Living
As we can see, open-plan living brings with it a range of benefits for everyone under your roof. But before you prepare to wave goodbye to your walls, there are some caveats to consider. Open-plan living has some inherent disadvantages that bear considering before you undergo the expense and disruption that come with home renovations.
Harder to contain noise and mess
Open-plan living spaces can be very unforgiving when it comes to mess. Even a few items can undo the spacious, airy and minimalist aesthetic that open-plan living areas aim to create. And once a mess is made, it can be much harder to contain or ignore. As such, households need to be more diligent when it comes to cleaning, tidying, and preventing clutter.
Noise is also a factor to consider. Without walls to separate you from the rest of the household (especially over-excited youngsters), it can be hard to focus on the TV programme you're watching or the phone call you're engaged in.
Cooking smells
This can be both a pro and a con. But let's be honest, there are times when the scent of a recently-cooked meal can mar the clean and fresh living space we're trying to create. And that's assuming that all goes according to plan.
An overcooked meal can create smoke and odours that can permeate the living space and persist for a long time.
Heating costs
The larger a living space, the longer it takes to heat. Walls provide an insulating layer, allowing smaller rooms to heat up faster. In open plan living areas, the entire space needs to be heated. This inevitably takes longer and requires more energy. This could drive up your energy bills at a time when many of us are struggling with energy costs. In fact, the average household is likely to face energy costs of around £2,000 per year when the price cap is increased in April 2022.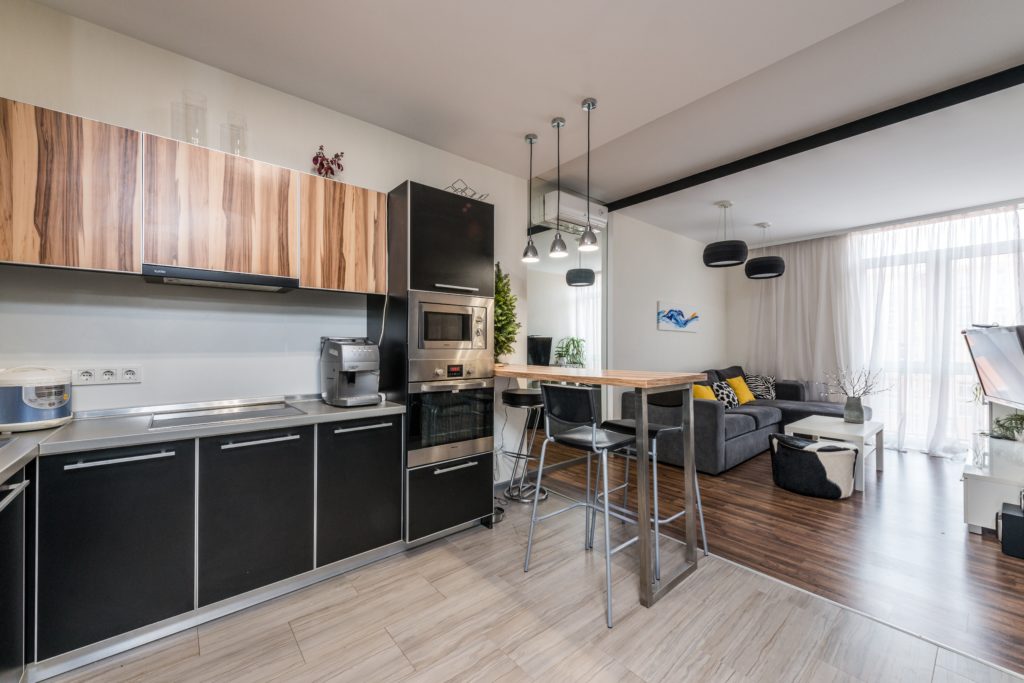 Privacy
Another potential problem with open plan living is the matter of privacy. Activities where focus and concentration are required can become much trickier when sharing a large space with several other people. In the wake of the pandemic, many of us are working remotely or using hybrid working models— dividing our working time between home and office. Distractions caused by, say, the kids playing games in the living space or your partner watching a film on the TV can lead to a potential loss of productivity.
Is Open-Plan Living in Style for 2022?
Yes, absolutely. There's still a huge demand for open-plan living space in 2022. In fact, according to National housebuilder St. Modwen Homes, online searches for "open plan house" have increased by over 160% since 2019.
If you're ready to transform your living space into an open-plan living area, here are some tips to help you do it right:
Define individual spaces
Multifunctional spaces are great. But there are many reasons why you may want to have the option to compartmentalise your space. Especially if you're working from home. Bifolding internal doors can be a great way to do this. The way in which they fold allows you to get the best of both worlds, compartmentalising your space whenever you need to, and folding unobtrusively away when you want to take advantage of your open-plan layout.
Build in efficient storage solutions
Open-plan living spaces can be extremely unforgiving when it comes to clutter. So make sure that your living space has lots of intelligent solutions to keep your belongings within easy reach, but out of sight. There are all kinds of solutions to help you store more in kitchen cupboards, and a sofa or ottoman can provide added storage space in your living area.
Make the most of the space
When presented with an abundance of space, many of us feel an instinctual need to fill it. But the beauty of open-plan living is allowing your space to speak for itself. By all means, furnish your space and add a few statement pieces to give your living space a sense of personality. But don't be afraid to embrace a more minimalist approach to your decor.
How can we help?
At Vibrant Doors, we can help you make the most of your open-plan living space. Whether that's by supplying internal bifold doors to compartmentalise your space, or by furnishing your space with beautiful French doors and sidelights to flood your space with natural light.
Take a look at our range and see how we can help you add both style and functionality to your open-plan living area. 
Featured image: Mike Gattorna on Unsplash