Last updated on January 6th, 2021 at 02:42 pm
As we enter a new year and a new lockdown, it's fair to say that we've all been in need of a little extra cheer this past few months. Whether it's lockdown memes, or socially distant birthday cards, there's been no shortage of people trying to put a positive spin on the situation. The good ol' British stiff upper lip and all that.
So, not to be outdone, we thought we'd get in on the act. We've dreamed up a range of lockdown-related gifts that will make you feel right at home during these trying times (because where else is there to be?), and hopefully give you a bit of a laugh into the bargain.
Note, not real products (sadly) – though you can find similar on the likes of Etsy, Not on the High Street etc….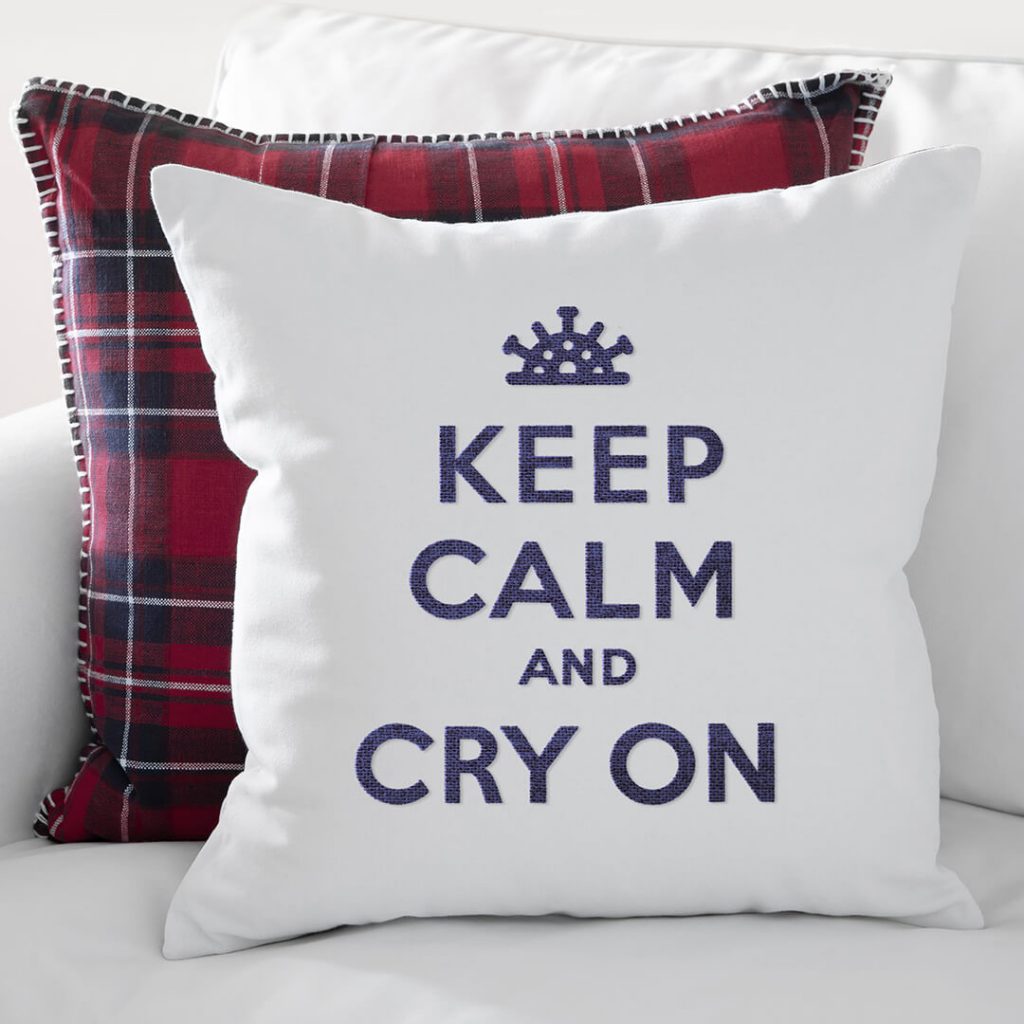 Keep Calm and Cry On Cushion Cover
This comfy and cosy cushion features an appropriate inspirational message that we're sure will resonate with everyone in these tough times. Based on the famous wartime motivational poster (also appropriate right now, to be fair), this cushion is the perfect partner for when all you need is a good cry. In fact, we encourage it! The current situation is pretty stressful for everyone, and it's been proven that a good cry is beneficial in lots of ways: releasing tension, ridding the body of stress hormones, fighting bacteria and improving mood, among others.
Beyond lockdown, we think this stylish cushion has other practical uses, including, but not limited to: tough breakups, football teams losing, Netflix binges, running out of cake, watching Coco/ Marley and Me/ The Notebook/[Insert sad movie of choice here], running out of wine, …
Available with or without insert, and in a range of colours to suit your colour scheme. Dimensions: 50 x 50 cm. Do not wash.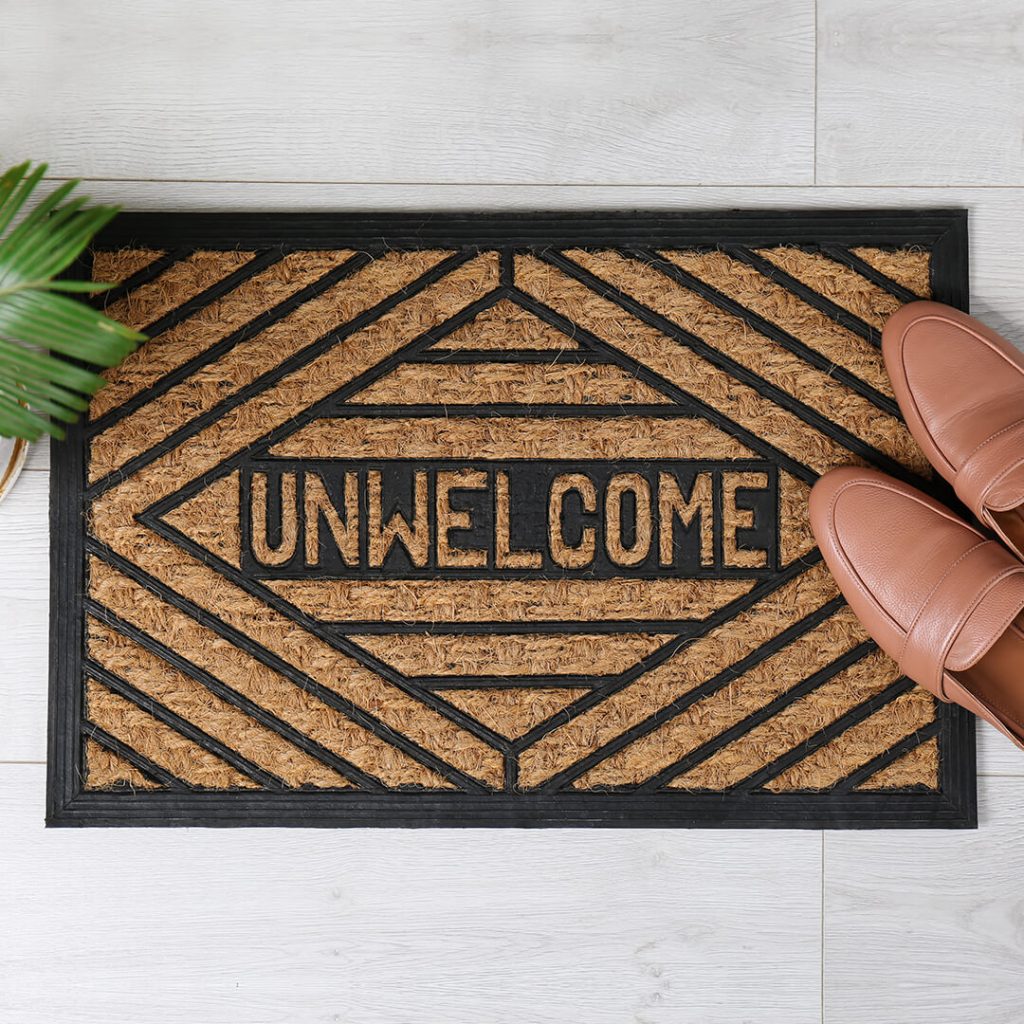 The Unwelcome Mat
Make sure callers at your house know where they stand with this "Unwelcome" Mat. Perfect for lockdown, or if you just want to be alone, this smart doormat will do the talking for you. Just don't blame us if your parcels don't arrive.
Featuring a simple geometric design made from natural coir fibres and durable black rubber, this fine doormat will keep both unwanted visitors and dirt out of your home. It's mould-resistant and features a rubber backing to hold it firmly in place.
To keep the mat clean, simply shake out any stones or debris, or run your vacuum over it.
Mat dimensions: 60 x 90 cm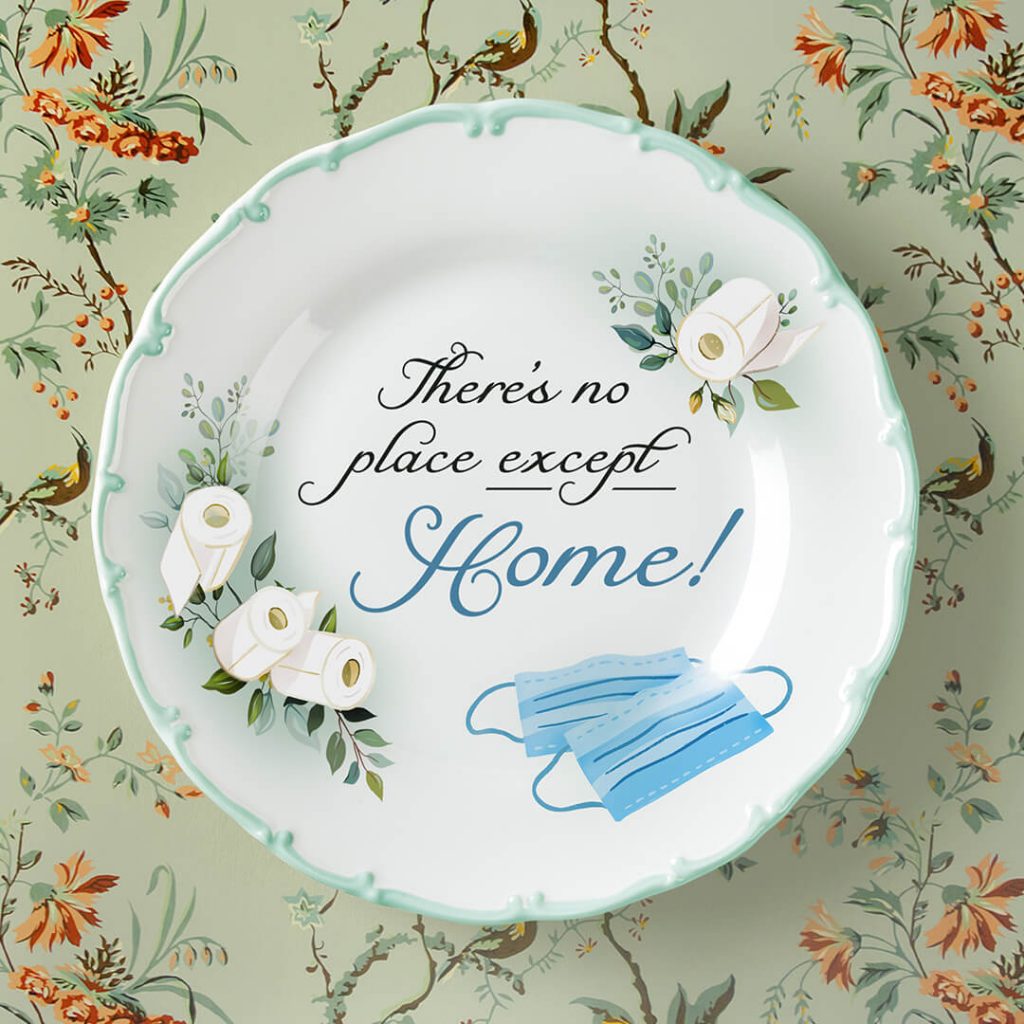 There's No Place Except Home Decorative Plate
There really is no place like home at the moment… because we can't go anywhere else! This charming ornament features an attractive, hand-painted design of toilet paper "flowers" and face masks to put lovely lockdown twist on the famous quote from the movie The Wizard of Oz.
Hang on the wall as part of a collection, or use to hold your favourite biscuits or cake.
Made from fine bone china, and finished with a delicate, duck-egg-blue border this gorgeous plate is 8.5 inches in diameter, and would make an ideal gift for anyone who loves decorative plates, or cake. Not dishwasher safe.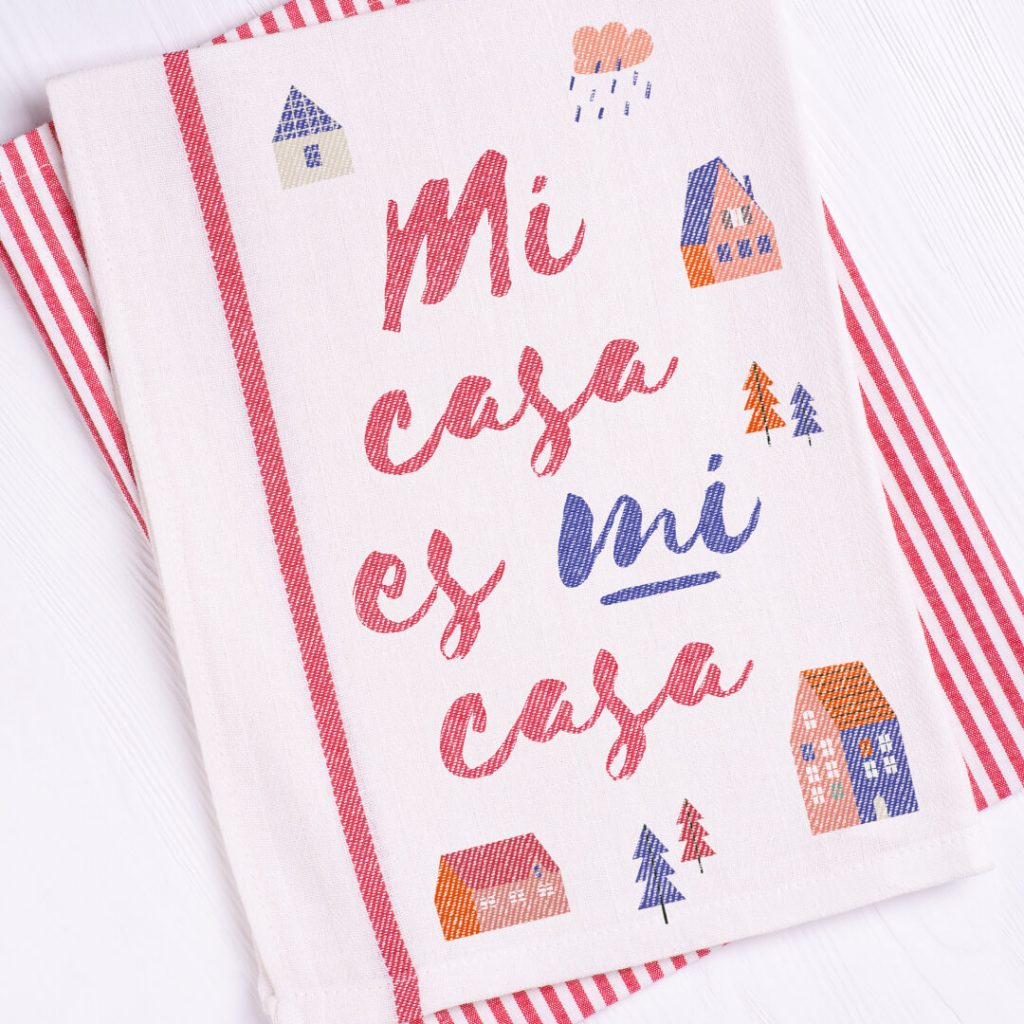 Mi Casa Es Mi Casa Tea Towel
Mi casa no es su casa anymore with this cute and useful teatowel. An ideal gift for friends and family, this towel will add a bit of sass and attitude to any kitchen. Featuring a colourful screen-printed design of houses and trees, it's sure to delight anyone who receives it.
Use it to dry your "There's No Place Except Home" plate (see above) or "Where There's Tea There's… Nope" cup and saucer (see below), or just hang in your kitchen for a bit of fun.
Made of organic, fair-trade cotton, machine washable, includes hanging hook.
Dimensions: 45 x 70cm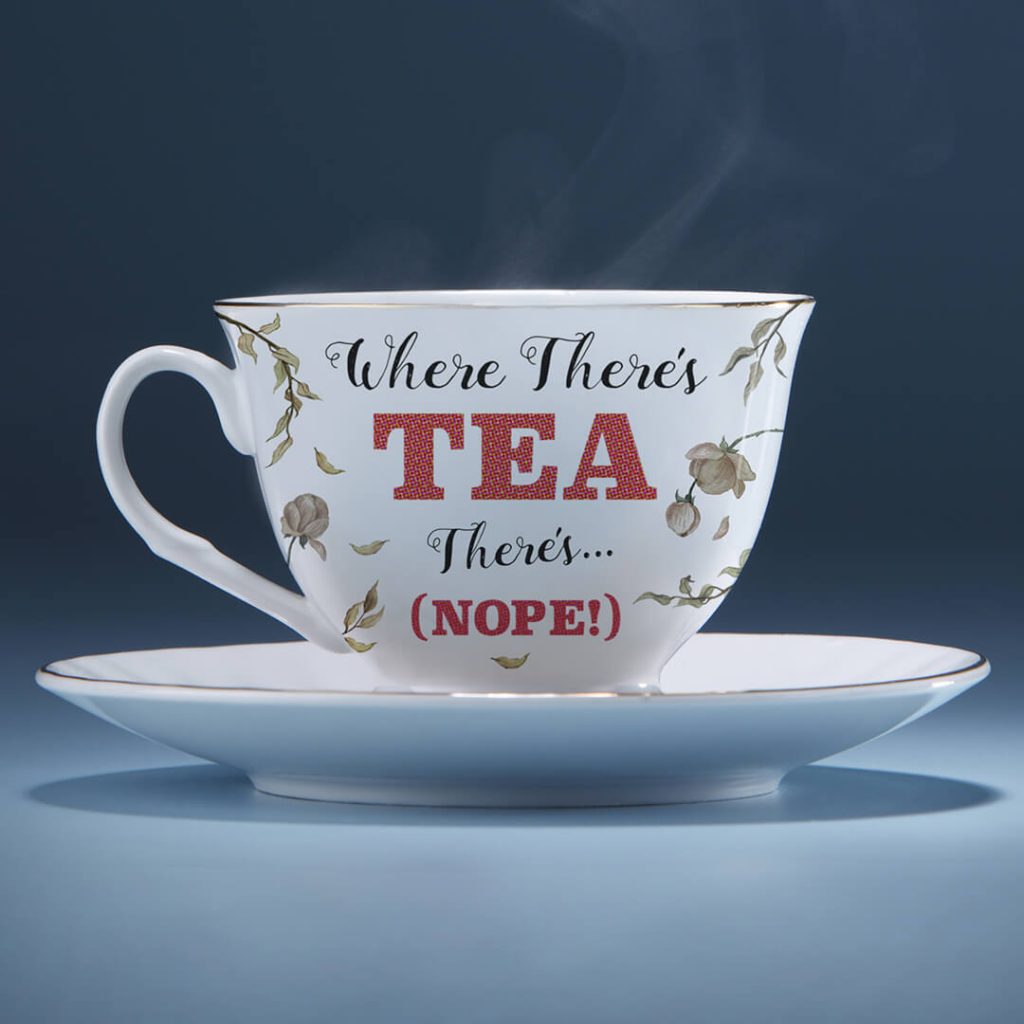 Where There's Tea There's … Nope! Cup and Saucer
It's often said, "Where there's tea there's hope". However we feel that this saying could be updated to more accurately reflect the current situation. So we created this lovely cup and saucer set for you to enjoy your many, many lockdown cups of tea in. Made of fine china with an attractive gilded border, this delightful item features a classic hand-painted design of flowers and leaves on a white background, with the quote picked out in striking black and red.
The perfect gift for the tea-lover in your life. Ideal for breakfast or afternoon tea – in fact ideal for any time of the day. Who's counting? What is time?
Cup diameter 10 cm, saucer diameter 15cm.
Capacity 220ml.
Not dishwasher safe.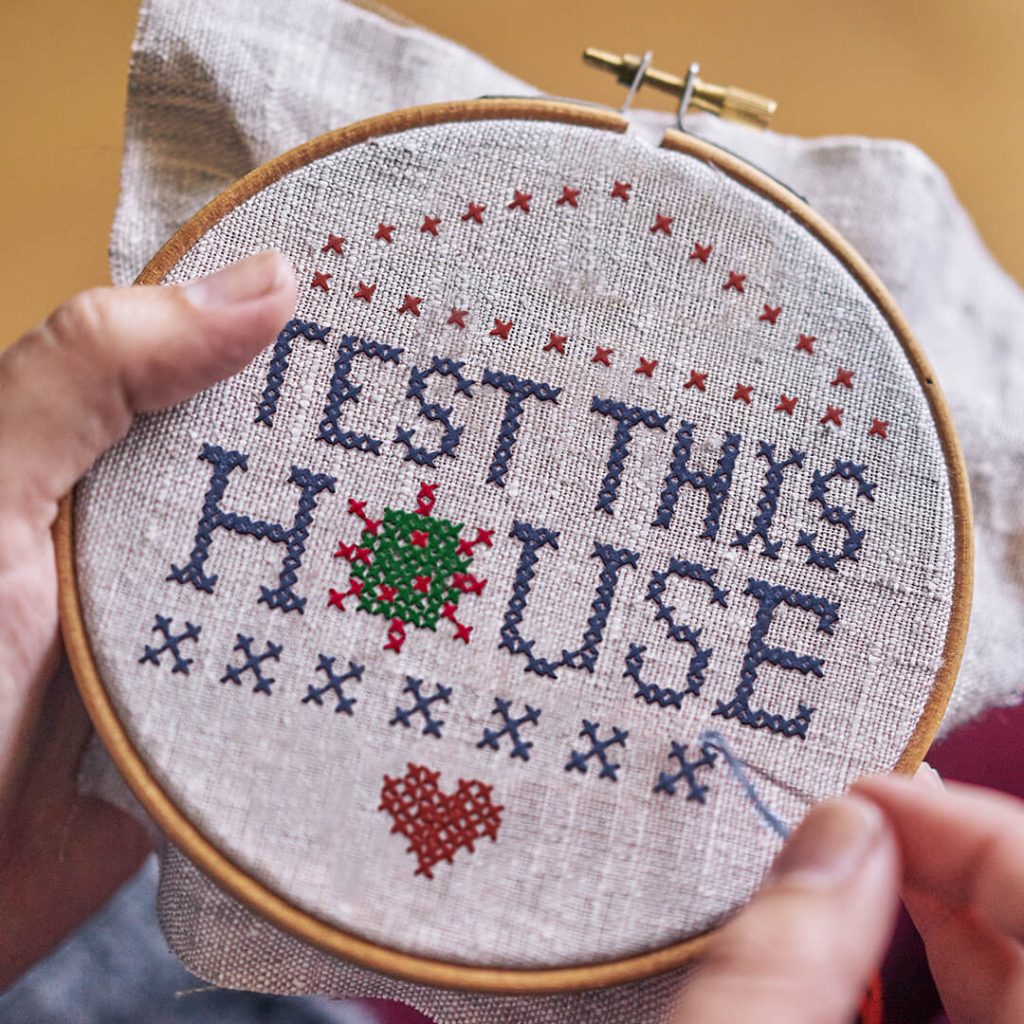 Test This House Cross Stitch
Cottagecore is a big thing right now, and what better way to nod to the trend than with this very topical cross-stitch? Featuring a twist on the cross-stitch-favourite saying "Bless this house", this is ideal for hanging on your wall. The design features a red roof over the words "test this house" picked out in blue. A small red heart completes this fun and unique item.
The pattern is also available (with or without hoop) if you'd like to have a go at creating it yourself . After all, we all need something to keep ourselves occupied! And it's perfect for beginners and experts alike.
Diameter: 12cm
Whilst it's fun to make light of the situation now and again, and appreciate that it's been one crazy year, we don't want to undermine the importance of staying at home and staying safe during this lockdown. It's vital that we all keep to the rules, maintain social distancing, wear our masks and avoid mixing with other households (unless you form a bubble, of course). Stay home and stay safe everyone. We will get through this.