Last updated on May 12th, 2020 at 01:13 pm
They're some of the most famous places and landmarks in the world, visited by millions of people every year. But did you know that, hidden away in some of the world's biggest tourist attractions, there are secret rooms and spaces that only a lucky few ever get to enter. We're not talking about behind the scenes, staff-only areas, either. These are spaces that are (or were, or were supposed to be) open to the public, but unless you have a spare few-hundred-thousand dollars, know the right people, or are a 19th Century scientist, you'll never set foot in.
That is, until now!
Thanks to our awesome design team, we've made it possible to "step inside" these secret and hidden spaces, and find out what goes on. You'll visit the ultra-exclusive Club 33 at Disneyland, find out what's inside the Statue of Liberty's torch, and see inside a secret Pixar speakeasy.
So, without further ado, let's kick off our tour (click on the images to view bigger)…
Gustave Eiffel's Secret Apartment – Eiffel Tower, Paris – Built 1889
The Eiffel Tower is one of the most instantly recognisable landmarks on the planet. But did you know that the architect, Gustave Eiffel, built himself a secret apartment at the top? With a view of Paris unrivalled by any other dwelling, wealthy Parisians were falling over themselves to rent the apartment out. But Eiffel never let them. Instead, he used the apartment himself to entertain only the most prestigious and privileged guests. (mainly the world's scientific elite, Thomas Edison among them).
The Tower was initially intended as a temporary fixture and slated for demolition in 1909. Eiffel, understandably not wanting this to happen to his masterpiece, created the apartment to give the Tower a scientific purpose that would ultimately save it from destruction and shape the Paris skyline forever.
These days, visitors to the Tower generally can't go inside the apartment (although they do offer tours sometimes). But if you've got a ticket to the top, you can peer in through a window and see what all those wealthy Parisians never got to see.
In contrast to the exposed steel structure of the Tower, Eiffel's apartment is all paisley wallpaper, wooden furniture and patterned carpets. The furnishings and decorations are largely unchanged, and there are even a couple of mannequins of Eiffel and Edison!
Take a look at our floorplan of the apartment below…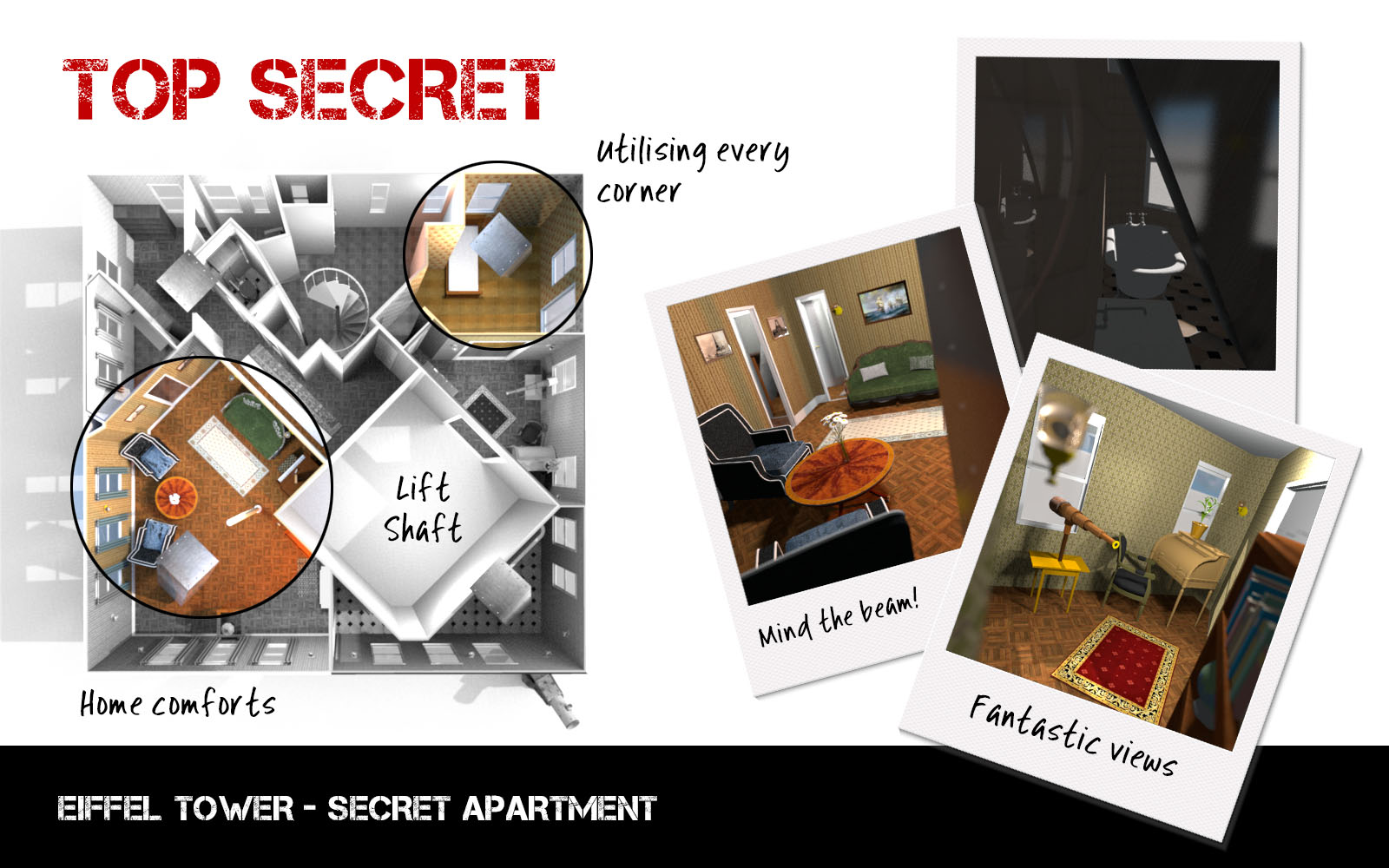 Love Lounge/Lucky 7 Lounge – Pixar Studios, Emeryville, California
The creative minds at Pixar are behind some of the biggest and best family movies of all time: Toy Story, Up, Finding Nemo … But one of them is also behind a (now not-so-) secret speakeasy that's played host to some of the biggest names in showbiz, sport and business.
One day, animator Andrew Gordon discovered a small door in his new office. Being a curious sort, he decided to go through it, and found an empty space created by the shape of the building and its air conditioning system. So, he did what anyone would do: he decorated it with Christmas lights, lava lamps and leopard-print cushions and turned it into a bar known as the "Love Lounge". Pixar's then-owner Steve Jobs (you may have heard of him) was a regular visitor, although not being a drinker, he preferred to use the room to meditate.
Eventually, it became clear that the Love Lounge was a little on the small (and not incredibly accessible) side, so when Gordon moved offices, he created a new not-so-secret bar, the Lucky 7 Lounge. It's hidden behind a bookshelf, and is slightly bigger than the original. It too has played host to many a celebrity.
But don't worry if you're not Steve Jobs, a member of the Disney family or Dame Edna Everage! We've put together the best bits of the two bars in our graphic below, complete with poker table, mini-bar and velvet couches…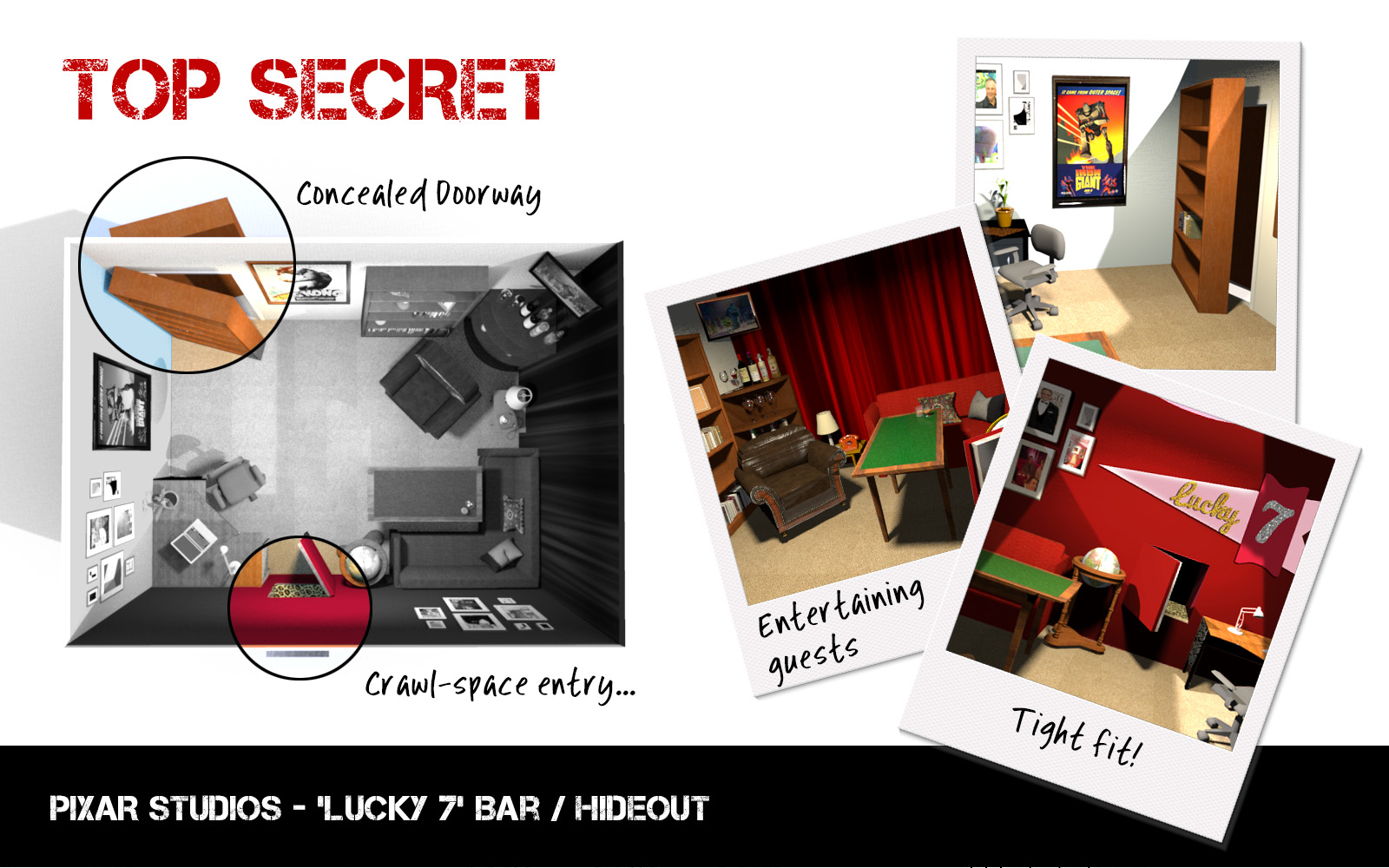 Statue of Liberty's Torch – Liberty Island, New York City, New York
Like the Eiffel Tower, the Statue of Liberty is also one of the world's most iconic landmarks. Visitors to New York can take the ferry out to Liberty Island (would also recommend Ellis Island while you're there), climb to the statue's crown and explore its surroundings.
But did you know that it was once possible to climb right up into the Statue of Liberty's iconic torch? By climbing up a narrow ladder hidden in her arm, visitors could get a 360-degree view of New York City's harbour. Unfortunately, during the First World War, a nearby explosion sent shrapnel into the arm holding the torch and it was deemed unsafe.
The torch carried by the statue today is not the original. It was replaced with a replica in 1985. You can get an up-close-and-personal look at the original torch (in all its shrapnel- and weather-scarred glory) when a new museum opens this summer. Previously, only those with tickets to the pedestal could see it.
Nowadays, it's only maintenance workers who get to climb up into the torch (there are floodlights in there). But thanks to our talented design team, we've made it possible for you to take a peek inside…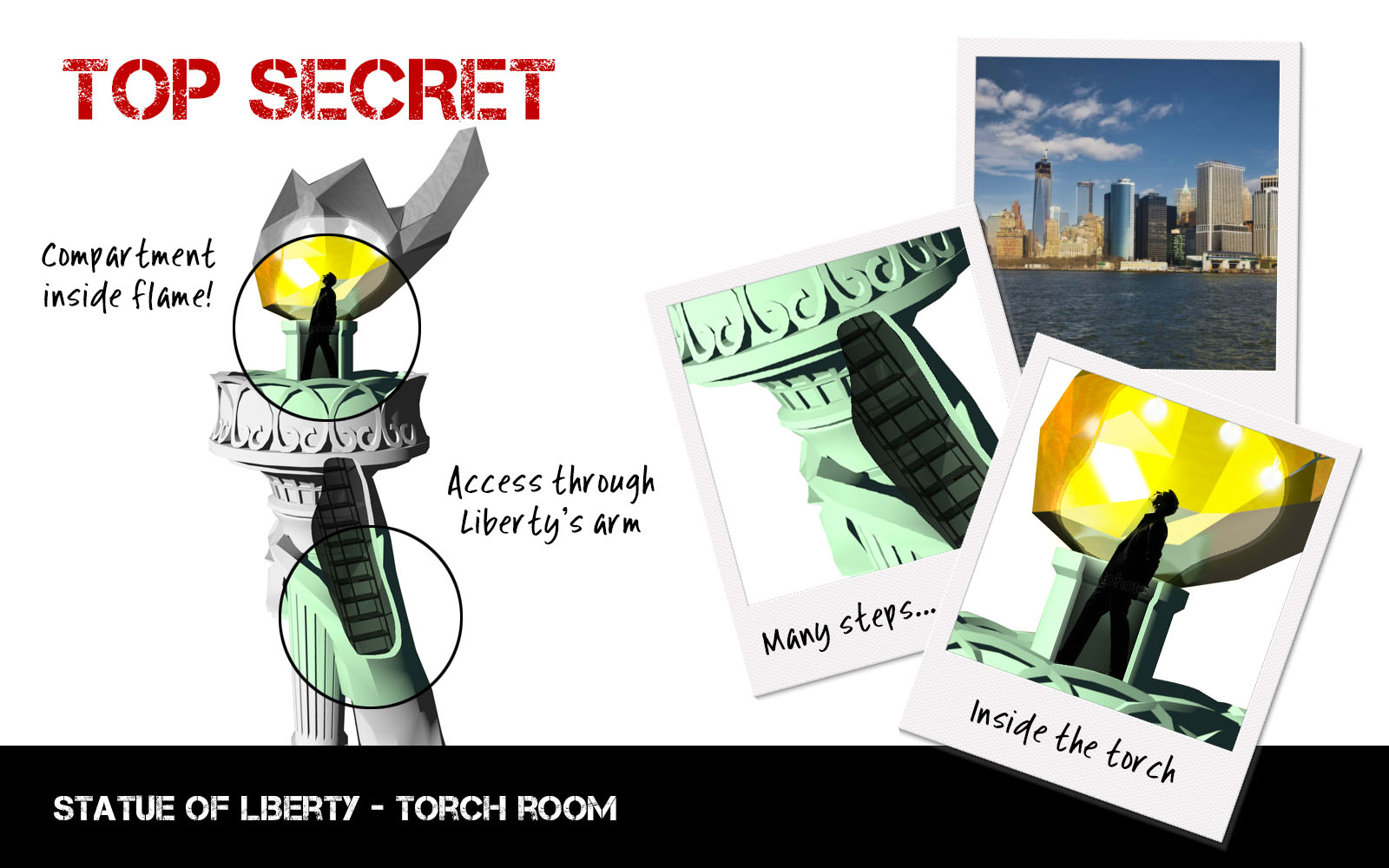 Hall of Records – Mount Rushmore National Memorial, Black Hills, South Dakota
This one sounds a bit like something out of an Indiana Jones movie, but it's completely real! Mount Rushmore National Memorial is a huge monument in South Dakota, carved out of the mountainside. It features the heads of former US Presidents George Washington, Thomas Jefferson, Theodore Roosevelt and Abraham Lincoln. Each head is 60 ft tall. The memorial was sculpted by Gutzon Borglum, with the help of his son.
Right inside Lincoln's head is a secret room called the Hall of Records. Borglum intended this to be a repository for important American documents and the story of Mount Rushmore and how it came to be (after his initial plan for a huge inscription alongside the presidents' heads was scrapped). There was to be a hall 100-foot-long, lined with glass cabinets. The Constitution and Declaration of Independence were going to be housed there. However, Borglum died in 1941, and America got involved in World War II, and the vast hall was never finished.
In 1998, though, Borglum's vision was realised, at least in part. A repository of records was placed in the floor of the hall and covered with a granite slab. This repository contains 16 enamel panels, inscribed with the story of the monument.
Today's visitors can't access the hall – it's considered not to be safe. It's hoped, though, that thousands of years in the future, the records will be unearthed, and our descendants will be able to learn the story of Mount Rushmore and its presidents.
But you don't need a time machine to see inside the Hall of Records right now! Just take a look right here…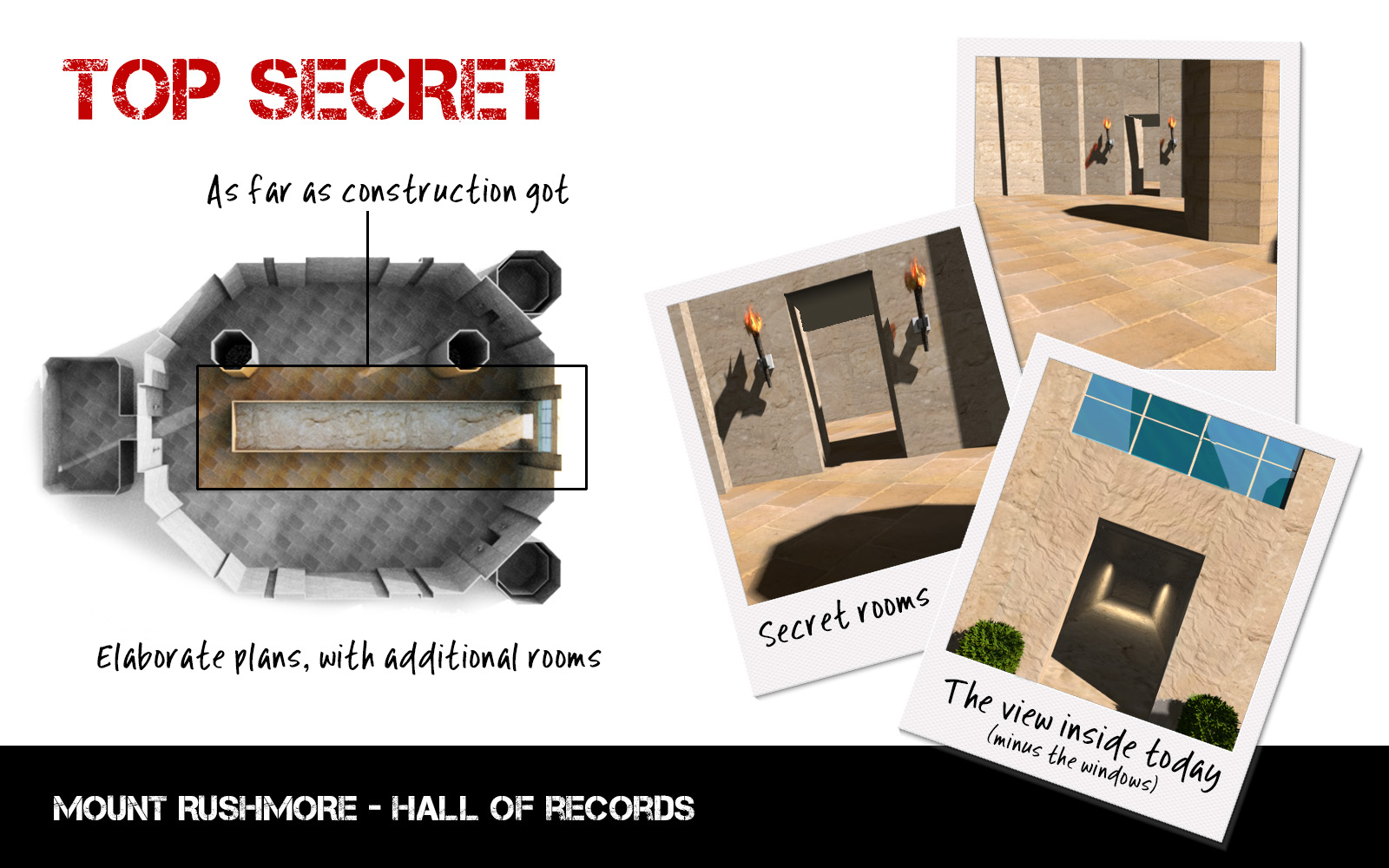 Club 33 – Disneyland, Anaheim, California (also at Disneylands Tokyo and Shanghai and Disney World Florida)
Club 33 is a private members' club that has locations in several of the Disney parks, although the original is at Disneyland California. The original Club 33 was the idea of Walt Disney himself, when he created his first theme park in Anaheim, California. He visualised it as an area where he could entertain VIPs and family, away from the hustle and bustle of the rest of the park. Unfortunately, Disney died before he could see his project completed, however the club did open, and nowadays provides an ultra-exclusive experience for members.
Here we have a secret space that is open to visitors… if they have money to burn. The joining fee for Club 33 starts at $25,000 and can be up to $100,000, while the annual membership fee is anywhere between $12,500 and $30,000.
So, what exactly does a heck of a lot of money get you?
Upon arrival, guests are greeted by a talking vulture (his name is Alfred). There are 2 "salons": the Salon Nouveau and the Grand Salon, which feature bars and eating areas that serve exclusive cocktails and menus (it's the only place anywhere in Disneyland that serves alcohol). There are also several other rooms where guests can chill out in style – they can even eat on the balcony if they choose!
But even the super-rich have to "exit through the gift shop". Although, instead of plastic keyrings and Mickey Mouse ears, members can purchase exclusive merchandise emblazoned with the Club 33 logo.
Not got a spare £25,000 to burn? Never mind, we can give you a sneak peak inside Club 33 right here…