Last updated on February 25th, 2021 at 11:24 am
Oak doors can make a beautiful addition to any property – whether it is a modern one or a period one – but they do require a little more care and attention than some other, more modern materials. If you're thinking of having oak doors fitted to your new property, or as a part of your next renovation, these tips will help you to get the most out of them, and ensure that they last for many years.
What Are Oak Doors?
Oak is one of the most popular species of hardwood used in both interior and exterior decorating these days. It has a dramatic, pronounced grain pattern which is what makes it so suitable for use in doors, windows, and even flooring. It is highly durable, and it is also easy to work with. It accepts stains well.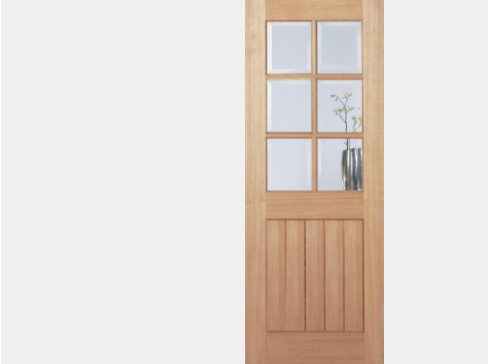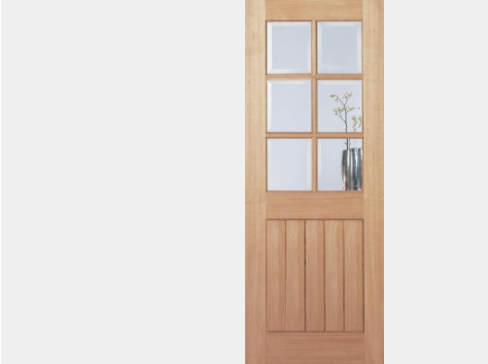 While many oak doors are made of solid oak, there are other options such as oak veneer doors and engineered oak doors, which could be a better option depending on your budget and the climate in your area.
What Are Engineered Oak Doors?
Engineered oak doors are made of a solid core of oak, with a plywood layer and then a hardwood oak veneer attached to the surface. Are engineered oak doors any good? Well, there are some benefits in terms of weight and cost, but there are some downsides too – it is harder to repair engineered wood if it gets scratched, warped, or damaged, for example. The up-front cost is lower, and if you take good care of the door then it could last a long time, but it will most likely end up needing replaced more quickly.
What Are Oak Veneer Doors?
Veneered wood is similar to engineered wood in that again, you are not getting 'solid wood' – you are getting a thin layer of the wood that you expect (in this case Oak) that is glued to the top of a core material – which is usually a much lighter wood. Oak veneer doors are far less expensive than solid oak doors, and usually less expensive than engineered oak doors too, and they still look just as good because they have an oak exterior – however, again, they may not hold up well in damp environments.
Solid Oak Doors
Solid oak doors are more expensive than veneer or engineered doors. How much you can expect to pay for a door depends on the size, style, whether there are any windows or decorative elements, how secure and energy efficient the door is, and other factors. A plain door could cost as little as £350, but a large bifold door with energy-efficient glazing could cost £1,700. It pays to shop around and to think carefully about the 'features' you want on the door.
Oak doors can be made to measure out of high quality timber, or purchased in standard sizes. Solid wood is strong and resilient, comparatively easy to maintain, and should last for a decade or more with good repairs.
Browse our range of stunning oak internal doors. Glazed doors, fire doors, panelled doors & more. There's something to suit any home. Free delivery over £750!
How To Treat Oak Doors
In most cases, oak doors are supplied 'in the white' meaning that they are just the bare wood. You should never use a door in that state – especially not an external oak door. To protect the door from the elements you should treat it with a seal or a varnish.
If you're not sure what to put on oak doors, think about the environment that they will be used in. Wax is a good choice for internal doors, because it produces a nice finish, but it does not tend to last very long, so you should not use it for external doors. Varnish is also good for internal doors, but will crack and peel if exposed to sunlight.
Another thing that you should think about when you're deciding what to treat oak doors with is the finish that you want. Wax treatments look nice and will preserve the existing colour of the wood quite well, while varnishes can add a nice shine, and depending on the tint they can also add a good stain to the wood, bringing out the grain rather nicely.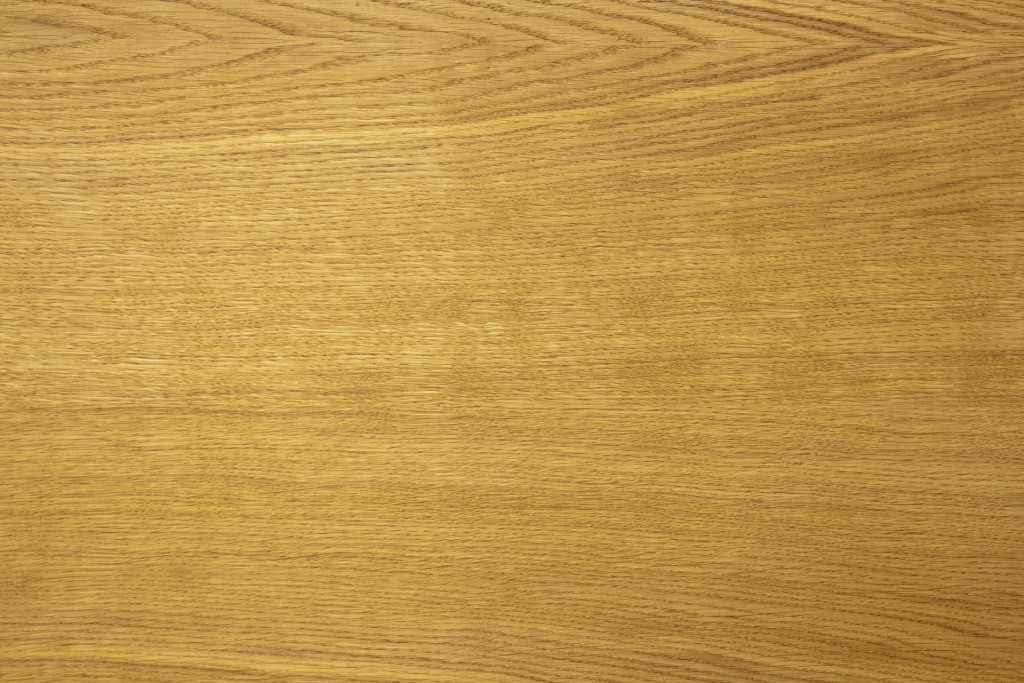 Stains For Oak Doors
Oak doors are easily affected by the sun or the rain, which means that a lot of people find themselves wondering how to restore oak doors to their former glory, or whether it's even possible. The good news is that you can bring them back to life quite easily. Strip off any existing varnish or finish and scrub the door with a wood reviver or fungicidal wash, then treat it with a clear wood preservative, before adding a stain.
Note that even a clear coating will actually give some colour to oak – if you want to keep the 'natural' look, try adding a tiny bit of white to the topcoat. Be sure to test the mix in an inconspicuous area, because different woods need a different amount of white to clear top coat to get the best results – it won't be perfect, but it does produce a nice illusion of 'natural' wood.
Painting Oak Doors
Whitewashing oak doors is a great way to revive old oak internal doors while still keeping the grain of the wood visible. Strip off any paint or finish that is on the wood, then use a mixture of water and vinegar to neutralize the stripper. Sand the door, then use white wash mixture (or make your own with a 2:1 ratio of latex paint and water), and apply the mix against the grain, covering the entire contour of the wood.
Wax For Oak Doors
Once you know how to wax oak doors, you'll find that it's a pretty easy task and it doesn't have to take long. Make sure that the door is clean, grease free and freshly sanded. If you plan on dying the door, do so before you wax it.
Apply the wax to the wood directly, using steel wool, and working along the grain until you've covered the entire door. Allow the wax to dry for 2-3 minutes, and then buff it to the desired level of gloss using a soft cloth.
Oil For Oak Doors
For external doors, you should look at water or oil-based treatment. Exactly what to seal oak doors with will depend on how much time and money you want to spend. Water-based treatments are convenient in the short term in that just one or two coats will get the job done, but you will need to re-apply them every couple of years. Oil based treatments require more coats – but often offer better protection, and will last for a lot longer.
Choosing the right oil for oak doors can be tricky – there are a few different types of oil, and finishes too. You can opt for matt, semi-matt, glossy or satin oils. Look for an oil that is non-yellowing, and that offers both protection against water and dirt. Make sure that the door is clean and that you are applying the oil to the wood surface directly (it will not soak in to a door that has already been treated). Remember to apply multiple coats, to ensure a long-lasting finish.
Varnishing Oak Doors
Varnish based treatments are best for internal doors – you should not use them for external doors because the varnish will crack and peel with exposure to sunlight. If you aren't sure how to varnish oak doors, remember these simple tips – clean and sand the door properly, dip your brush into the varnish so that it covers one third of the length of the bristles, and then wipe off any excess using the lip of the tin. This will stop the varnish running while it's applied.
Apply several coats – allowing the varnish to dry between coats, and then sanding the coat with fine-grade sandpaper to prepare the wood for the second and third coats.
Oak Doors: The Look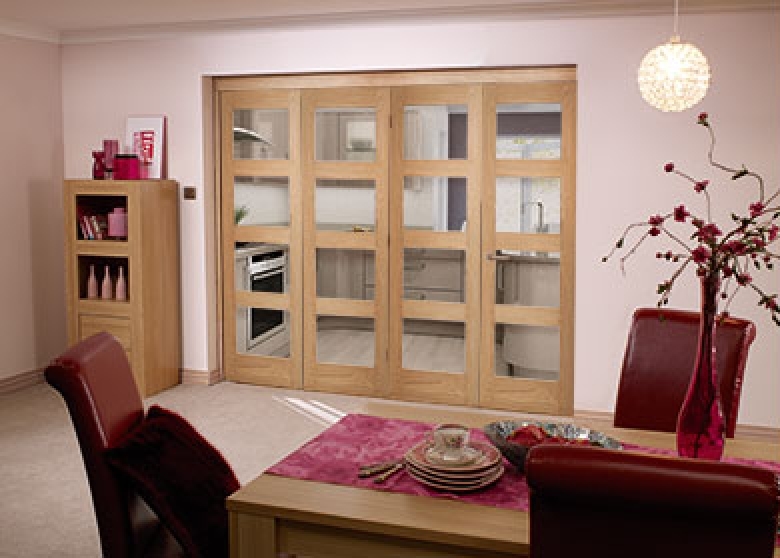 Oak doors fit well with almost any style of home – period or modern. By using different stains or paints you can greatly change how the door, and the room, looks. For example, a modern home could have oak bifold doors with side panels to let a little extra light in. For those looking for a rustic kitchen, 'natural' oak with white skirting sets the tone for a country-style room.
Oak doors look great in barn conversions, especially if the wood is stained to look a little weathered. Oak can fit well with period properties too – choose a dark stain, and then complement it with thick, luxurious carpets or dark hardwood floors. Oak interior French doors are fantastic for allowing light to flow throughout your home, while external French doors and patio doors can really bring the outdoors in.
For the bathroom, opt for oak doors with frosted glass to allow some light in while still retaining much needed privacy. Lighter colours will suit most bathrooms; consult a colour wheel to find the best colours to complement or contrast the rest of the decor.
As you can see, oak doors are incredibly versatile. With proper care, they can withstand wind, rain, sunlight and damp conditions. You should re-stain, wax or varnish them every few years (in accordance with the manufacturer's instructions). Look after them, and they will make a great addition to your home.