Last updated on August 2nd, 2016 at 02:34 pm
Over the past few years Airbnb has been growing rapidly as a way to list, find, and rent somewhere to stay. This trusted online community now has over 2,000,000+ listings worldwide from spare rooms and apartments to castles and villas. It's a great way for people to generate money from extra space in their homes which creates a unique travel experience, with some hosts offering up spare rooms for guests to visit and share their space.
This got us thinking about places we'd love to see listed so we could visit their spare rooms, explore their properties and spend time with the hosts. What's more, maybe there's some places we'd rather avoid! We imagined what would happen if some of our favourite TV shows weren't just 'on air', but also had Airbnb listings…that place is 'OnAirbnb'! How would the properties be represented? And would we really want to stay? Read on to find out more…
A Killer Apartment In Miami Beach – Dexter Morgan

When Deb moved out of Dexter's flat he was left with a spare room. Sure, he likes his privacy and his ability to come and go as he pleases. But we know how creative he could be about luring his victims. He thoroughly researched their backgrounds and planned every step of each kill, including getting his target into a private, secluded environment. Could his Airbnb ad be a trap? We're not sure, but we don't know if we'd fancy finding out…
'Family' Friendly New Jersey Mansion – Tony Soprano

The Soprano's mansion would be a luxurious and spacious place to stay. We're sure Carmella would cook up a storm of Italian Sausage soup, Rigatoni, lasagne and more. We wouldn't go hungry. On the surface, staying with a hospitable Italian family in New Jersey could be a lovely break. But just what would visitors risk getting in to? Make a wrong move and you could lose a few teeth, or even get whacked.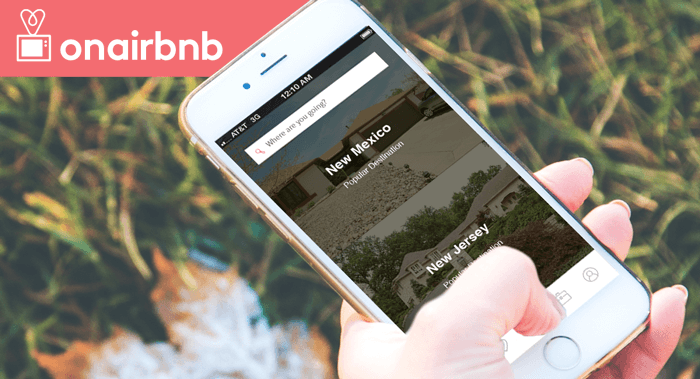 Quirky Family Home in Quahog – Peter Griffin
Staying with the Family Guy himself could be fun, if a little bizarre. Getting on the right side of Stewie would mean access to time travel and an array of secret weapons, things not every home can boast! We're sure Lois and Chris would be accommodating, and Meg would try her best. Reports so far have been mixed though. Quagmire seems to have enjoyed his stay more than Carter Pewterschmidt, and Consuela has something to say about his recent review!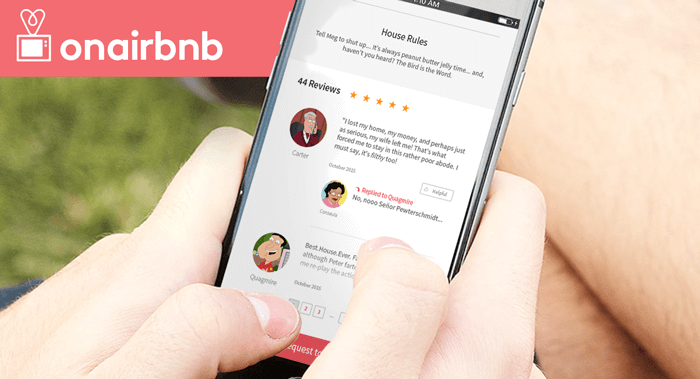 Spacious Two Bedroom Apartment, Fully Furnished, Tuffnel Park – Tim & Daisy

The 'professional couple' Tim & Daisy would make for interesting hosts, and a visit would surely be punctuated by social calls from landlady Marsha, neighbour Brian, as well as Tim's best friend Mike and Daisy's best friend Twist.
Short Break(ing) Pad, New Mexico – Walter White


The deserted house of Heisenberg, once the residence of the White family. There's ample space and under floor storage that's worth a fortune! We'd tread carefully if we were visiting as we get the impression Walt might still be keeping an eye on things.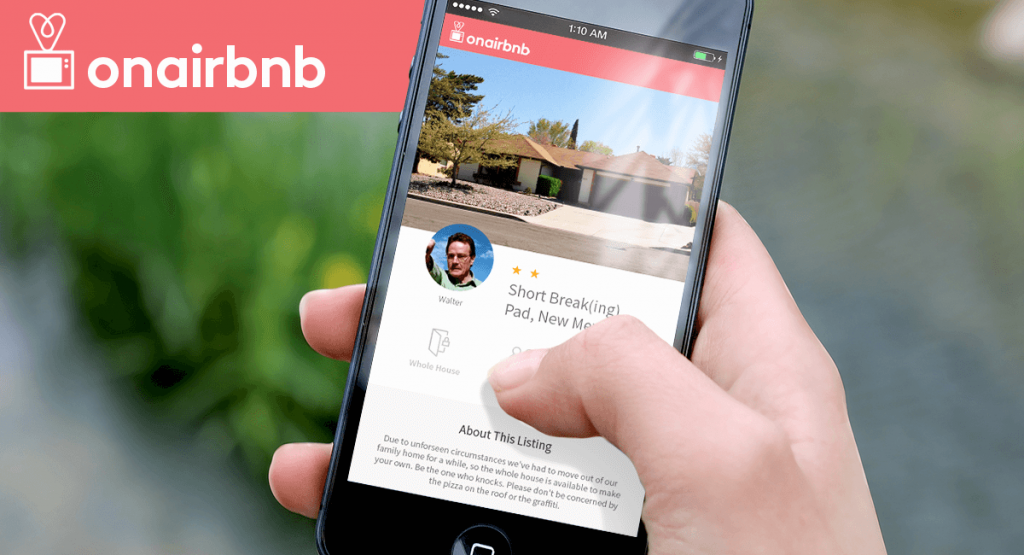 We hope you enjoyed our imaginings about our favourite character's homes. Some might be fun to visit, but others might leave you wishing they had locks on their internal doors! Perhaps they're not as far-fetched as you think, when you spend some time browsing the Airbnb website you can find plenty of unlikely hosts with colourful and interesting properties! Everyone's home is unique, and Airbnb was named Inc.'s Company of the Year 2014 as it is said to be the biggest lodging provider on earth by bringing millions of these unique properties together. It might seem crazy, adventurous or bold but it's certainly working. Airbnb has changed people's lives, and it's come a long way from a few air beds on the floor.