We've been searching through the internet and have found these amazing hacks for Halloween. With not much time until the spooky day, we've selected good last-minute designs that you can make quickly and easily. Good luck!
Door decorations
1) A Wreath

From Electrically Vintage 

Get a creepy crawly wreath with this simple D.I.Y. hack.
Things you need:
– A wooden wreath
– Creepy crawly plastic toys
– Super glue
– Black spray paint
Instructions:
– Stick your spider and insect toys to the wreath using super glue.
– Spray paint the whole thing black!
2) A Spooky Door Knocker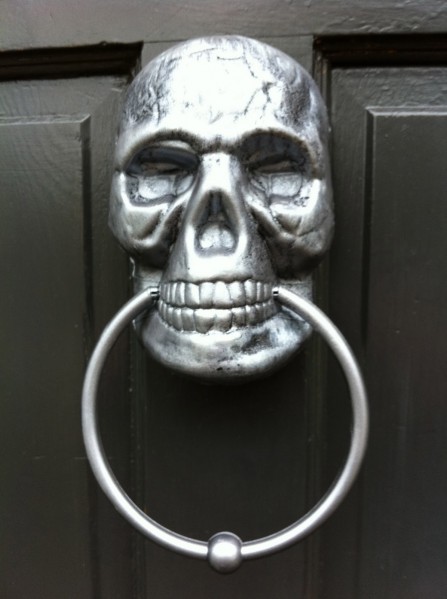 From Dollar Store Crafts 
There are many ways that you can achieve this look. A good place to start is a pound store!
Things you need:
– Plastic spooky decoration (i.e. a skull)
– A ring
– A knife or scissors
– Grey spray paint
Instructions:
– Cut the back of the (skull) decoration so that it lies flat against your door.
– Pierce the decoration, and stick the ring in the gap to make it into a door knocker.
– Spray the whole thing grey.
3) Decorate Your Door Mat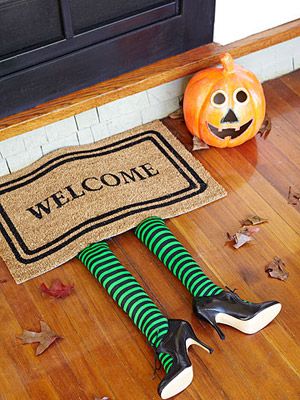 From Always The Holidays 
Invite the 'trick or treaters' in with a comical door mat.
Things you need:
– A door mat
– A pair of tights
– Cotton buds/a filler
– A pair of high heels
Instructions:
– Fill the tights with the stuffing.
– Slip the high heels over the ends of the tights.
– Tuck the joining end of the tights under your door mat.
Pumpkin Hacks
1) Cookie Cutter Pumpkin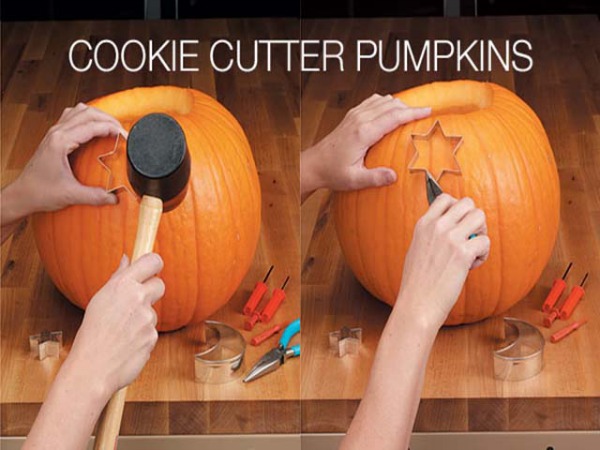 From Princess Pinky Girl 
Who needs perfect cutting skills? One whack and the design is done.
No need to explain this how to, just have a go!
2) Paint the pumpkin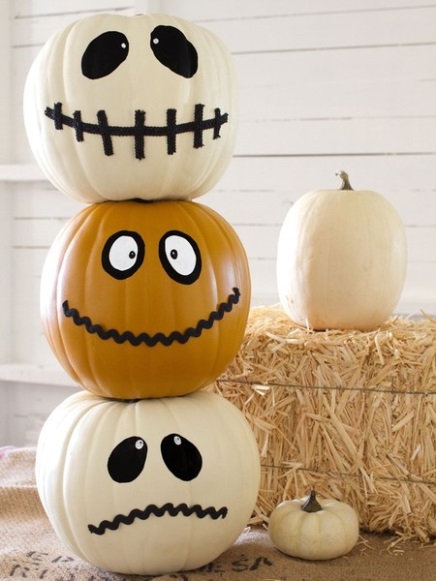 From HGTV 
Another cheeky way to get out of cutting the pumpkin is to simply paint it!
3) Use Glow Sticks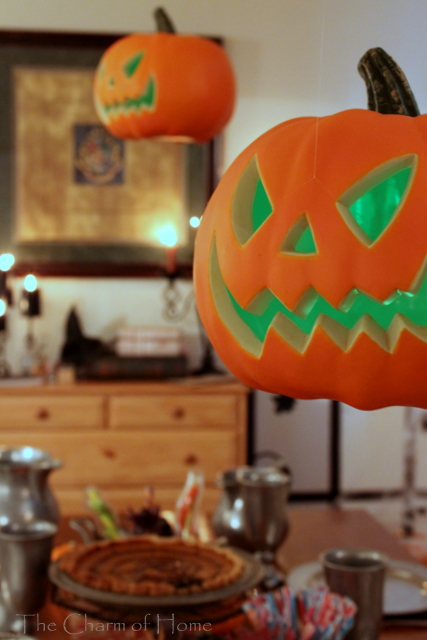 From The Charm Of Home 
Have your pumpkins glow whatever colour you like by swapping the candle for glowsticks!
Spooky DIY Decorations
1) Paper Bats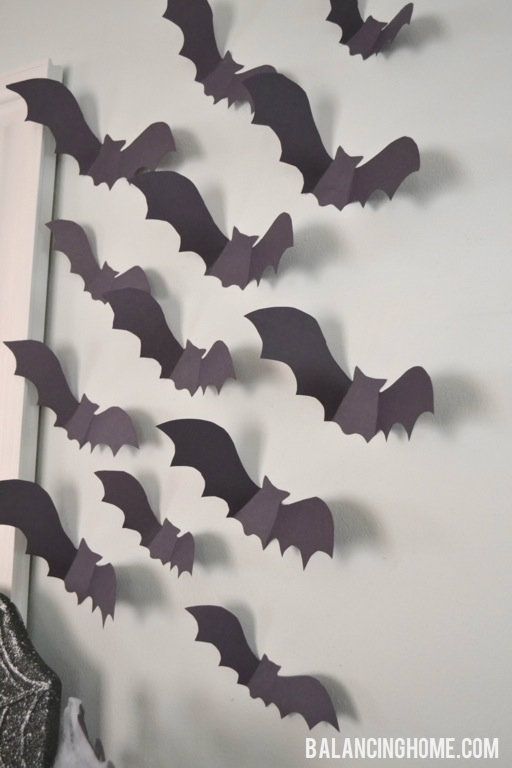 From Balancing Home 
A quick and effective way of adding Halloween to your decorations is to make paper bats.
Things you need:
– Black paper
– Scissors
– String (optional)
– Glue (optional)
Instructions:
– Simply cut out a bat shape (here are some templates).
– Fold the wings to make them stand out.
– (Optional) Glue some string to the bats so that they can dangle.
2) Foam Tombstones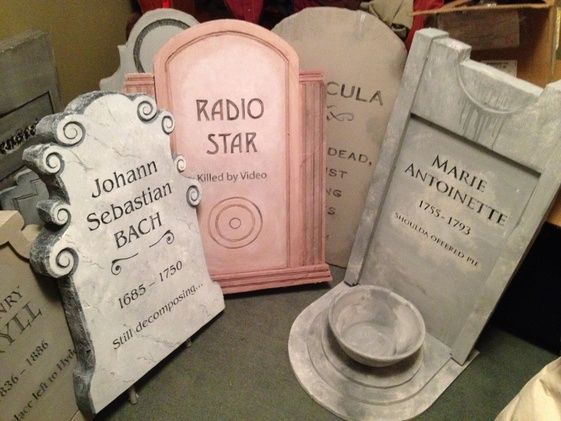 From Halloween Forum

Foam tombstones can be as detailed as you'd like them to be. Some people have amazing complicated ones, but you can achieve the look without being a sculptor.
Things you need:
– A pencil
– Foam
– Knife
– Paint
– Glue (optional)
Instructions:
– Draw your basic design on the foam.
– Cut the foam in to your desired shape. To make more complicated shapes, you can glue additional layers of foam to your design.
– Paint the foam. It is good to use a dark grey colour for the writing on the tombstone. It you begin to search for more examples, you will find many people add a weathered look to the painting detail.
3) Ghost Leaves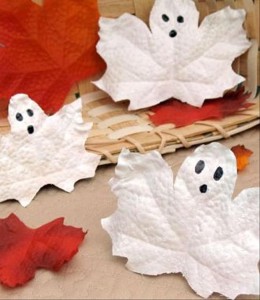 From Dump A Day 
This one doubles up as a decoration and a way to postpone racking the fallen leaves!
All you need to do is paint the leaves white and add ghost faces (you could also paint them black and make them into bats!).
Bonus Hack
The Jar Prank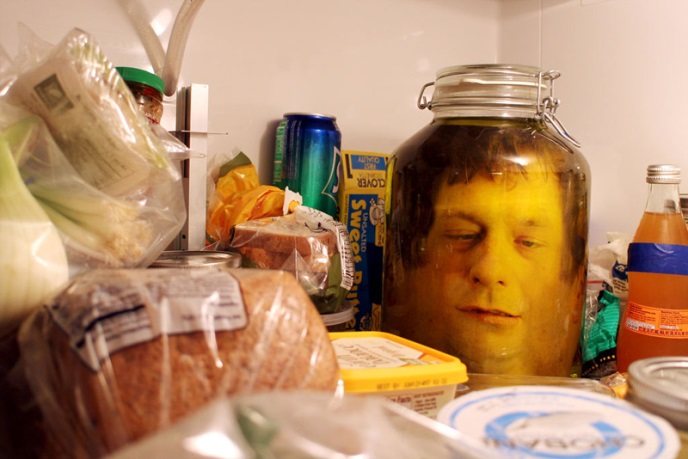 From Handimania 
What would you do if you found this in your fridge?
Nothing explains it quite like the original post; you can check it out here.