Last updated on September 9th, 2016 at 03:38 pm
We've been scouring the web looking for the best DIY blogs so that we can share them with you. It was tough! But we narrowed it down to the following 35. Enjoy!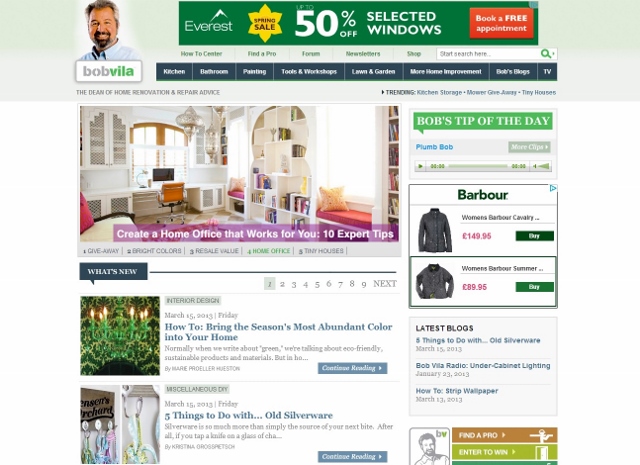 Bob Vila is one of the most well-known and respected blogs. It has a very professional design, which makes this blog stand out, and is an endless resource for DIY tutorials and information. Posts are split into categories and it's very easy to find what you are looking for, there is also the ability to search. Posts are contributed by many different people and blogs but the quality is always good and the posts are informative and interesting. Additionally there is a TV section with a lot of webisodes, a How-to centre with miscellaneous DIY, painting and interiors, plumbing and electrical, saving energy and seasonal tasks. Active on Facebook, Twitter, Pinterest and Youtube.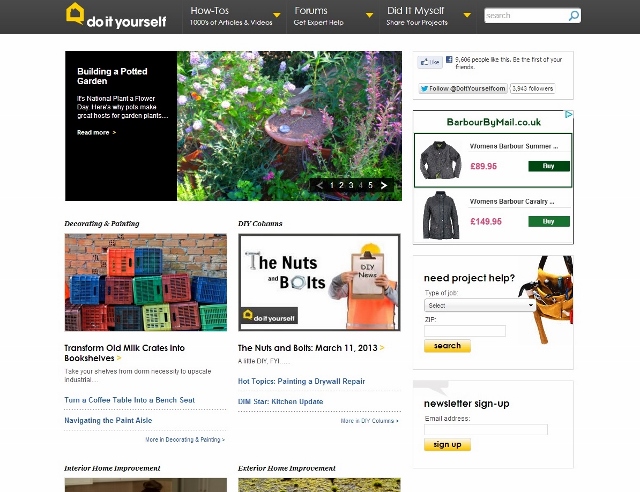 This blog has a great, professional and easy to navigate design which is simple and clean. Articles and videos are separated into loads of different categories. Two particularly nice features of this blog are the forums, which are available to discuss projects and ask for help and a "Did It Myself" section to share photos of projects, which gives more of a social feel to the blog. The actual content of the blog entries is informative and to the point and there is a lot of information but the point of the posts comes across without overwhelming the reader. Active in Facebook and Twitter.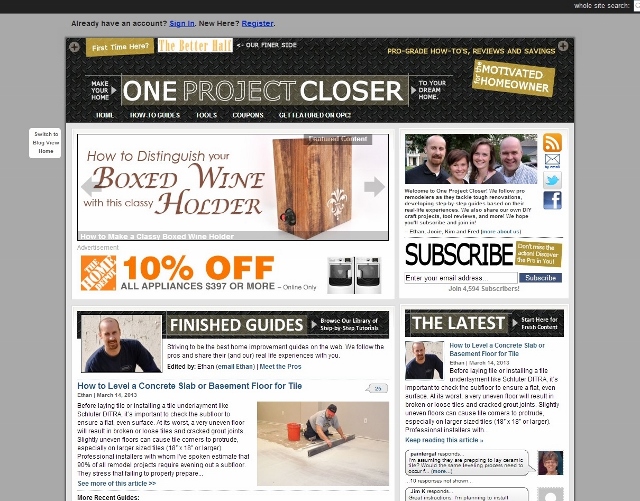 A good, professional design that is definitely relevant to its area of expertise. Main features are How-To guides and tool reviews, which is a nice addition. This blog has a nice, personal writing style which is very informative and easy to follow and photos are used really well throughout. The tool section is very good, the reviews are full of information and there are many photos of the tools and the work that has been produced using them. It seems that the readers of the blog are very active in their participation with the blog as there is lots of commenting on the posts. Another nice addition is the coupons section which features money saving coupons from home improvement stores in America. They also invite readers to participate in the website by submitting funny stories, how to guides and before-and-after pictures. There is an incentive to submit: if they publish your piece they will send you a gift card. Active on Facebook and Twitter.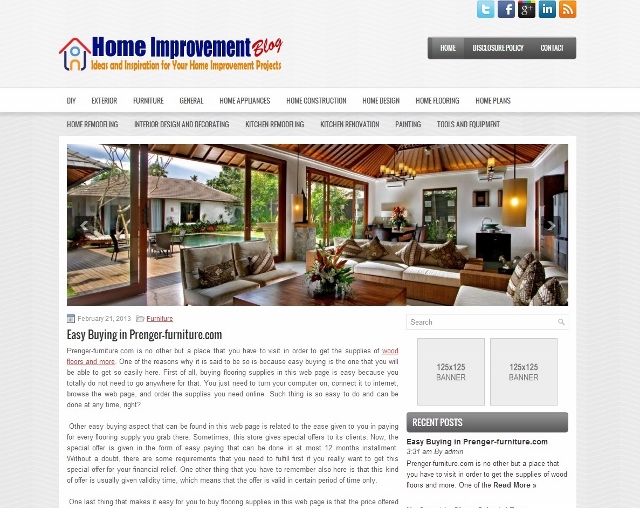 This is a well-designed and professional blog. It would appeal to all different types of people and has lots of different categories including DIY, exterior, furniture, general, home appliances, home construction, home design, home flooring, home plans, home remodelling, interior design and decorating, kitchen remodelling, painting and tools and equipment. Someone interested in DIY might be interested in looking at any of these categories but if we head to the DIY section some of the articles to be found are simple bathroom floor tiles installment and outdoor painting tips in spring. The blog is well organised and the articles are well written and informative.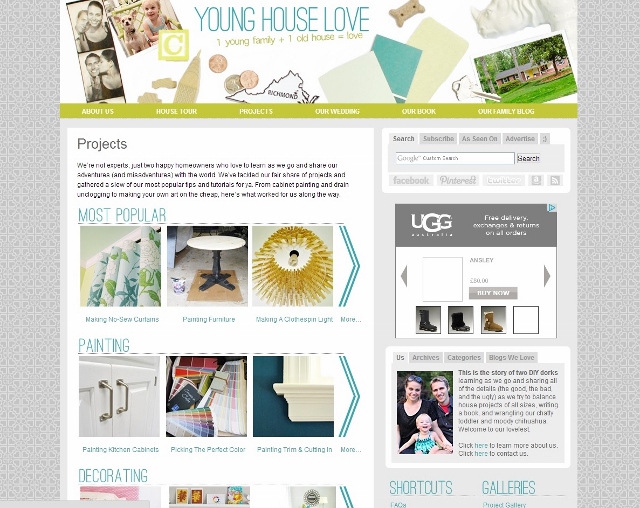 This is a great blog with many posts on varying topics. It does have some of the more homely types of posts such as decorating and crafts but contains an extensive archive of home improvement articles on subjects like replacing a toilet, upgrading a thermostat, refinishing hardwood floors and grouting tiles. The design is very nice, modern and clean and appealing to both men and women. The posts are very detailed but have personality and are well written. The blog seems very popular, there many comments on the posts and a lot of interactivity between the readers. Active on Facebook, Twitter and Pinterest with many followers and a lot of interaction.
6. This Old House
This is the blog of a magazine so is more like an informative website which it excels in. This means that it holds a lot of information but is less personal. The design and navigation of this site lets it down; it's professional but the amount of content and the way it is organised is a little overwhelming and it's easy to see that visitors may get a little lost but don't let that put you off because there are some great articles. It has a lot on design but it has an extensive How-To section which is well organised. The same goes for the video section and it also has a discussion section which is always a nice addition.
This is a great blog created by one man; Robert Robillard from Concord, Massachusetts. He also has his own cable TV show and these episodes are available to watch online through the blog. Other sections of the blog include product review videos, ask concord carpenter, home repairs/remodelling, decks/porches, kitchens, lighting, product review and home/personal safety tips. There are a lot of articles on this site and Robert writes them all. They are very well written, informative, easy to follow and personable. The design is simple yet professional and would appeal to both men and women alike. It is extremely easy to navigate through this site and there is a very nice use of photos.
This is a video podcast based blog which makes this blog stand out from the rest. It has a good professional design and definitely has more of a blog feel compared to some others. It doesn't have any organisation or categorisation of posts though, so it's not as easy to browse through but otherwise easy to navigate and it also has a search option. The videos themselves are clear and easy to understand and don't lose your attention half way through. They encourage participation in the site in the form of proposals for audio and video podcasts, ideas for applying/integrating social media and home improvement shows. The "Our Store" section features recommended tools available to buy on other websites.
"Ikea hackers" is a website providing tutorials and plans for customising or re-purposing the generic, mass-produced Ikea products. This blog is unique in that it specialises on this and it's a very successful blog; it's a collaborative project that started in 2006 and the "hacks" are submitted from all over the world. The creator of the site lives in Malaysia and started the site as a way to bring together all of the wonderful and creative ways that Ikea products could be modified. There are many different posts, from changing a wall shelf into a night-stand to turning a dresser into a kitchen island and more. As this is a collaborative project so there is also the option to submit your own "hacks".
This blog is based in America and features DIY city guides with lists of recommended hardware and furniture stores. There is a boots and work-wear section, factory tours and "winning workshops". There are tutorials which are well written, easy to follow and to the point. This blog would appeal to both men and women but may be considered as more of a manly man kind of blog. The design is clean and professional and there is a good use of photos. The DIY City Guides are what makes this blog stand out but it does feature some great articles.
This is blog for men and it focuses on different topics such as automotive, technology, science and adventure. You will also find a good "Home How-To" section as well as "DIY Central". "Home How-to" is split into electrical and plumbing, energy efficiency, exterior projects, home security, interior projects, lawn and garden and outdoor buildings. The articles are well written, compelling and very detailed and are full of personality and wit. There is also a good use of photo and video. "DIY central" features do-it-yourself articles, project plans, expert advice and communities where you can communicate with other users. This blog is definitely aimed more at the male user, both in design and content and the design is professional and easy to navigate.
This blog features a modern take on DIY. If you ignore the "crafty" areas of it, there are some great DIY tutorials from how to solder a copper pipe to attic stairs installation and building a garden gate. The articles are well written and personable with a touch of humour. It's an informative blog that is well accompanied by photos. There is also a "Renovation" section where you can follow the progress of the blog owners' home renovation. The design is clean, professional and easy to navigate.
This blog has a nice design which is stands out amongst most blogs as its theme is wood oriented and therefore directly related to the overall focus of the blog. Content-wise it's got a lot of great stuff; there are lots of videos and articles which are well written and interesting. There is also a section for reader's projects and shop tours, which is nice. You can become a member which gives you access to "detailed project videos and plans", "help whenever you need it" and allows you to connect with other woodworkers. There is also a live chat section and a forum which makes the actual blog a little more social.
This is a very popular blog with over 130,000 likes on Facebook. It belongs to Ana White, a woman with a serious interest in DIY. The blog is quite extensive and contains lots of plans for furniture and other more decorative items. There is a brag section where readers can submit their own work and finishing tutorials, guiding readers on topics such as staining wood trim and weathered pine stain. There is a video section and a forum which is very active and is great for getting support and advice. Despite the personable feel of the posts which keep the reader engaged and entertained, they are very well written and informative
This blog is aimed more towards men but can easily be enjoyed by both men and women. It has a good, solid design; which definitely emphasises that it has a male target audience, and is easy to navigate and find exactly what you are looking for due to the categorisation in place. Some of these categories include carpentry, electrical, flooring, concrete/masonry, metal and plumbing. There is also a "Pro Forum", "Meet the Pros", "Idea Box" and a video section with quite an extensive collection. The articles are well written but at the same time easy to follow which is always important.
This blog has a professional, clean design which is easy to navigate although it is a little generic. But, forgetting about its visual appearance, it's well organised and has many posts on different topics ranging from "How to Tile Shower Ceilings" to "How to Insulate Basement Walls". The articles are well written and supported by great photos and diagrams and the owners and readers of the blog are very active; there are lots of comments on the articles. An additional feature of this blog is the ability to sign up to a newsletter.
Compared to some blogs that are further down in this list, the design of this site is quite simple and perhaps even a little boring BUT this shouldn't put anyone off as the blog has a lot of posts and information on various topics. Despite its simplicity, the design is clean, professional and easy to navigate. The articles are informative and set out in a way that is easy to read and could only be improved perhaps with the use of more photos. The writing style is personal and more relatable as the blog is based on the renovation of one couple's project to renovate a house so it's likely that the readers will feel a personal connection with the authors and are following their progress. It's a nice change from many of the other blogs, and this gives it an edge despite the lack of imagery. There are, however, lots of photos on the Facebook page.
This blog has a sleek, modern and professional design which is clear and easy to navigate. It's a relatively new blog but they are consistent with updating and providing new articles. Is has how-to posts, which are detailed and easy to follow, and also a design and décor section and a remodelling section. The posts are well written with a good layout and they are informative but also interesting. It's one blog to keep an eye on for sure.
Sawdust girl is obviously a blog by a girl, and a girl with some excellent DIY skills and excellent posts to accompany them she is. The blog has free plans for woodwork projects including a storage bench, a plank ceiling and raised panel wainscoting. The DIY tips and tricks include tutorials, cabinet making, drywall, demolition, safety, tile, painting tips and workshop favourites. Well written, interesting and informative articles with a good use of photos. The design of the blog is simple, but clean and professional.
The Handy Man Club is a website with projects, contests, videos and a blog. The blog features articles on many subjects including contractors, tools and repairs. The blog is a nice accompaniment to the site which readers would also find very useful. The design is well suited to its purpose and target audience and is professional, clean and easy to navigate. The articles are well written and easy to follow and include photos.
This is an interesting blog as it doesn't focus on building or creating but rather DIY repairs and quick fixes. Articles include how to fix a blown fuse, how to fix pop up drywall nails and how to patch a concrete wall. The posts are well written and the tutorials are easy to follow which is obviously important in repair tutorials! The design is simple and easy to navigate and topics are divided into a number of categories. The use of photos could be better but in general it's a good blog and different from others in that it focuses on fixing rather than creating.
What makes this blog stand out is that it is aimed at "old house enthusiasts" and therefore focuses on ideas and advice for, you guessed it, old houses. It has a clean, professional design which could probably be spruced up a little to suit its niche but it's easy to navigate and doesn't detract from the overall informative experience. Categories include: Garden and Lawn Care, Green Renovations, Historic Preservation, Home Improvement Tips, House Styles and many more. Additionally there are forums where readers can communicate. The articles are well written and there is a good use of photos and the how-to section has many different categories.
The Home Depot is kind of like the American equivalent of B&Q. Articles include gift ideas for men and women who love tools and how to organize an shed. There is good use of videos on the blog, with a Youtube Tuesday and Youtube Thursday. The articles are well written, informative and not too formal considering that it is not a personal blog.
This BBC blog is, of course, quite formulaic in style but the articles are good and informative so DIYers might find this to be a valuable resource. There is a lot of useful information on topics such as planning, safety and tools so it's worth taking a look at if you are planning any DIY work.
This is a great site that allows users to join and share their creations through the use of photos, tutorials and videos. As the content is user generated obviously the quality is varied but most posts are good and it's a nice idea of a site. The site is well –designed and easy to navigate, you can choose from a drop down list which section, channel and type of post you would like to view. You can also search for specific tags. There are forums for users to talk and ask for advice. It should be noted that for DIY you need to be in the workshop section.
Shakhammer is part of a series of blogs called Shakadoo. The blog features videos and photos in its posts and covers topics such as how to grout tile and how to winter proof your home. The articles are well written and easy to follow and the design of the site is nice, simple yet professional. The only downside is that the articles could be categorised which would make it easier to find what you are looking for but overall it has some valuable information.
This is a simple site containing detailed plans for building pieces of furniture. It's made this list because of the huge number of plans and projects that it contains (nearly 400) which are very detailed. There are articles on topics from home security to building kitchen cabinets and how to get a smooth finish on painted projects. They are well written and informative and are contributed by both the blog owner and others. There is a good use of photos and diagrams which accompany the plans and this site blog is great for any DIYers interested in furniture building.
This is a men's lifestyle blog which also features men's fashion and sports. The home improvement section features articles like "The 5 Best Tools of the Professional Handyman", "Tips for Installing Carpet on Concrete" and "Building the Ultimate Outdoor Man Cave". The articles are well-written and informative while still having personality and engaging the reader. The design is professional, easy to navigate and suits the target audience. It's definitely a blog for those men that are interested in a lifestyle blog on top of DIY.
This is more of a simplistic blog and there is not a great use of photos which contributes to its being lower down in the list. The posts however are varied, plentiful and very detailed. They are less personable but what lacks in humour is made up for in information. The design is not great but is functional and it's easy to look past when you consider the quality of the content. Additionally it has a useful links section with links to other websites that readers might find useful.
DIY Doctor is a website with projects, tips and tricks, reviews and DIY videos and more. There is also a separate blog section with articles on subjects such as "How to Revitalise an Old Floor" and "The Top 10 Apps for the DIY Expert". The articles are well written and informative and the rest of the site is a good resource to have in your favourites.
Not the best designed website but once you realised where the menu is (on the right hand side lower down) it does have many informative and well written articles. The website was started just by people who have an interest in DIY and the articles are written by them and other guest writers. It loses points for design but it really does have a lot of useful information.
This is a DIY blog that is a little different because it focuses on DIY electrical projects. Article categories include: calculations, installations and repairs, energy conservation, generators, lighting, products recalls and reviews, solar energy, wind energy and troubleshooting and testing. The how-to articles are very detailed and are complete with photos and diagrams and are well written, easy to follow and engaging. The overall design of the blog is professional and easy to navigate. The blog itself has not been updated recently but it contains some very good previous posts in this niche that are worth a look at.
This is another DIY blog that is a little on the unique side. It is an American based video blog site that focuses on "green" solutions in the home. The videos are informative and interesting to watch with engaging and personable presenters. It's a great blog for those who prefer to watch rather than read and the design is professional and easy to navigate and find videos under specific categories. It's got a lot of content specifically for those looking into the particular area of "green" DIY.
The final two blogs on this list are a little more humourous and definitely lifestyle blogs for men as opposed to straight up DIY blogs; but we decided this this list just wouldn't be complete without a couple of blogs thrown in there for their comedic value. Man Made DIY is a great blog for men and is more of a modern take on "men's DIY". The posts are humorous, witty, interesting and well written. It's definitely a blog that one might visit on a regular basis just to read for entertainment. There are also more arts and crafts type DIY posts that are aimed at men, so no love hearts and feathers but instead you might come across how to dry-age a steak or make your own Tetris cookies. Of course, it is a DIY blog so there are posts of the more "traditional" DIY type, e.g. "6 DIY Workbench Projects you can Build in a Weekend". It has a great design for what the target audience of the blog is.
Lifehacker is another men's blog which covers everything from cars to psychology to health. It also has an interesting DIY section. Again it's probably more of a modern interpretation of DIY and posts include "How to Create a Standing Desk in Your Cubicle" and Creating Hidden Office Space from an Ikea Wardrobe". There are also the more humourous and experimental posts which include "Take Out your Trash from the Second Floor with a Fishing Line" and "How to Make an Ice Luge in a Hotel Room". The articles are well written and funny and are definitely more for the entertainment value rather than the informative.