A loft conversion is a great way to expand your home, making space for a craft room, study, computer room or an extra bedroom for your growing family. If you are planning to invest in a dormer or some other kind of loft conversion, check out these simple tips that will help you to maximise the amount of usable space and make your new space as attractive and comfortable as possible.
Light Matters
Even if you are lucky enough to have a fairly tall attic, a loft conversion won't have a lot of space in it. You can create the illusion of space, however, by making creative use of natural light. Use large windows whenever possible, and decorate each room with light colours. In addition, place mirrors around the room to reflect light and strengthen the illusion of space. Stay away from dark colours and busy patterns, because these can make your room look a lot smaller than it actually is.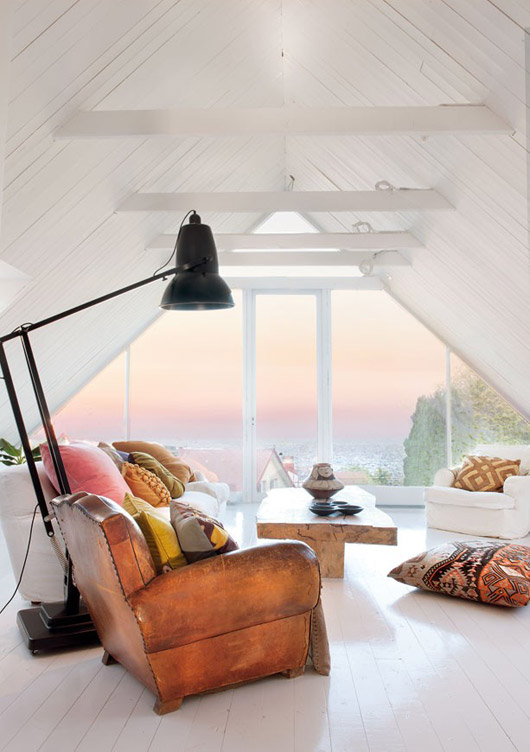 Stylish Staircases
There are some strict regulations about where staircases must be located, and how many steps you are allowed in a straight line. Usually, builders will try to keep the number of steps in a flight to just 13 (the maximum allowed is 16), and will try to position the steps near the highest point of the loft conversion's ceiling. This may not be ideal for you in terms of how it alters the downstairs living area.
You don't have to accept a straight staircase, however. Why not add a touch of magic to your loft conversion with a stylish spiral staircase? This will consume less of your downstairs living area, and it will look great in your home too.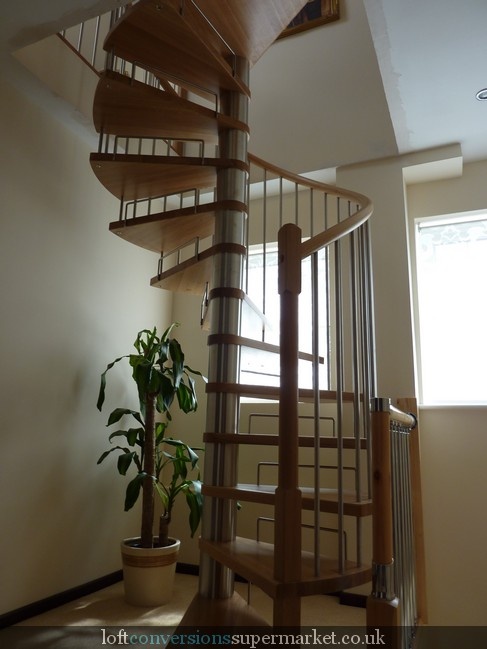 Make it Multi-Functional
If you know that space in your loft conversion will be limited, don't make it feel even more cramped by wasting some of that space on doors and walls. Instead, make one large, multi-functional room. Open plan room designs are great for attics and loft conversions. You can turn your loft into a bedroom and small study or work area quite easily. Choose bright and airy decorations and keep the room fairly simple and clean and it will be the perfect quiet retreat for an older teenager or a lodger.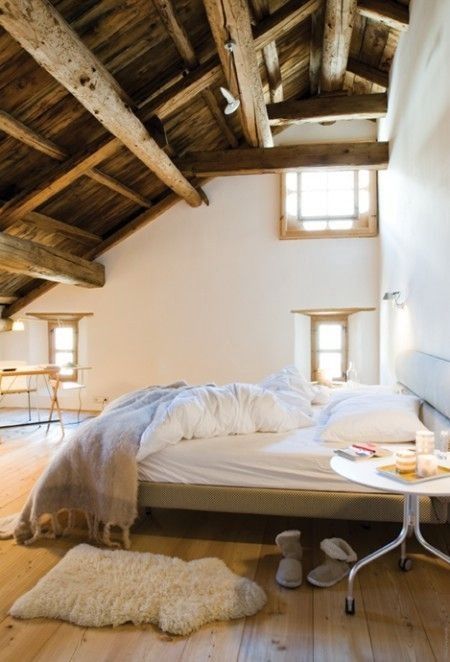 Design With Storage In Mind
When you are decorating your new loft conversion, consider investing in fitted storage. You will get a lot of additional storage space out of each room if you have tailor-made cupboards, wardrobes or shelving that covers the wall from floor to ceiling.  Fitted wardrobes will look great in the master bedroom, and a fitted entertainment center/bookshelf area will look stunning in your new study. Don't forget to take advantage of over-door storage and concealed storage (such as under your bed or sofa) to keep clutter to a minimum too.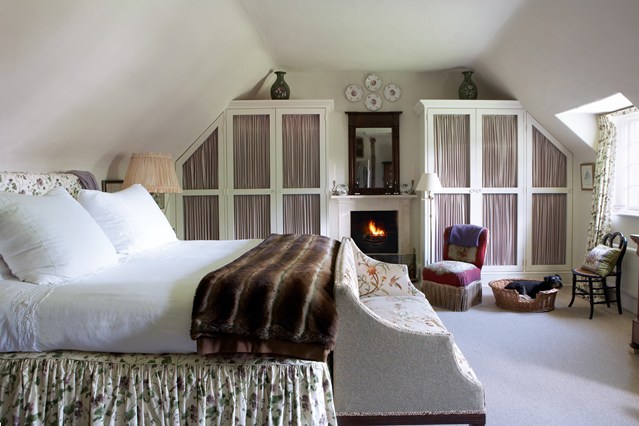 Embrace those Awkward Shapes
If your roof is an unusual shape, you might end up with an oddly shaped room or two in the loft conversion. Try to lay out your new loft conversion so that your bedrooms are spacious and comfortable, and use the unusually shaped areas for rooms where square footage matters less, such as the bathroom. Embrace those awkward shapes and use creative window fittings and tile designs to accentuate them and make a quirky, stylish but still functional room. A custom fit bathtub or a spacious shower will work well in your upstairs bathroom.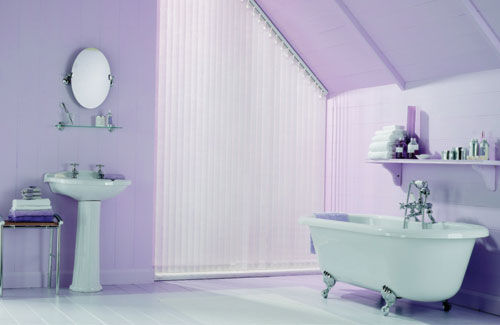 Use Outside Space
If you have a good understanding of planning permission requirements, you can get creative with the design of your loft conversion. Lower the ceilings in certain parts of your home to open up more space, and build "out" where this is allowable to find other pockets of space. Be aware that if your loft conversion extends beyond the edge of your roof you will usually need planning permission. Therefore you should talk to your architect in-depth before planning this kind of conversion.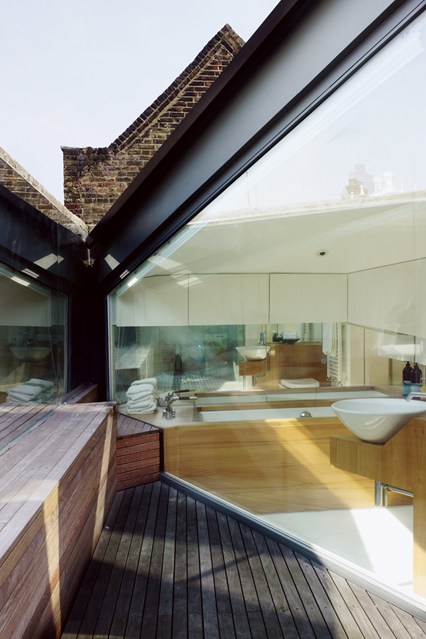 A Room With a View
If you live in an area that looks out over a park or woodland, or you have a nice garden yourself, take advantage of this and opt for large windows. Lay out your room so that the window is the focal point, and opt for blinds or other window treatments that open all the way. This will serve double-duty, letting more light into the room, and offering something pretty for people to look at.
If you aren't blessed with a beautiful view, opt for a smaller window, and make your own nice views internally with creative wallpaper, custom tiling, large paintings or even plants or a goldfish tank.  Or, consider building a "living roof" – a rooftop garden that will support the local ecosystem and insulate your home at the same time.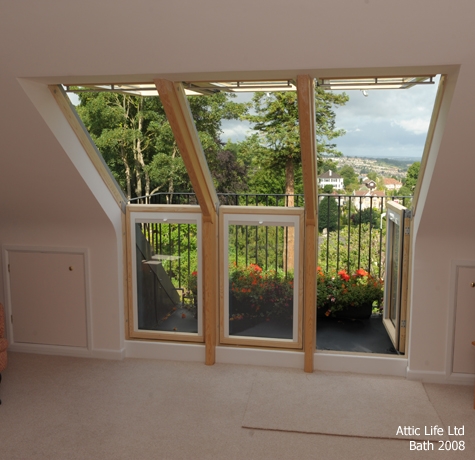 Show off Your Rustic Roof
If you have a beautiful thatched roof or exposed timber rafters in a period property, see if you can make it a part of your loft conversion design. This is something that will not always be possible, but if you do have the opportunity to show off the inner beauty of your architecture, why not take advantage of it? Theme the rest of your décor around this, creating a rustic or earthy attic. If you live in a more modern property, you can achieve a similar effect with faux sidings. Build a "log cabin" in your attic!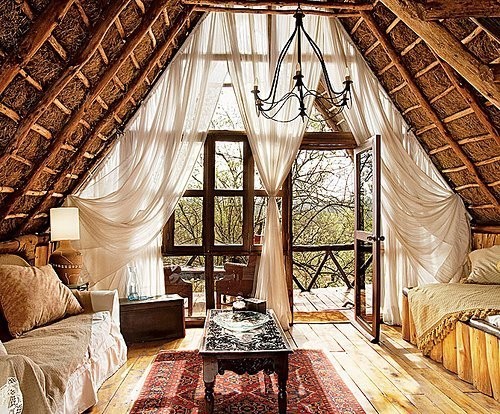 Treat your loft conversion like a fresh start for your home. Most people use their loft conversions to add bedrooms and bathrooms, but there is no rule that says you have to do this. You can make the upstairs rooms a den, entertainment area or study if you wish. An upstairs reading room is a great place to retreat for a quiet evening with a good book; especially if you're lucky enough to have a property that offers nice views. Don't be put off by the small size of your attic – you can still do some spectacular things with it if you embrace your creative side.
Photo Credits: http://www.sfgirlbybay.com/ | http://loftconversionsupermarket.co.uk/ | http://www.pinterest.com | http://www.houseandgarden.co.uk | http://www.channel4.com | http://www.atticlife.co.uk |  http://weheartit.com/