Bifold Doors: Folding Glass Patio Doors
Bifold doors allow you to integrate your outdoor space with your living space. Green-fingered gardener or not, there's nothing more lovely than sitting with the patio doors wide open on a warm summer's day enjoying the breeze, or snuggling up in the middle of winter watching the rain fall against the window panes when you're toasty inside.
Read More
Installing a set of oak patio doors is a fantastic way to transform the way your home looks and feels. With their full height glazed panels, these bifolding patio doors let plenty of light flood throu...
From £1,299.00Find out more and buy
Installing a set of white bifold doors is one of the most effective ways to extend your living space. Enjoying the outdoors is a lifestyle goal for many of us and the right set of folding patio doors ...
From £1,199.00Find out more and buy
Bring nature into your home with a gorgeous set of oak bifold doors. Timber doors are a popular choice for your patio as they help soften the boundaries between inside and outside, making your living ...
From £1,799.00Find out more and buy
These elite oak bifold doors will help to open up your living space, letting you access your patio or garden effortlessly. The tall, glazed panels allow you to enjoy the outdoors whatever the weather,...
From £1,499.00Find out more and buy
Install classic and timeless white bifold doors to make your exterior space function as an additional living area that flows seamlessly from the interior. Whether you're building your home from ...
From £1,449.00Find out more and buy
The 'Tradesman' range of pine bifold doors combines excellence with affordability to allow you to transform your home. As our most keenly priced external bifold door available, this model ...
From £969.00Find out more and buy
Installing a set of white primed bifold doors is the perfect solution when you're looking to match your existing joinery or décor. Bifold doors are perfect for letting in the light and br...
From £1,299.00Find out more and buy
Create a natural flow between your interior and exterior with a set of timber bifold doors. Enjoy views of the outdoors from your cosy home during winter, and open up your living space when you choose...
From £1,049.00Find out more and buy
White aluminium bifold doors are modern and strong, light and airy. Many people like to opt for white patio doors because they're fresh, clean and classic. These folding doors by Climadoor are n...
From £2,099.00Find out more and buy
Installing a set of grey bifold doors is a fantastic way to add a modern and stylish touch to your home. Imagine looking out through your patio doors into your beautiful garden on a summer's day...
From £2,099.00Find out more and buy
What Vibrant Doors offer...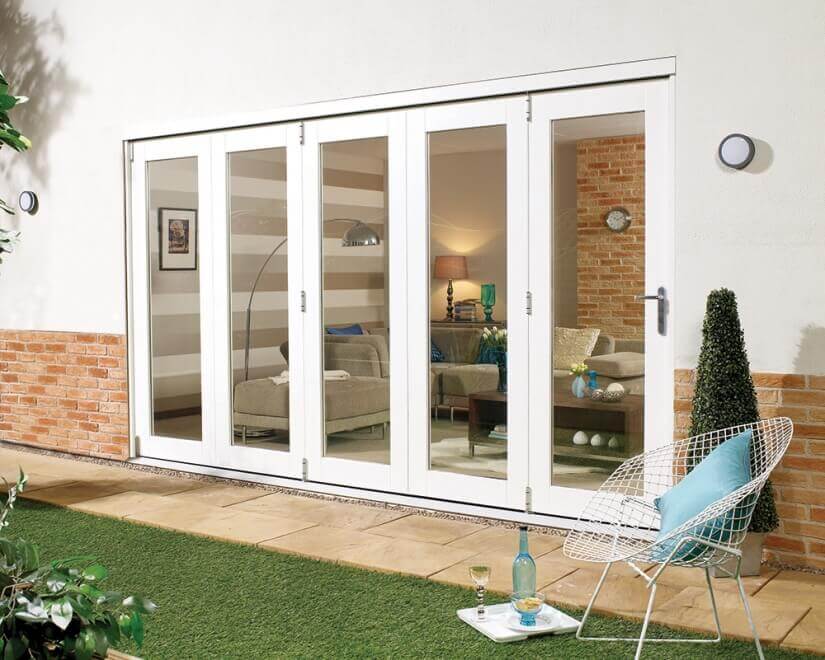 From our own experience, we know there's no better way to enjoy your outside space, conservatory or orangery all year-round than by installing a gorgeous set of external bi-fold doors, also known as folding patio doors or bifolding glass doors. The full height glazed panels mean that even in the darkest corners of winter you can enjoy natural light, and watch your garden change through the seasons. The folding, sliding motion allows you to open your space completely during the summer months.
The Choice Is Yours
We are incredibly proud of our range of external folding doors. From our ClimaDoor fully finished solid oak range to LPD folding patio doors and NUVU's oak fold and slide doors, we have everything to suit your needs whether it's style, design, or price that's your key consideration. Our external bi fold doors are suitable for extensions, refurbishments, and installing in new build homes. Our high-quality doors are designed to not only meet but exceed the requirements of current building regulations. Our specialism is timber, so you can expect high-quality joinery and beautiful, grained wood. If you're looking for something bespoke we can work on custom designs for you too.
All of our external bifold doors are available in a range of sizes, allowing you complete control over the final look of your doors. Choose the frame width and height, finish, door thickness and even the opening pattern to suit exactly what you are looking for. Select from hardwoods like solid oak and pine, or opt for lightweight aluminium get the right door for you.
Security
Your exterior entryways must be secure, and you can be assured that our range leaves nothing to be desired when it comes to the safety of you and your home. Multi-point locking systems, as well as a hidden, inline tracking system keep your home protected against intruders.
Thermal Efficiency
We work hard to ensure all our products have low U-values, meaning they're good at keeping the heat inside your home. All our products fully satisfy Part L of the building regulations, so you can install with the confidence that your home will stay cosy.
Weather Resistance
Resilient weather seals are fitted to your exterior patio doors to make sure they keep out the cold, rain, and snow. Our folding doors are weather tested to strict standards to check they're up to scratch.
Hardware and Fittings
Hardware, fittings, and handles are supplied. Check the specification of each product to see what's included. We'll let you know if you can expect stainless steel, aluminium, silver effect or chrome effect.
We also stock a range of internal bifold doors to help your interior feel just as bright and spacious.