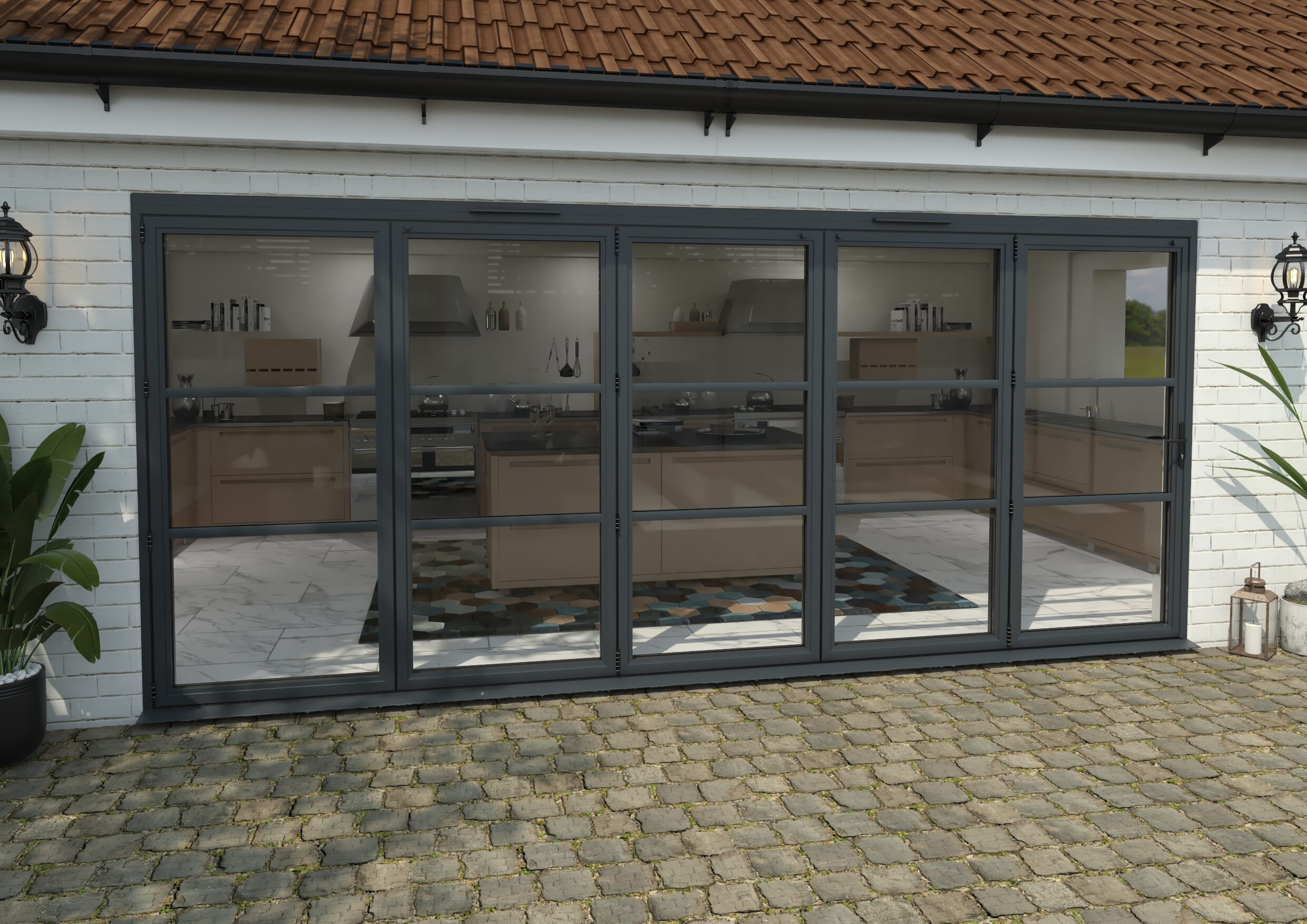 Part Q 4800mm Grey Heritage Aluminium Bifold Doors - 5 Left
Frame Size: 4790 x 2090mm (W x H)
Only £5,349.00 + Free Delivery*
Please note; this door is on a 5-6 Weeks Lead Time
Description
Climadoor's latest addition to their range is this ultra secure option which offers new-build customers a fully Part Q and Part L compliant Grey Heritage aluminium bifold door. Complete with secure-by-design tested multipoint locking system, and laminated safety glazing, these external bifold doors are a secure and stylish addition to your home. This thermally broken bifold patio door system is offered on a 7-10 day lead time in standard sizes. The laminated safety glazing has a U-Value of 1.0W/m2 K to give an over U-Value of 1.4W/m2K. These sets give you excellent security, good durability and are pre-manufactued and supplied as frame, door leaves and glass units with all hardware ready fitted for ease of installation. They are supplied with a full set of fitting instructutions to show you how to install the frame and doors into the opening, with a typical 3 door system taking less than a day to fit into a pre prepared opening. Please note the glazing is supplied loose due to the weight during installation and handling, and we strongly recommend you use a professional installer for the set, glazing and glazing bars. Made-to-measure options are also available. Please email [email protected] email address for your quote. We also offer a range of thermally broken aluminium double glazed windows, to complement our Aluminium bifolding patio patio doors, which are ideal if you are building either extensions or a complete new property. Please contact us for details.
Please note these products are made to order and therefore cannot be cancelled or returned after the order has been placed.
Technical Specification
Thermally Broken Aluminium
Laminated Security Double Glazing
Delivery & Returns
Free Standard UK Mainland Delivery on orders over £750
We operate a professional home delivery service with delivery to most mainland UK postcodes within 3-7 working days of the order being despatched.
Within a couple of days of placing your order, you will be contacted by the delivery team who will book a suitable delivery day with you. Your order will be delivered on this date, and you will need to be at home to sign to take delivery of the goods.
Delivery is free on orders over £750 to England, Wales and majority of Scotland but not off-shore locations, including - but not limited to - the Inner and Outer Hebrides, Orkney, Northern Scotland, Shetland, Isle of Wight, Isle of Man, and Northern Ireland.
Our charges for single items, such as internal and external doors, are £36 for the first item, and £7.50 for each item thereafter up to a maximum of £60. All folding and french doors attract a delivery charge of £60 if the screen price is under £750. Over £750 the delivery is free.
For off-shore location delivery charges please contact us by email or telephone before you place your order.
Should any of the above not meet your delivery/collection requirements, please contact our customer service team
Receiving your Order
On arrival at your premises, before you unpack please check that there has been no obvious damage to the goods or packing by the courier or delivery company.
If any damage is found, please follow these procedures:
If the goods are clearly damaged: please refuse delivery and mark the delivery note or hand-held computer, as badly damaged and returned. Then call our customer service to inform us.
If only the outer packing has some damage: please accept the goods and mark the delivery note 'packaging damaged'
You should unpack the door set and check for manufacturing faults, defects or missing parts within 48 hours of delivery. You'll find a full list of items you should have received in the assembly instructions included within the hardware pack.
If goods are missing you have 48 hours to report any items that you think are missing, if not reported on the delivery documentation.
If there are any faults, defects or missing parts please contact our Customer Service Helpline or email us with details of your order and missing parts at [email protected].
We cannot accept claims for damage or scratched glass after 48 hours following delivery or after the installation has begun.
All deliveries are to a single address as provided by you and if this is not the correct address we reserve the right to charge for re-delivery. All deliveries must be signed for by a person over the age of 18.
Should we try and fail to deliver on the proposed delivery date because there is no one available to take delivery, then we reserve the right to charge for any further attempted deliveries, transportation charges or storage charge which we incur as a result.
Deliveries can be made any time between 0700 and 1800 on Monday to Friday, and whilst some of courier companies will try and give some notice of their time of arrival, we cannot take responsibility for this. Our Agreement with them is for them to deliver between 0800 and 1800.
We strongly recommend that you do not book fitters until your order has been checked and received.
Please do not attempt to install any defective product. We will replace any damaged or defective item, and return the original goods to our suppliers. Installation is deemed acceptance that the product is fit for purpose.
Please be aware that none of our couriers are insured to bring goods into you home, whilst most drivers will help, you do need someone on site capable of lifting doors into your property as on larger palletised deliveries, delivery will be made kerb side only.