Stainless Steel Commercial Fire Door Push/ Pull Ironmongery Pack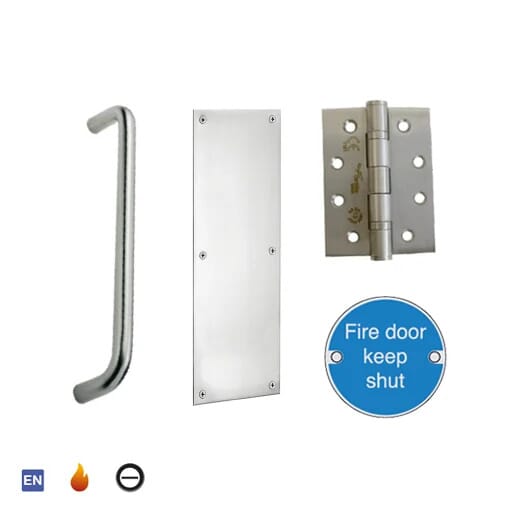 Material:
Steel

Finish:
Satin Stainless Steel

10 Year
Guarantee

Free Collection Available
Technical Specification
Brand
Material
Steel
Colour
Stainless Steel
Product Information

Introducing the Firemongery® Fire-Rated Commercial Push/Pull Handle Pack in exquisite satin stainless steel – the ultimate solution for safety and sophistication in your office, commercial spaces, and industrial communal doors.
Elevate your surroundings with the perfect blend of functionality and aesthetics. Crafted with precision, this exceptional pack encompasses a pull handle and a push plate, each meticulously designed to meet the highest fire safety standards while exuding timeless elegance.
Key Features:
Uncompromised Safety: Engineered to adhere to stringent fire regulations, the Fire-Rated Push/Pull Handle Pack ensures that your doors are not only stylish but also secure. With FD30 fire-rated steel materials, these ironmongery packs provide invaluable protection without sacrificing on visual appeal.
Dual-purpose Design: The innovative dual-purpose design of the pack enhances convenience and versatility. The pull handle, thoughtfully placed on one side of the fire door, offers an effortless grip for smooth entry, while the push plate on the other side allows for easy exit – the latchless design simplifies movement in both directions.
Satin Stainless Steel: Immerse your space in sophistication with the satin stainless steel finish. This premium material not only showcases impeccable durability but also maintains its lustrous appearance, adding a touch of modern luxury to your environment.
Wide Applicability: Tailored for offices, commercial establishments, and industrial communal areas, the Fire-Rated Commercial Push/Pull Handle Pack is a versatile choice for spaces with high foot traffic. Its ergonomic design caters to the needs of busy environments while enhancing the overall aesthetic.
Easy Installation: Effortless installation ensures minimal disruption to your daily operations. The pack comes with all the necessary components, allowing for a seamless setup process. The pack arrives you your address containing a 300x19mm Pull Handle, a 300x75mm Push Plate, 3no. 4" Steel Fire Rated hinges and a "Fire Door Keep Shut" sign for both sides of the door.
Elevate safety without compromising on style – choose the Firemongery® Fire-Rated Commercial Push/Pull Handle Pack in satin stainless steel for a harmonious blend of security, design, and durability. Make a lasting impression with your doors while ensuring the utmost safety for everyone who passes through. Upgrade your spaces today with Firemongery®.
Related Accessories & Hardware