Lever Arm Commercial Fire Door Closer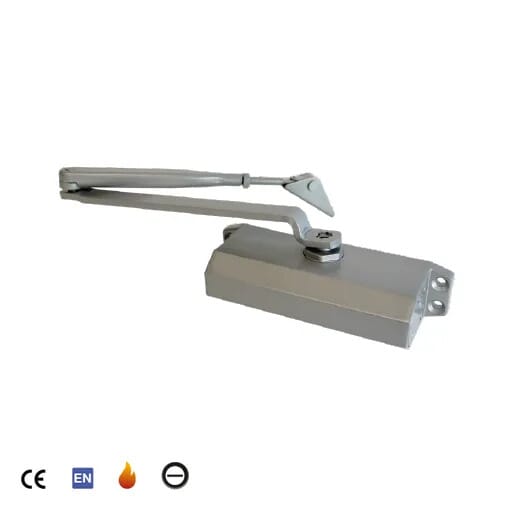 Finish:
Satin Chrome

10 Year
Guarantee

Free Collection Available
Product Information

Introducing the Firemongery® Size 3 Aluminium Overhead Door Closer in a sleek silver finish – your reliable solution for controlled door functionality and enhanced security.
1. Superior Control: The Firemongery® Size 3 Overhead Door Closer offers unparalleled control over your doors, ensuring smooth and controlled closing motions. Experience the convenience of an automatically closing door that eliminates the risk of accidental door left ajar, enhancing security, fire saftey and energy efficiency.
2. Size 3 Strength: Tested to FD30 rating and designed for doors of varying sizes and weights (up to 60kg mass/ 950mm wide), this overhead door closer boasts superior strength and affordability, making it suitable for both residential and light commercial applications. Its adjustable settings allow for customization, ensuring optimal performance based on your specific door requirements.
3. Durable Build: Crafted with durability in mind, this fire door closer's robust construction guarantees long-lasting functionality, even in high-traffic environments. The silver finish not only adds a touch of modern elegance but also provides an additional layer of protection against corrosion and wear.
4. Easy Installation: The Firemongery® Size 3 Overhead Lever Arm Door Closer comes with everything you need for a hassle-free installation process, including all necessary components and fixings ensuring that you can set it up quickly and efficiently, minimizing downtime.
5. Versatile Application: Whether it's a residential entryway or a frequently used commercial door, this overhead door closer adapts seamlessly to a range of environments. Its unobtrusive design complements various architectural styles while adding an extra layer of safety and security.
Elevate the functionality and security of your doors with the Firemongery® Size 3 Overhead Door Closer in a sophisticated silver finish. Enjoy the benefits of controlled door closure, increased energy efficiency, and enhanced peace of mind. Invest in the reliability of Firemongery® and experience the difference today.
Related Accessories & Hardware