Last updated on June 28th, 2019 at 01:27 pm
There are many different styles of patio doors available. There is no need to limit yourself to the modern standard sliding UPVC door design. If you are upgrading your patio, or installing a new one, take some time to browse the full range of designs and materials that are available to you.
1. Choose materials that compliment your home
UPVC doors look good on modern homes, while wood framed doors are the best choice if you live in a conservation area, or own a period property.  Hardwood and oak patio doors are a classic and attractive option. Be sure to think about how the doors compliment the look of your house both inside and out. Do they match the overall style of the property externally? Will they suit the style of the room indoors?
2. Consider the amount of space in your property
Installing patio doors lets a lot of light into your home, and this can make your living area feel bigger. Swinging patio doors and external French doors look great and can give your property a stylish feel. However, this design is not really suitable for a smaller property because the doors need a lot of space to open into. Sliding doors open into the wall cavity, so they don't require as much space, and they still look great.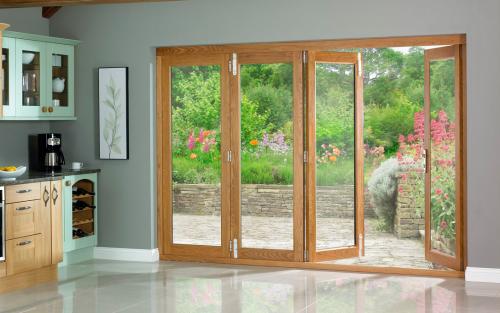 3. Don't Neglect Security
During the 1990s, patio doors earned a bad reputation because many manufacturers used a rather primitive security system which allowed burglars to simply snap the cylinder lock and open the door within seconds. The good news is that modern door designs have much better security. Look for doors that have strong hook and bolt locks, and consider adding extra security measures such as a security bar for your sliding patio door. Don't forget to connect your new doors to your existing alarm system.
4. Energy Efficiency
A typical home loses 25% of its heat through the windows. Adding a patio door will increase that percentage. To ensure that your home is as energy efficient as possible, choose doors that are made with Low-E glazing panes. These panes allow daylight through in the summer, without letting heat build up in the room. In addition, they trap heat from your central heating system in the room, so you stay cool in the summer, and nice and warm in the winter. Low-E panes may cost slightly more than standard double glazing, but they will pay for themselves thanks to reduced heating bills.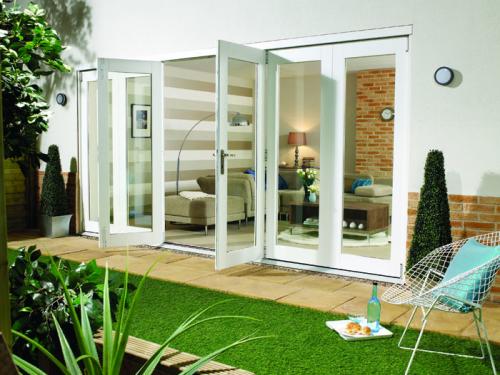 5. Maintenance
The easiest doors to maintain are ones made of UPVC, fiberglass, or aluminium. These materials cope with the UK's varied weather conditions well and require minimal maintenance. Timber framed doors will need weather treating every couple of years, although some manufacturers now offer pre-treated frames that are guaranteed for as long as ten years.
The door's locking mechanism may need some maintenance. Sliding doors tend to require more maintenance than swinging doors, but if you keep the tracks clean and well lubricated you should not encounter too many problems with them.