Last updated on June 28th, 2019 at 01:37 pm
When you purchase an oak door, there is a good chance that it will be provided to you "in the white", which means that it is raw timber, and must be treated and finished before it is installed. You can purchase pre-finished doors, but many people prefer not to do so because they like the natural look and want to take choose their own look.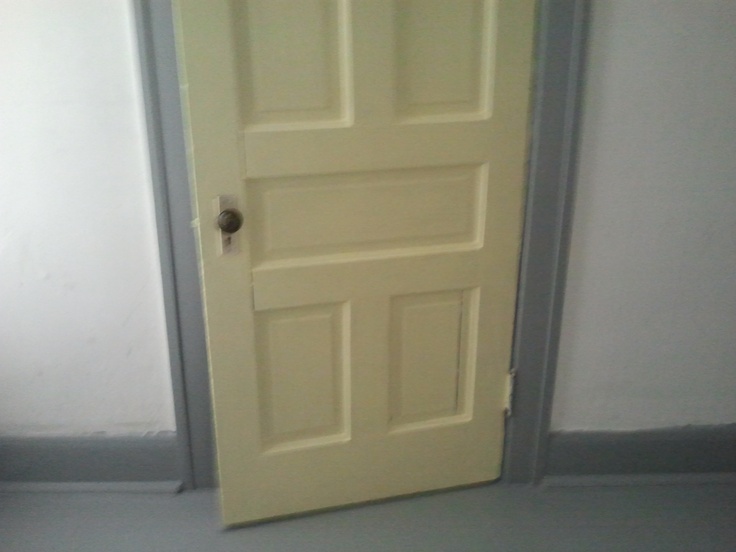 If you do not treat unfinished external oak doors, then it will rot and crack quickly when it is exposed to the elements. Failing to take good care of your oak external door will void the door's warranty, and leave you stuck with a door that is both ugly, and a security risk. Doors that are left exposed to the elements will warp in place, making it harder to open and close them, and potentially damaging the lock too. If you take good care of an oak external door, it should last you a decade or more.
Tools Needed:
Your chosen primers/basecoats/ stains or paints
Paint brushes (thin ones for the edges, and a larger one for the face of the door)
Sand paper or wire wool
Dust covers/masking tape to protect areas near the door
Time Required:
Unfinished doors require 2-3 coats, factory-finished doors will require only one coat. Give yourself enough time to apply the required coats and allow the door to dry overnight before hanging it.
Step by Step Instructions
Each door manufacturer has their own requirements and recommendations for caring for their products. The instructions below will give you an idea of how to treat and care for a door, but they are not a substitute for your manufacturer's instructions. Read the documentation that came with your door carefully, and take care to follow all of their guidance, otherwise your door's warranty will be void.
Inspect the door after delivery to see if it is pre-sanded. If it has not been sanded, do so before hanging the door. Always sand with the grain, and use wire wool rather than sandpaper if possible. If you need to store the door for a while before hanging it, keep it in a cool, dry room and leave it in its original packaging. Protect the door from damp and temperature fluctuations because these can warp the door. Never store a door upright – always lie it flat.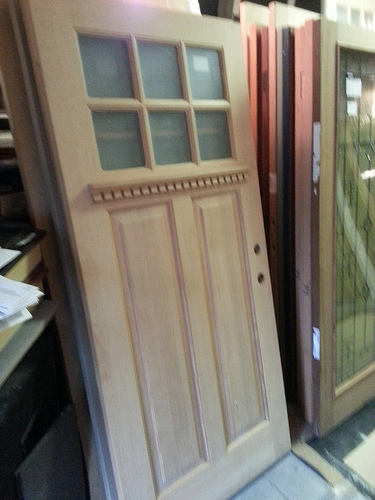 After sanding your door, wipe it down to remove all dust, grease and other contaminants that might impair the quality of the finish. Use a vacuum cleaner with a small nozzle attachment to clear up dust in hard to reach areas, then wipe the door down with a cloth dampened with a small amount of white spirit or thinner (check the manufacturer's instructions for your wood treatment to find out what is safe to use).
If you are installing an un-treated door and plan on varnishing it, apply a coat of your chosen finish to all sides of the door, including the edges. Sand the wood gently after the coat dries, then apply a second coat. Again, carefully remove any dust and dirt in preparation for the next coat.
If you plan on using a painted finish, you should apply a primer, followed by two layers of an undercoat before the application of the top coat. In that case, you should apply the primer and the undercoats before hanging the door, following the directions above. Paint the door, allow it to dry, then sand it before the next application. Wipe the door down to remove any dust and dirt.
Apply final coat of the primer or paint to the edge of the door before you hang it.
Carefully hang the door. You should use three hinges for a heavy, hardwood external door.
Once the door is in place, carefully inspect it for signs of damage. Sand it and patch up any damaged areas before applying you final coat. Allow the coat to dry before closing the door.
A Few Tips
Choose the finish for your door carefully. It is a bad idea to use the following finishes on oak or other hardwood external doors, because they do not offer enough protection from the elements:
Water based finishes
Neutral oils
Wax
Varnish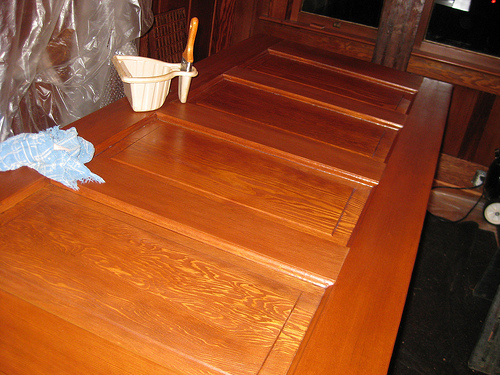 Choose a waterproof finish that offers good UV protection, and is designed for use on hardwood surfaces. Keep your door in a dry place, and store it flat, while you are waiting to install it. If you allow the door to get damp it will warp, making it almost impossible to hang correctly.
Read the instructions on the paint or primer to make sure that you give it enough time to dry. Take care to cover all of the door evenly, and paint with the grain to achieve a good finish.
Remember that it may take several applications of wood stain to get the finish you are looking for. Many major DIY stores display samples of their stains on full-sized door panels, so try to visit a store that offers this. It is much easier to get an idea of what a wood stain looks like if you can view it on a large surface area. Small strips of wood tend to look rather different to large doors. Hard woods often come out darker than you expect once paint or stains have been applied.
Conclusion
Caring for your door is not a one-time job. You should treat and finish the door when it is installed, and re-treat it every year, or every few years depending on the kind of treatment you choose to apply. In general, oil based paints last longer than wood stains, but you should never wait longer than three years between wood treatments.
Work slowly and systematically when finishing the door. Follow the grain of the wood, and keep your paint brush topped up with paint for a smooth application.
In this way, your external French doors, bifold doors and patio doors will look wonderful for many years to come!