There are thousands of interior design blogs out there, but which ones are worth your time? If you're planning a major decorating project, or simply like to see pictures of cool, luxurious or unusual room designs, check out these awesome interior design blogs made by DIY fans and design pros from around the world.
Apartment Therapy is a large blog run by a team of people whose goal is to "save the world, one room at a time". The blog was started by former Apartnment Therapist Maxwell Ryan, and interior designer/life coach who helped his clients de-clutter their lives. Apartment Therapy offers a unique blend of practical advice, inspirational designs and humour, with posts ranging from pictures of great finds at flea markets to the results of prank makeovers. Apartment Therapy proves that decorating doesn't have to be a chore. You can follow the team on Twitter and Facebook.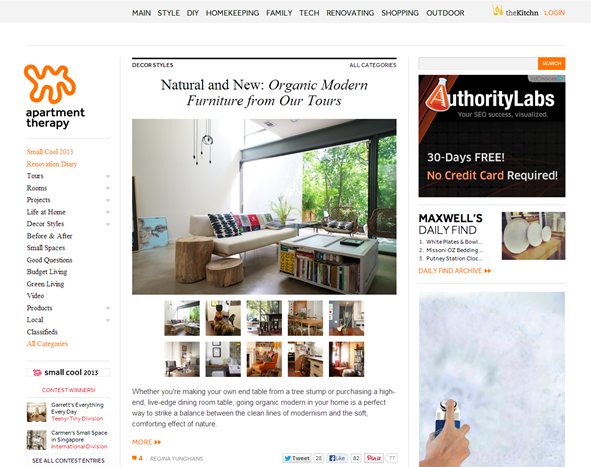 Design Sponge is a high-end design blog run by Grace Bonney, from Brooklyn. bonney is an experienced designer, having worked for many established publications including New York Home, In Style, Hose and Garden, Time Out and New York Magazine. Design Sponge was called the "Martha Stewart Living for Millenials" by a reviewer in the New York Times, and it's easy to understand why. The blog covers everything from the most luxurious furnishings to simple and affordable DIY projects that you can be sure will impress your friends and neighbours. Bonney regularly engages with the Design Sponge community on Facebook and Twitter.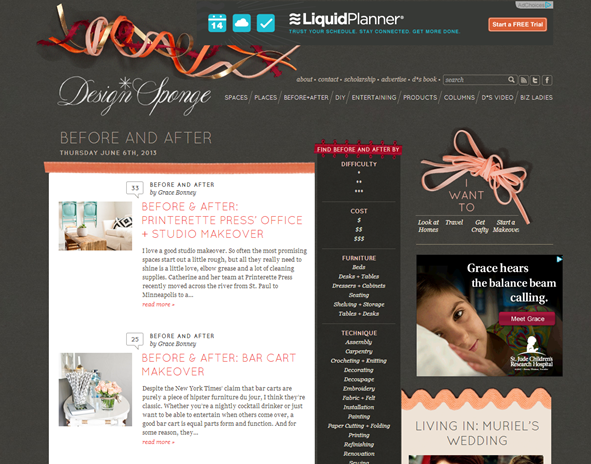 Design Milk is an online newspaper-style blog which features a series of regular columns from a range of diverse contributors. Among the interesting columns, there is a weekly column about colour, a monthly column where designers walk readers through their thought process and explain how they came up with their latest products, and a weekly series called "Get Out!" which focuses on outdoor living. Perhaps the most enjoyable read, however, is the Friday Five, which sees a different contributor each week showing off their five favourite things. There is almost always something inspirational for you to discover. With so much fresh content being added, it makes sense to follow the team on Facebook and Twitter.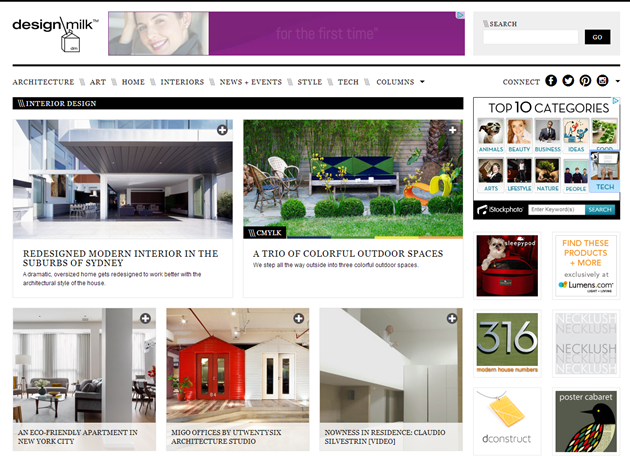 DIY Network is a part of the HGTV network, and features posts by many of the hosts of popular DIY TV shows, including Anitra Mecadon of Mega Dens and Ahmed Hassan of Yard Crashers. While many of the other blogs in this list are aspirational and focus on the more artistic side of Interior design, DIY Network is a more practical blog. If you need some tips and guidance to help you get your hands dirty and do some serious DIY, then this is a good place to start. With posts on everything from upcycling to re-tiling your bathroom, this is a great place for DIY novices and enthusiasts to get ideas for their next project. For information about HGTV shows, follow the team on Facebook and Twitter.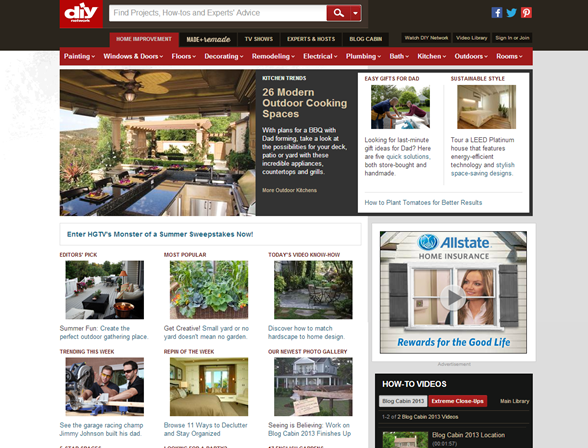 Freshome was launched back in 2007 by Romanian blogger Micle-Mihai Christian. The site grew from a small interior design blog to a hugely popular website with thousands of posts and tens of thousands of inspirational images. Freshome is now a large website that has a team of writers working on it, posting everything from inspirational interior designs to unique examples of architecture from around the world. The posts on luxurious holiday villas and resorts are well worth a look, too. Subscribe to the team's Facebook and Twitter pages for notifications when posts are added.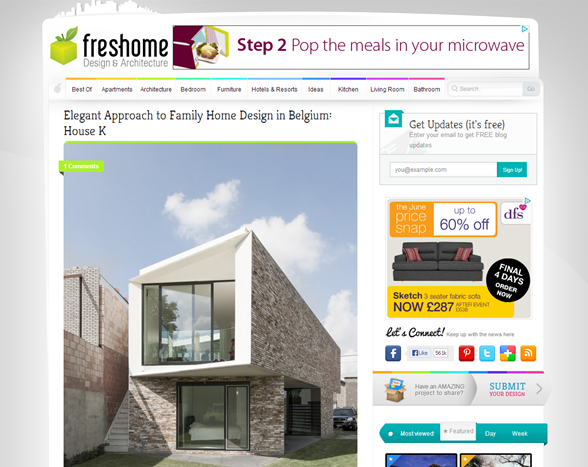 Interior designer, author and journalist Holly Becker launched Decor8 in 2006 after quitting her job as a project manager. Over the last few years, she has grown the blog into a hugely popular and influential design website that is respected by designers and enthusiasts alike. The blog is updated daily with photos and commentary about interior design. Becker does not limit her content to just home designs, she also talks about office spaces and lifestyle issues too. If you enjoy Becker's posts, follow her on Twitter and like her Facebook page for a more personal insight into her tastes.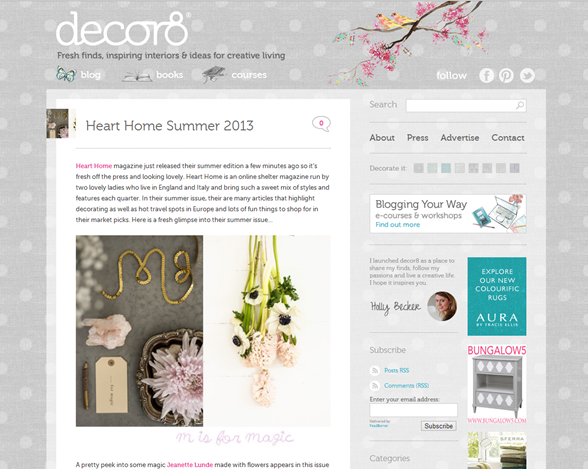 Home Design Find is an online magazine devoted to uncovering the latest in interior design trends. The magazine is run by a small team, who regularly post about exciting products that they have found online, as well as posting awesome designs from around the world. From 3D printed houses to creative uses for gravel in your garden, Home Design Find offers a good, broad overview of all things interior design. You won't find many tutorials or affordable products in this online magazine, but you will find a lot of inspiration. Subscribe to their Facebook page to get a steady stream of gorgeous interior design photos fed to your timeline.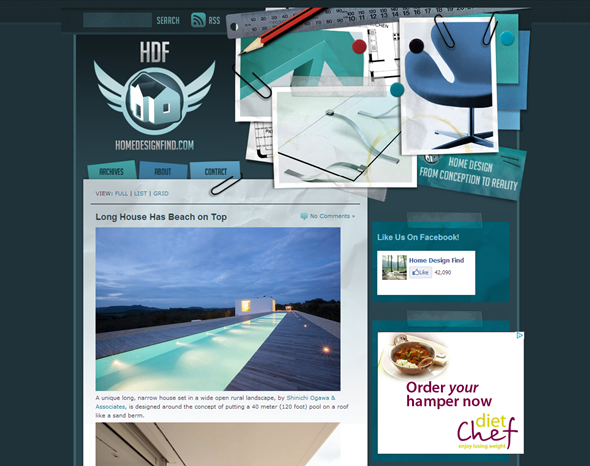 If Home Design Find focuses on the most aspirational kind of interior design, Your Home Only Better is the exact opposite. Susan Jensen Smith started this blog to help home enthusiasts by providing them with practical, affordable and exciting ways to improve their homes. She is a thrifty, hard working blogger who believes that decorating can be fun. Some of her best posts are the ones that relate to making a room over on a budget, such as re-designing your living room for just $660. Susan is active on both Twitter and Facebook.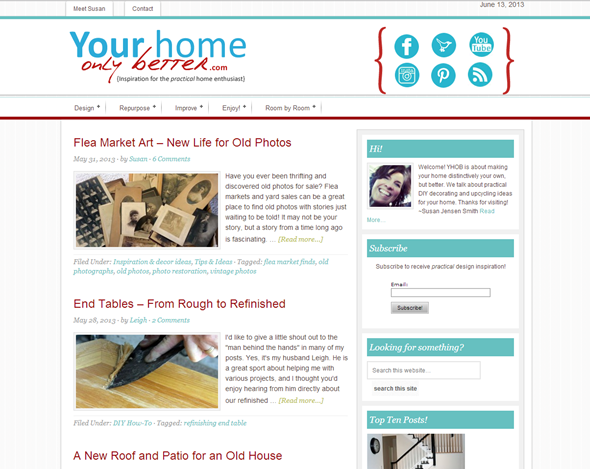 Abigail Ahern is a professional interior design blogger who posts weekly updates including practical interior design advice, comments on the latest fashion trends, quirky design related ramblings, and a little bit of gossip too. Her Decoding Design series of posts will be invaluable to anyone planning a home makeover. The posts cover essential design rules and offer many tips to help prevent DIY disasters. Subscribe to her Facebook page and Twitter feed to ensure that you never miss a post.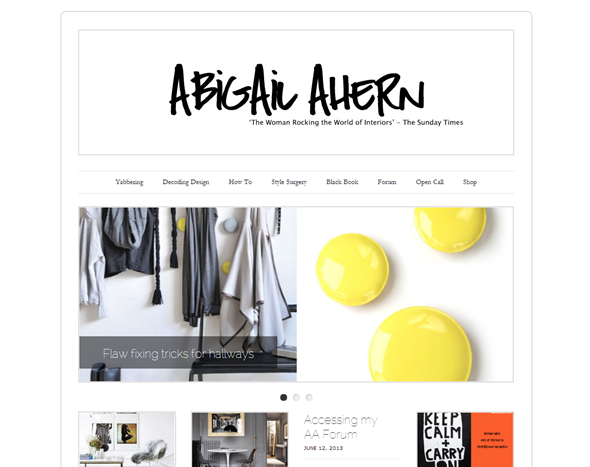 The award winning My Friends House blog is run by two friends from south London. The pair, who choose not to name themselves online, use the blog to share their thoughts about interior design, and show off designs and items that they love. What makes this blog stand out from so many of the other design blogs out there is that the enthusiasm in the posts seems so genuine, and the writing style is accessible and friendly. You really do feel like you're snooping on a conversation between two friends talking about their favourite living room accessories, or nifty shed organizers. This interior design blog is accessible to all of us, even if we would usually run screaming at the thought of redecorating. Follow these two friends on Facebook and Twitter to hear about decorating disasters and great designs.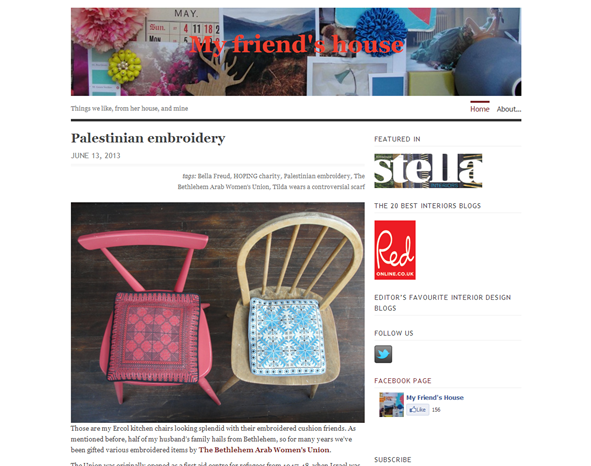 Obsessiolicious is a design blog that contains a huge selection of inspirational images collected from Flickr, Etsy, Pinterest and other sources, including Yumalum's own designs. You won't find any practical design advice on this blog, but it is a treasure trove of abstract, artistic, trendy and tranquil designs. From dreamy spaces to great gadgets, there's something for everyone on this blog. Just make sure you have a lot of time on your hands before you start browsing. Or, follow Yumalum on Facebook for information about their latest designs, and check out the Obsessiolicious Twitter feed.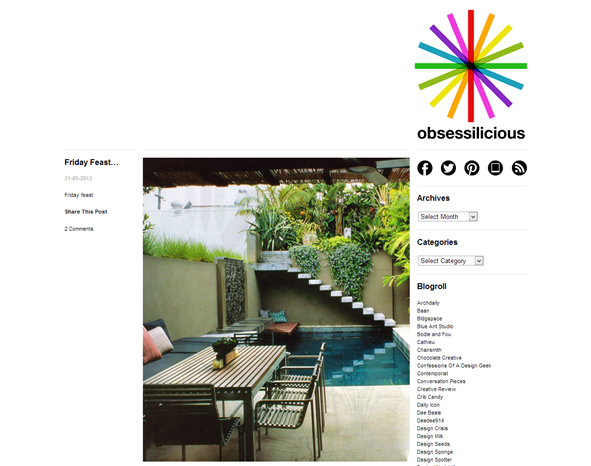 The Selby is the interior design blog of Todd Selby, a journalist, photographer and illustrator from the USA. Selby uses his blog to post photographs of interiors from all over the world. His photo projects include pictures of homes from all over the world, including homes owned by the rich and famous. He has even collaborated with high profile designers and big brands such as Louis Vuitton, Habitiat, and Microsoft. Lifestyles of the Rich and Famous may no longer be on the air, but this is the next best thing, and a great source of inspiration. Selby regularly posts on Facebook and Twitter.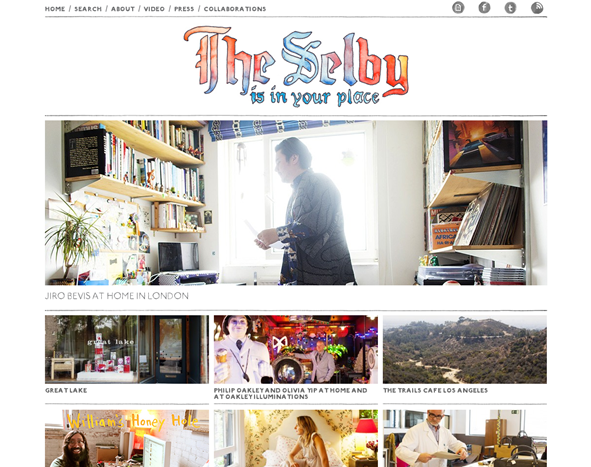 Laruen Liess is an interior decorator with a passion for art and textiles. She uses her blog to share her thoughts on interior design, fabrics, and the challenges of running a design business. The most interesting section of her blog is the Before and After area, where she shares pictures of projects that she is working on for her clients. Along with the pictures, Liess offers detailed explanations of why she made each design decision. This blog is a rare insight into the thought process of professional interior designers. You can get more updates, and project commentary, on her Facebook and Twitter pages.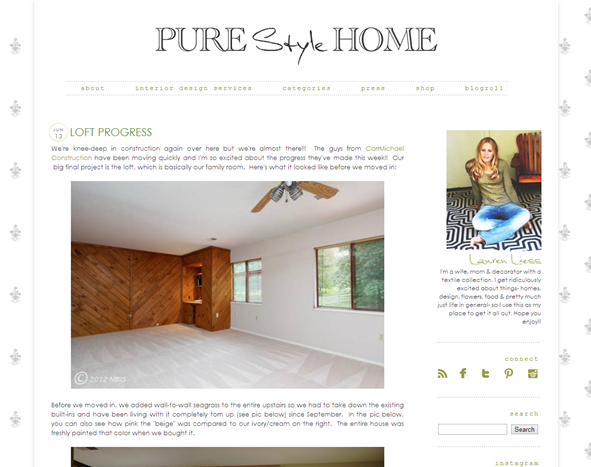 San Francisco based blogger, Victoria Smith, is the editor of, and one of the main contributors to, the SFGirlByBay blog. Smith uses the blog to share product reviews, shopping tips and interior design advice. This is quite a high-volume blog, featuring several posts per day, including inspirational interiors, reviews of design books, and even a section on handy kitchen accessories and must-taste foods. The content is quite US-Centric, but the DIY section of the blog has some great ideas for international readers. If you want to make sure you never miss a post, subscribe to the blog's Facebook and Twitter pages.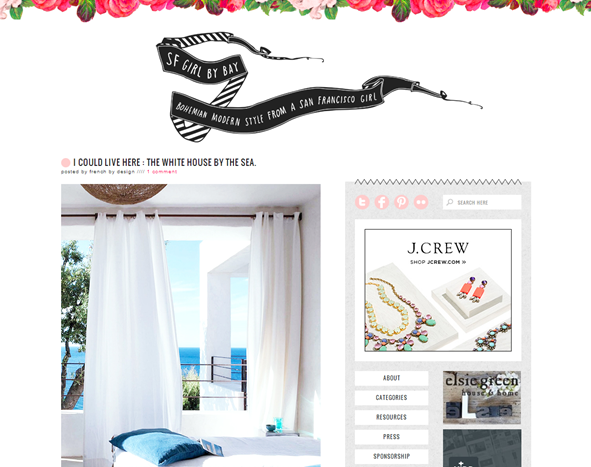 Jenny Komenda is a thrifty and creative DIY enthusiast from Brooklyn. She uses her blog to chart her progress as she renovates her family home. Komenda is quite handy with power tools, and the DIY projects that she engages in are incredibly ambitious. Following her efforts as she completely re-designs her house will give you an idea of what can be achieved from even the most humble of beginnings. Just take care not to bite off more than you can chew if you're a DIY novice! Komenda is active on both Facebook and Twitter.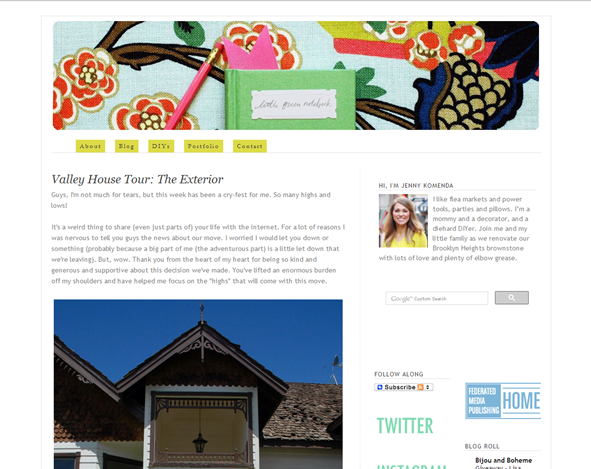 Home Shopping Spy is a blog run by Alice, the Style Editor for Ideal Homes. Alice post about the most interesting and stylish products that she encounters during her work. Some of the products are simple and thrifty – such as paper straws and party bags that will add a stylish touch to the next party you host at home. Others are more expensive items such as designer bedroom furniture. No matter what your budget, you'll find something to brighten up your home. The best buys are usually cross-posted to their Facebook and Twitter pages.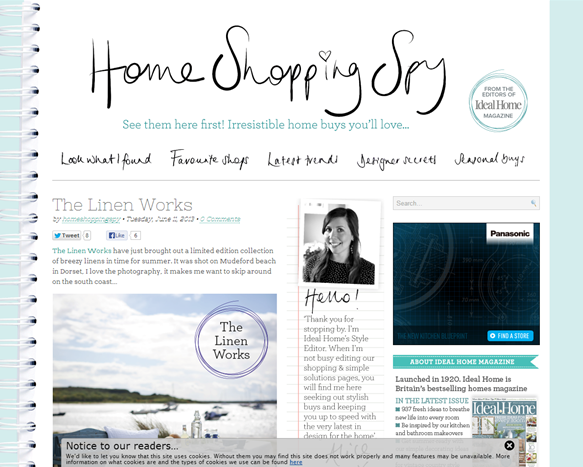 Bright Bazaar is the interior design blog of Mr Will Taylor, a UK based blogger who is "unashamedly hooked on hue". Taylor's passion for colour is evident both in the brightness of his blog and the content of his posts. From ways to use the colour yellow in your interior designs, to tips for making "dip dye walls", Taylors blog will teach you how to use colour in eye catching, but tasteful ways. Taylor is active on both Twitter and Facebook, although his profiles on those social networks are nowhere near as bright as his blog!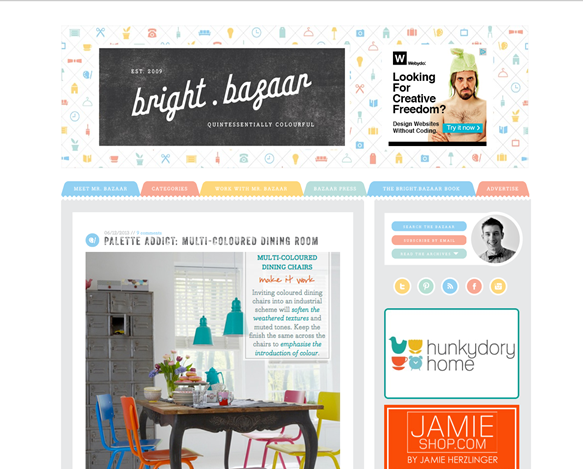 Darlking Dwellings is the personal blog of Liz and her husband. They originally created the blog to share tips and advice about how to turn your first home into a place that you are really proud of.  The couple bought their first house in 2011, and they are using the blog to chart their progress as they turn that house into a place that really feels like home. Their property is quite small, but through creative use of colour and clever furniture arrangement, they have made it feel spacious and welcoming. You can see more of the work that they have done on their Facebook page.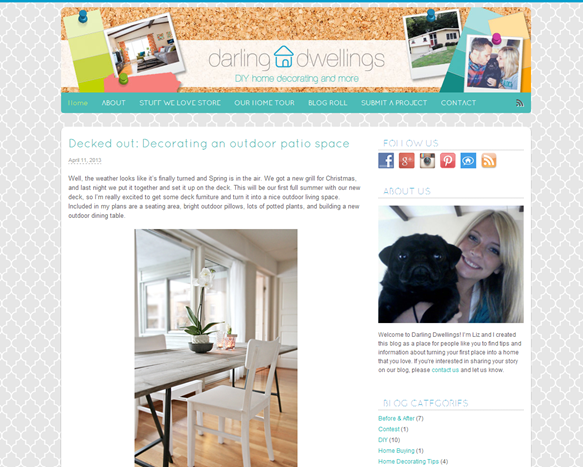 Design Chic is a blog focused on the more elegant side of interior design. Run by a mother and daughter team, Beth and Kristy use this blog to share the designs that inspire them. From opulent living rooms to luxurious bedrooms, My Design Chic is a great place to look for tasteful and elegant interior designs. Follow Design Chic on Facebook to ensure that you never miss a post.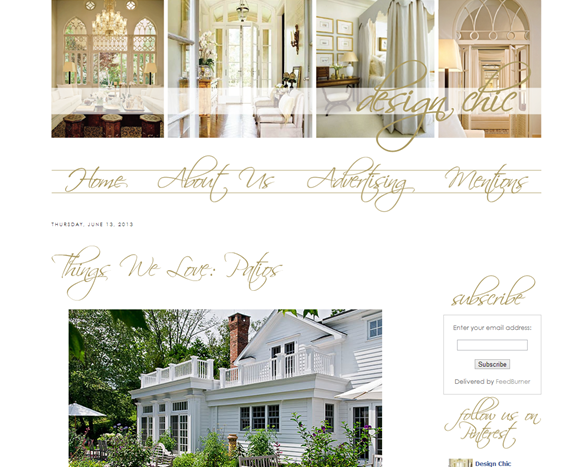 Cococozy is an interior design blog run by the makers of the Cococozy textiles collection. What makes this blog special is that the editors understand that interior design is something that everyone can do. Instead of focusing purely on couples and families, Cococozy caters to everyone, from bachelors living in small city apartments to the rich and famous in their million dollar mansions.  In addition to their blog and online store, Cococozy also maintains a presence on Facebook and Twitter.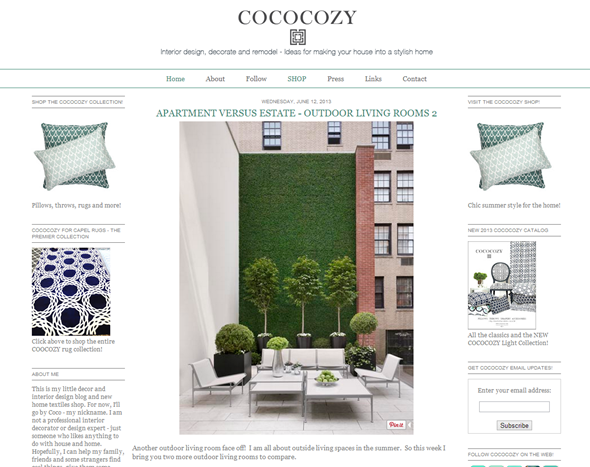 The Scandinavians have always been known for their amazing interior designs, and Emma Fexeus appears to be continuing the national tradition. Emma uses her blogg to share her favourite interior design photographs. Emma does not talk about products or DIY. She does not want to encourage a consumerist lifestyle. Instead, she simply shares her favourite photographs, many of which encourage minimalistic living. If you're not convinced that minimalistic design can be attractive, you should definitely take a look at some of her photographs. Follow Emma on Facebook to get updates when she adds new content to the blog.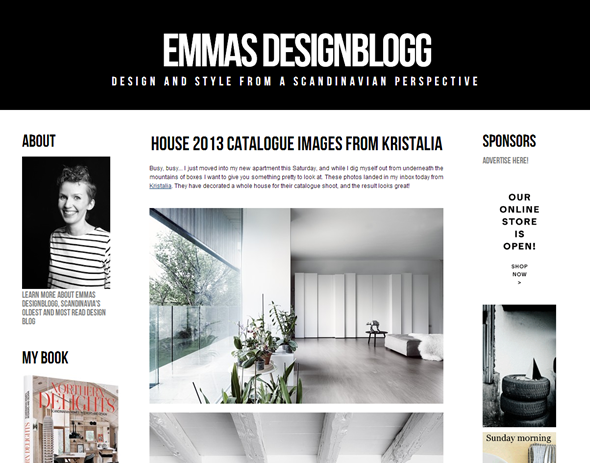 The Inspired room is an interior decorating blog run by Melissa, a blogger and freelance writer with a passion for decorating and home design. Melissa shares home making tips and advice to help would-be designers learn how to organize and decorate their homes. The tips are practical and affordable, and aimed at busy homeowners who don't want to break the bank to get the home they love. The DIY section includes some great garden projects, such as turning your old barbecue into a plant stand, and making a simple herb planter. Follow Melissa on Facebook and Twitter for more great DIY ideas.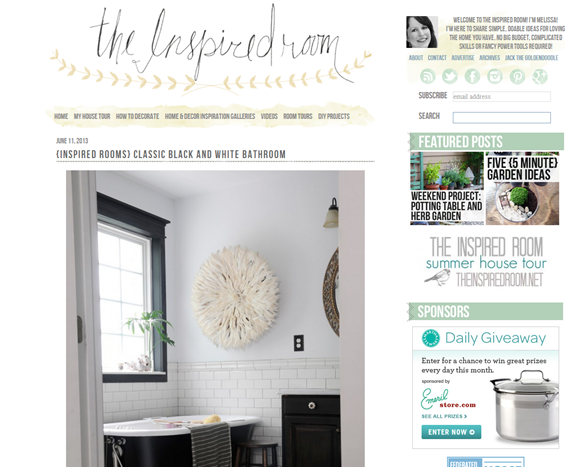 Kate Watson-Smyth is a freelance journalist who writes about interior design for the Financial Times. On the Mad About the House blog she shares awesome interior design finds including space-saving exercise equipment, cute and quirky storage, and beautiful bathroom accessories. Unlike many other bloggers, Kate understands that not all of us have huge budgets, and many of the accessories she posts about can be purchased online at reasonable prices. Kate regularly shares her thoughts about interior design on Twitter.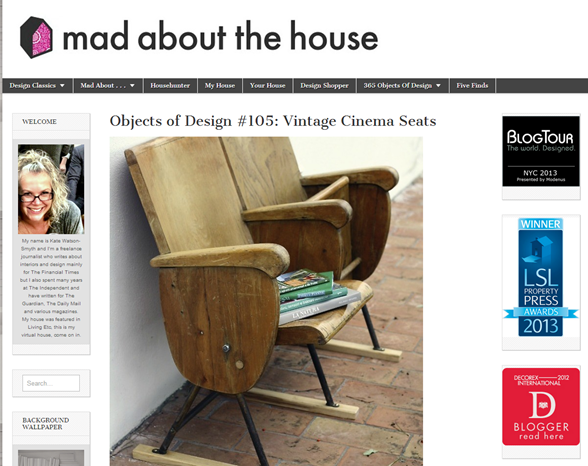 Houzz is a photo sharing blog and online magazine focused on home remodelling. The site is home to more than one and a half million photos from a range of industry-leading designers. Unlike other design websites, Houzz allows you to share and save your favourite pictures and discuss interior design with other users. The collection of photos and products is curated by a team of experts, so you can be confident that only the best designs and products will be displayed on Houzz.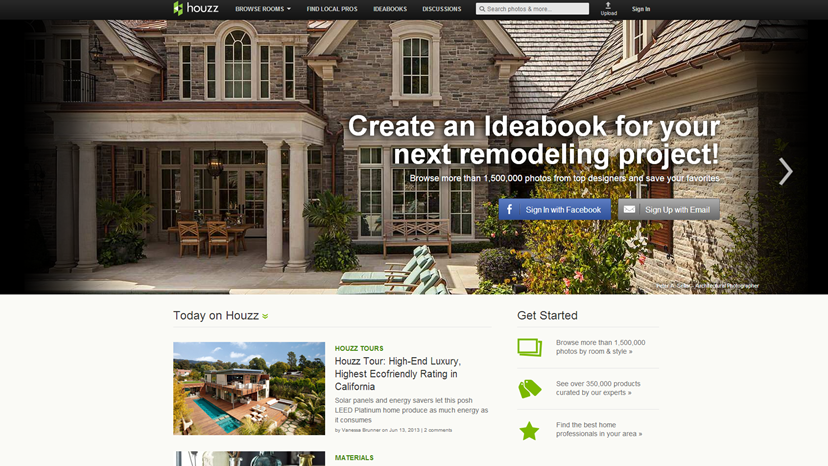 Room Envy is an interior design blog run by the team behind 25 Beautiful Homes Magazine. The blog focuses on "lust have" items – the most desirable accessories for every room in the house.  Room Envy focuses on bright and trendy designs for modern homes, and offers practical and stylish suggestions for the bathroom, kitchen, conservatory and more. The writers aren't scared to offer up more off-the-wall ideas either. Even "bad taste" designs for quirky bedrooms get some page space. If you enjoy quirky or alternative designs, you'll still find something to inspire you.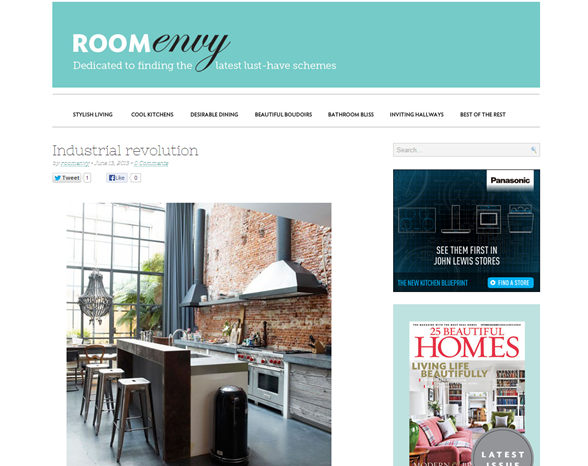 Pippa Jameson is a former editor of the BBC's Good Homes magazine, and a professional interior stylist. Pippa's blog covers the latest in interior design trends, and also addresses common interior design dilemmas. If you've ever wondered how to turn tired or damaged furniture into shabby chic classics, or where "old" ends and vintage begins, Pippa has the answer. In addition to her blog posts, Pippa also runs a paid "Ask the Expert" service where you can get personal advice on any interior design topic. Follow the blog's Facebook page for frequent updates.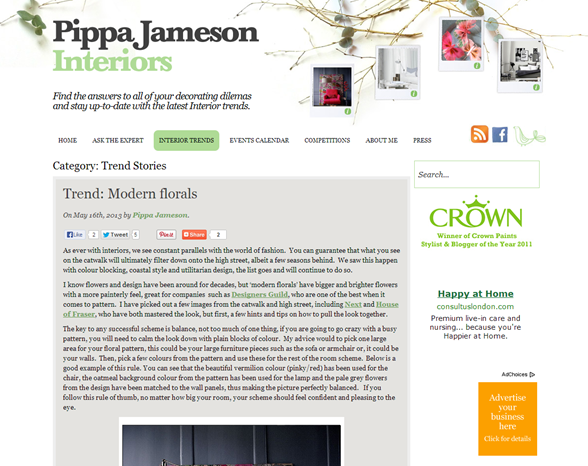 Caroline Taylor is a an interior design blogger who specializes in vintage and eclectic interior design. On this blog, Caroline talks about arts and crafts, markets, books, and her favourite design products. The most interesting posts on Patchwork Harmony are the ones that deal with vintage crafts. From crochet to papercraft, Caroline has tried her hand at almost everything imaginable and provides detailed guides, complete with lots of photographs, so that you can try things too. Caroline maintains a Facebook fan page and an active Twitter account.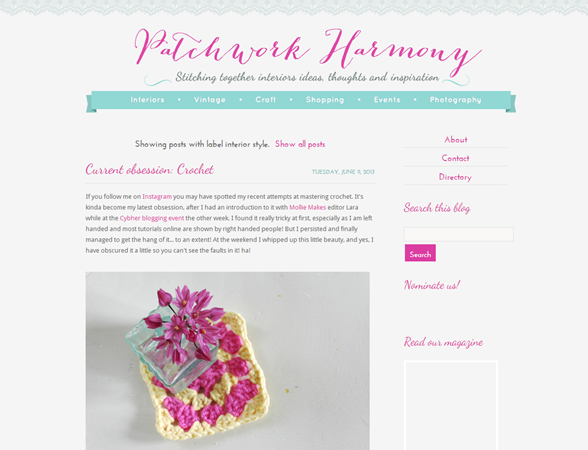 Dezeen Magazine is an online magazine focused on the subjects of interior design and architecture. The magazine was first launched in 2006 by Marcus Fairs of 21st Century Design, and over the last several years it has grown into a large site with a dedicated team of writers. The site covers all aspects of design, from architecture and urban landscaping, to interior design for homes and offices. Many of the products that the writers post about are concepts, so may not be available to consumers, but it's always nice to look! For updates about the magazine, follow them on Twitter and Facebook.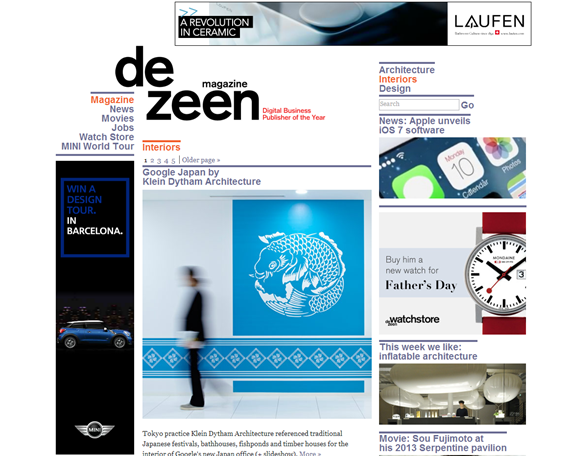 Bearing the tagline "Making homes more than gorgeous", Moregeous is an interior design blog that is focused on arts, crafts and gardening. The blog includes a huge range of how-tos, tutorials, and interior design projects, including clever upcycling ideas and simple, thrifty ways to make your home more appealing. The before and after posts are particularly inspirational. Sian Astley is a landlord, TV presenter and interior designer, and she has a lot of experience in turning run-down apartments and small homes into vintage wonders or stylish modern living spaces. To learn more about Sian and her projects, follow her on Twitter.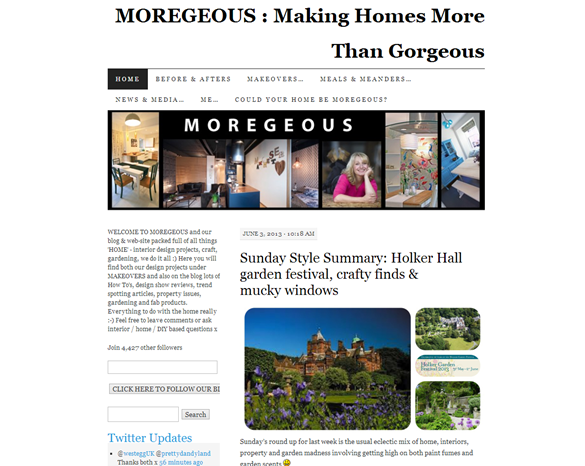 Remodelista is an interior design blog with a difference. Instead of focusing on great products and stuff to buy, Remodelista focuses on "considered living". The site implores you to "Have nothing in your house you do not consider to be useful or beautiful", and features articles on how to "live with less", and put together a zero-waste home. Remodelista is a blog for people who are environmentally conscious and want to reduce their carbon footprint and the amount of waste that they produce. You can follow Remodelista on both Facebook and Twitter.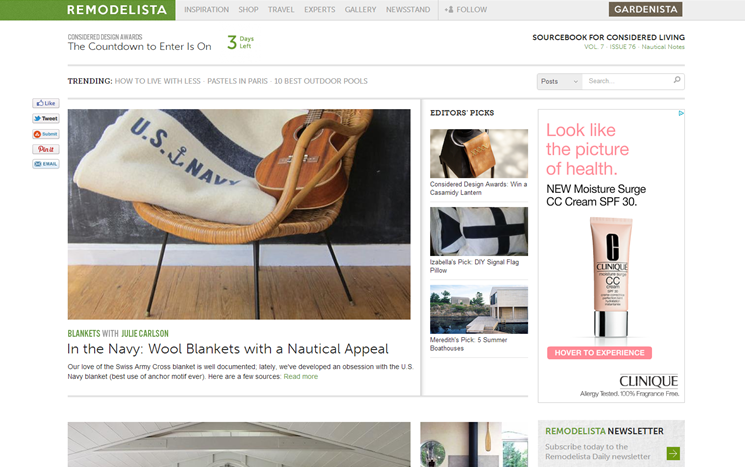 The Pure Home team wants to help you put together a home which you enjoy living in. They believe that a home is a space for relaxation, play, creativity, and living. The Pure Home blog discusses DIY, interior design trends, colour schemes, and more, but instead of just focusing on how things look, they talk about how they make you feel. The blog covers practical decorating ideas – such as gender-neutral wallpaper for your nursery and removable wall decorations that will help you to put together a nursery that will grow with your child.  Pure Home run both a Facebook and Twitter page.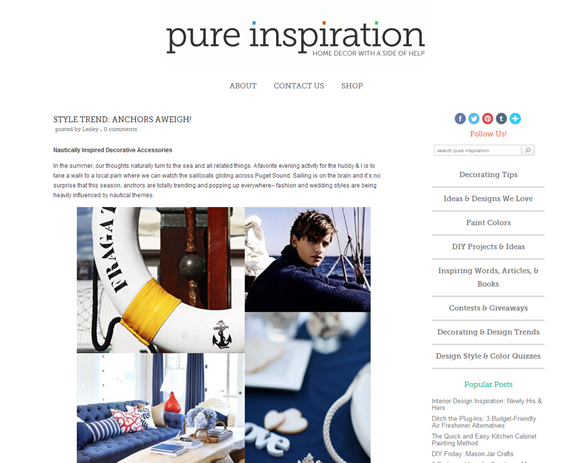 The West Egg Blog is run by Louisa Blackmore, an interior designer who specializes in restoring old furniture. Blackmore is an expert in period furnishings, and she frequently works with Period Homes and Interiors Magazines. The West Egg company sells restored antique and period furnishings and decorative accessories. The West Egg Blog is more than just an advertising platform for the store, however. Blackmore shares furniture refurbishing tips, craft ideas, and before-and-afters that will inspire any antique furnishings fan. The West Egg UK store has a presence on Facebook and Twitter.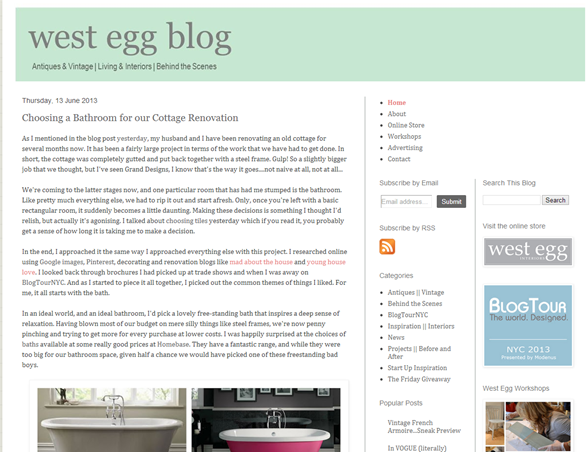 Decorology is the blog of Ashley, a freelance web designer and avid interior design fan. Ashley uses the blog to share designs that she loves, and also to show off her latest interior design projects. Ashley and Chris have a small apartment, and are struggling to find space to entertain. She posts about her plans to remodel her living space, and also shares simple and cute DIY ideas, including creative photo frames and clever upcycling ideas for your garden. Ashley is quite active on Twitter and talks about many subjects, including arts and crafts, travel and interior design.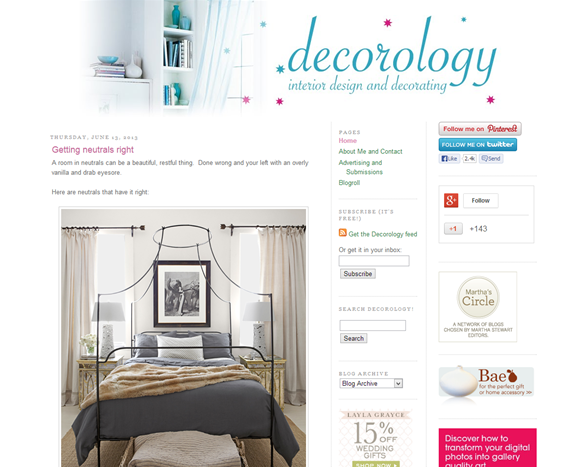 The Materials Girls blog is run by a large team of girls from around the United States, as well as one small-town boy, Nathan Hejl. The blog aims to provide "Design Inspiration from Coast to Coast", and while the content is USA-centric, the designs are rich and varied. The bloggers share stories of shopping at markets and exploring local architecture. In addition, there's a great selection of furniture to drool over in the "Furniture Friday" category. Whether you're looking for something to replace your boring bookshelves, or you're in the market for a cute new coffee table, trawl through the photographs on this blog to find the furniture of your dreams. The Material Girls can also be found on Facebook and Twitter.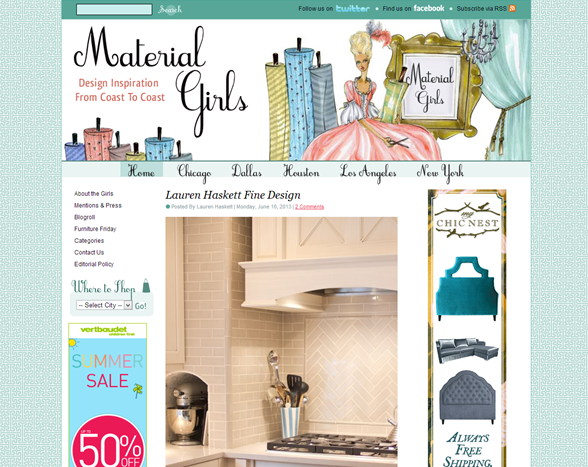 Addicted 2 Decorating is an interior design focused online magazine run by Krista, an interior-decorator and DIY lover turned blogger. Krista uses this blog to show off her personal projects, share designs that she likes, and provide tutorials on everything from "how to build a bookcase" to how to revamp your garden. One recent post included 15 quick and easy projects to make your back yard a more appealing place to spend time this summer. Krista has a presence on both Twitter and Facebook.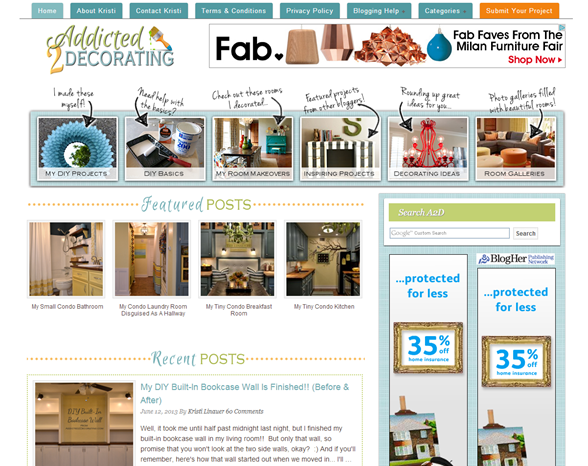 What do you think of our list of best interior design blogs? Is there a blog you love that we didn't include? Leave a comment and let us know!