Last updated on July 1st, 2019 at 05:25 pm
If you're looking to invest in a door or two for your property, then you might want to know what the near future holds for this tried-and-true piece of technology.  While we're not blessed with powers of clairvoyance, we can at least foresee some of the trends of 2017 – by simply observing the current direction of travel and extrapolating forwards.  Naturally, we've other indicators, too – such as what's popular in other parts of the world, technological enhancements, and the natural tastes of the British door-buying public.
Interior Door Trends 2017

While exterior doors might have the greatest influence on how the property appears to outsiders, it's the ones on the interior that you'll spend the most time looking at.  It's only sensible, therefore, to consider internal door trends first.
While the winds of design change might be ever-fluctuating, there are some things which remain utterly unmoved by them.  Interior doors have a different aesthetic function to exterior ones; bright and bold colours which draw the eye away from the contents of a room will continue to be shunned in favour of more reserved pastel shades, and – more often – plain white and unpainted wood.
With an increased focus on 'reclaimed' materials (as opposed to merely recycled ones) in the world of home décor, we should expect to see more doors carry a rustic aesthetic – and this is especially so on the inside of a house, where doors are not required to carry the same security and insulating function.
2017 should also see an uptick in internal glazed doors – as they provide a natural and cost-effective means of dispersing light throughout a household, and creating the impression of a larger space.  Clearly, these can only be used in certain areas of the house – bedrooms and bathrooms, where privacy is important (or even paramount), are probably unsuitable.  If you'd like to disperse light through kitchens, hallways and living rooms, however, – and help to create that all-important spacious impression – then a glazed interior door is an excellent way to do it.
We might also create the illusion of space by joining adjacent rooms not with traditional doors, but with wide-open archways, filled by larger folding contraptions.  These interior folding sliding doors can then be stowed away when they're not being used, in order to create an open space.  While this might necessitate major surgery, a substantial set of internal oak doors are sure to last the distance, and they'll likely provide a return on their investment in the long run, as they'll contribute to the value of a property.  If you're planning a new build, then, or a significant overhaul of an existing one, then doors such as these will provide just the means to do it.
2017 External Door Trends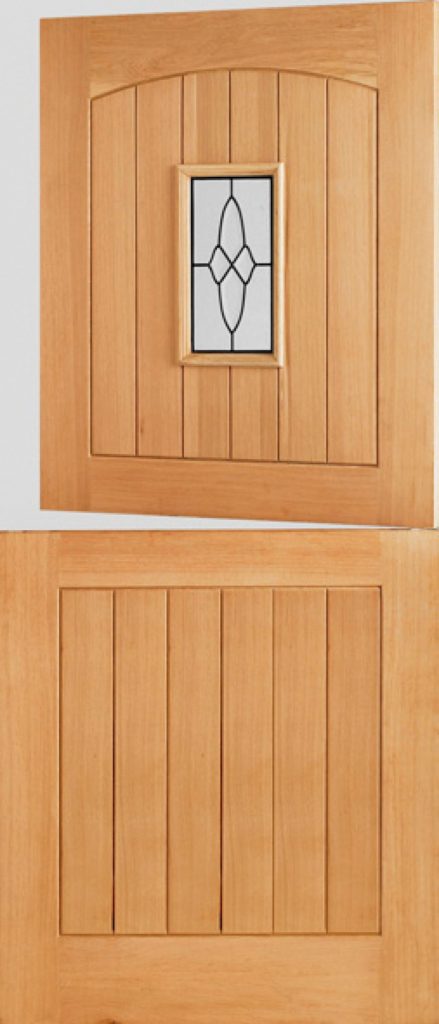 External doors look to be experiencing something of a stylistic schism.  Some are becoming more and more showy and ornate; others are becoming more causal and informal.  Dutch doors are, improbably, making a little bit of a comeback as part of the latter movement.  Of course, you'll want your choice of door to reflect the surrounding building and its décor – but whichever direction you choose to head in, be sure that you do so wholeheartedly!
One thing we can say with some certainty is that black is making a return (though, being black, it never really went away).   While this might not mean that you need model your front door on that of 10 Downing Street, you can at least get away with a little bit of everyone's favourite neutral tone on the accents and accessories surrounding your door.  Black handles, letterboxes and door-knockers on a pale door are all suitable candidates for a makeover.
Another trend in front door design is toward greater size.  Many homeowners are looking to replace their doors with eight or even nine-foot-tall models – and if the ceiling of your entrance hall offers sufficient room, then this might something worth considering.  Not only are doors getting taller, but they're getting wider, too – with some designs being as much as three-and-a-half feet wide.
Another popular trend sees the front door of a property built to match those of an attached garage, with the same materials and design being employed in both.  If your front door happens to be near to your garage, then this might help to create a consistent look across the entire front of your property – but even if it's difficult to see both the garage and front door at the same time, then you'll still get that subtler impression that the two belong to the same building.
By the same token, you'll want to be sure that you select a door that matches the rest of a building.  Front door colours for brick houses will be different than those for those for all-white cottages.  Likewise, front doors for Victorian properties will need to match the design of the surrounding architecture.
2017 Patio Door Trends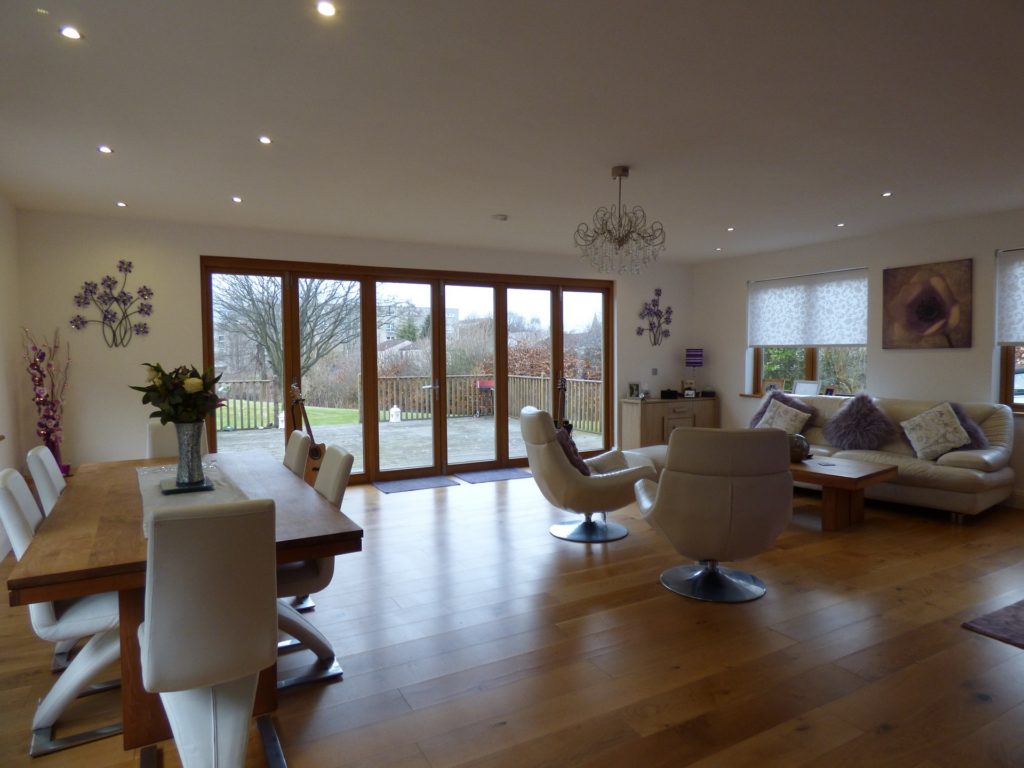 Patio doors play a crucial role in bridging the home with the garden, and helping the two to work together. On the other side of the Atlantic, where bigger is almost always better, a new trend towards absolutely enormous sliding patio doors is on the rise.  These mobile walls can be as much as sixty feet wide and almost twelve feet high, providing American homeowners with copious sunlight – and allowing them to take in the view of the outdoors.  The frames of these doors, on the other hand, are becoming slimmer and slimmer, in order to allow for greater volumes of glass.
Since multiple-glazing technology is becoming more and more effective, it's becoming possible to do this without compromising on a home's energy-efficiency.  This sort of thing used to be the sole preserve of sheiks and oligarchs – but increasingly, 'window walls' are available to ordinary, middle-class Americans.
Of course, we in the UK like to imagine ourselves as far more subtle and reserved than our American cousins.  We also, unfortunately, enjoy far less sunlight.  Despite this, design trends that sweep the states tend to be mirrored shortly afterward in the UK, so we should expect to see a trend toward larger doors here in 2017.
Another reason to suppose this trend is coming to Britain is that it was doubtless driven by another trend which already has.  The past decade has seen both American and British homeowners come to view their outdoor space as an extension of their indoor space.  Thus, we've seen enormous amounts of money invested in outdoor dining areas, shed conversions and pizza ovens.  Clearly, the divide between home and garden is beginning to blur, and so this trend toward larger bifold doors looks to be a matter of when rather than if.
Door Hardware and Accessory Trends for 2017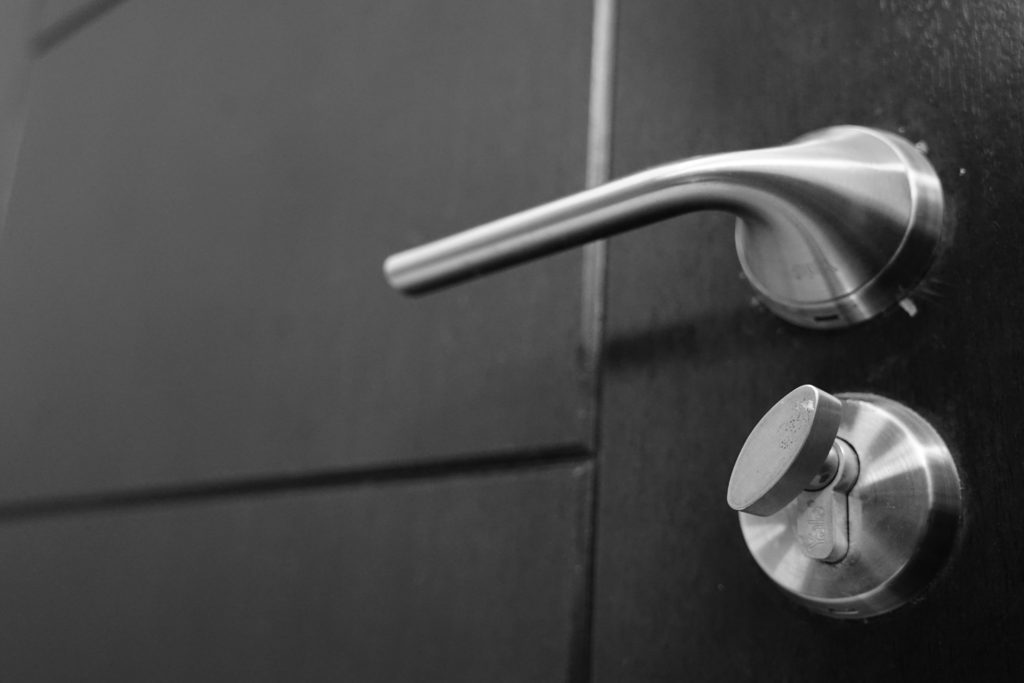 The right set of hardware can make an otherwise dismal-looking door look serviceable.  It can also help to make a serviceable door look positively exceptional.  In this area, we're able to make rather more reliable predictions about what's to come, as changes in technology will make certain items available that simply weren't before.  For example, the internet has made it possible for customers to be put directly in touch with specialist manufacturers; and in turn, new technologies and techniques have made it possible for those manufacturers to create bespoke items.
As a consequence, personalised door mats – bearing the names of the homeowner, helpful messages to confused delivery drivers, or even customised logos and images – look set to appear up and down the country.  The same is true also of personalized letterboxes, which you might order stamped with your house number or name.  If you're the owner of a period property, then you might achieve this without interrupting the aesthetic of your doorway – provided that you're careful in your choice of materials.
When it comes to materials for the modern exterior door, chrome is rapidly giving way to warmer alternatives like burnished bronze and nickel.  The latter is especially attractive, and it's a great match for more traditional homes, as it offers a great deal of flexibility.  If you're shopping for an older property, on the other hand, then brass or wrought iron might offer greater authenticity.
In Conclusion
In 2016, we've seen a move away from the heavily layered and texture-heavy approach to interior design, and toward a style that's more austere and simple – but without being cold and clinical.  We can see these trends echoed in the sorts of doors that we're looking to invest in.  If you're unsure of how to proceed, then it's best to proceed cautiously: most homeowners aren't looking to sit on the bleeding edge of interior design, as the exceptionally outlandish doors we find there run the risk of dating very quickly.
When shopping for a door, the context into which it'll fit should be among your foremost considerations, since any door that fits the building it's occupying is sure to be a stylish one.  This will be just as much so in 2017 as it ever was!