If you have a house, the chances are in that house you have an item that is made of, or features wood. Whether it's a section of flooring, a piece of furniture or a decorative panel, wood can be found in most homes.
Wood is a versatile and beautiful material, but like any other material, it is susceptible to scratches and scrapes. Here you'll find a selection of hacks and tips using items that you'll find in your home to bring the wood in your home back to its beautiful best.
Cotton Bud and Coffee
This is a really simple hack using some very regularly household items. All you have to do it dip a cotton bud (q-tip) is some coffee grounds and lightly apply to the wood. The natural brown colouring of the coffee with add colour without harming the wood.
Walnut Trick
Gently rub a walnut over any scratches and scuffs on your wooden furniture and the scratch will naturally darken and the scrape will fade away; a cheap and interesting way to restore your wooden products!
http://www.apartmenttherapy.com/quick-tip-2-how-to-cover-up-scratches-on-wooden-furniture-home-hacks-109198
White Vinegar and Olive Oil
This tip uses simple items that you're already likely to have in your kitchen: white vinegar and olive oil.
Using ¾ cup of oil and ¼ cup of vinegar you can make the perfect mix to spruce up your scratched wood. Rub into the wood with a cloth and wipe away any excess.
http://lilyandthistle.blogspot.co.uk/2012/07/a-quick-trick.html
Clear Nail Varnish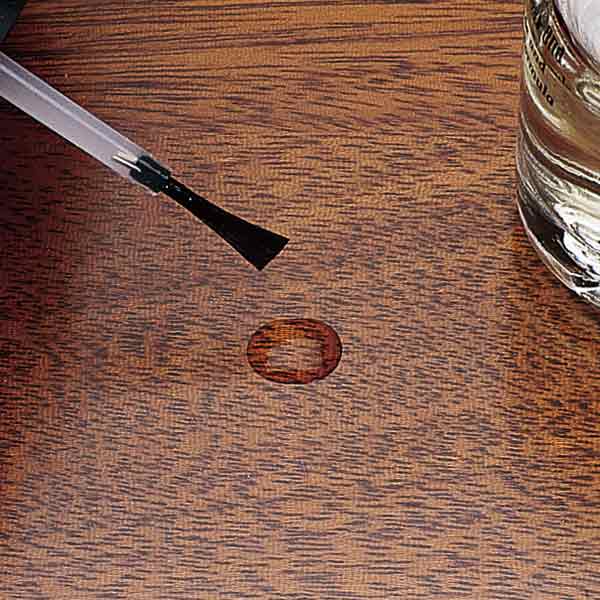 For any light chips that might occur, but the colour hasn't been affected too much, you can fill in the chip with some clear nail varnish and protect it from getting worse and keep a smooth surface.
Put a few drops of nail varnish into the chip and smooth off afterwards. Nice and easy!
http://www.thisoldhouse.com/toh/photos/0,,20733085_30017316,00.html
Crayons and Eyebrow Pencil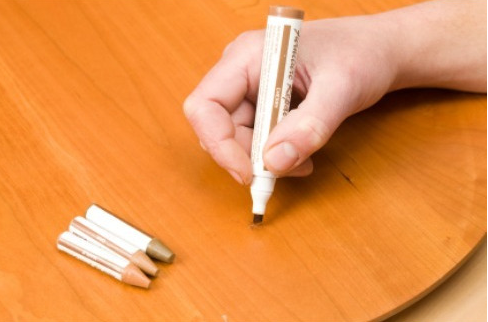 If you have a scratch on a wood surface and you have children, you might want to have a look in their crayon collection before buying anything else to get the scratch out.
Match the crayon to the correct shade of the wood and simply cover the scratch with the crayon. Alternatively, if you have a matching shade with an eyebrow pencil, you can use that instead.
http://www.thriftyfun.com/Repairing-Scratches-on-Wood-Furniture.html
Vaseline (Petroleum Jelly)
Normally a go-to product in winter when the cold cause your lips to dry up and get chapped, but petroleum jelly has more uses than you might realise.
White rings on wood surfaces are usually caused from heat or dried moisture. Apply some vaseline to the white ring, leave overnight, and the next day wipe it away along with the water ring.
http://www.rd.com/home/extraordinary-uses-for-petroleum-jelly/