French Doors
A facet of classic and timeless design, French doors have enjoyed centuries as one of the most stylish door choices available. Conceived to solve the problem of not having enough light in the home, French doors allow natural light to bathe the room and with its heightened sense of symmetry, proportion and illumination, is a very dynamic door design indeed.
Internal French Doors – Allow light to flood through your home with a set of our internal French Doors.
External French Doors – French Doors make fantastic patio doors, use our external French Doors in your lounge, kitchen for a stylish opening to your outside space.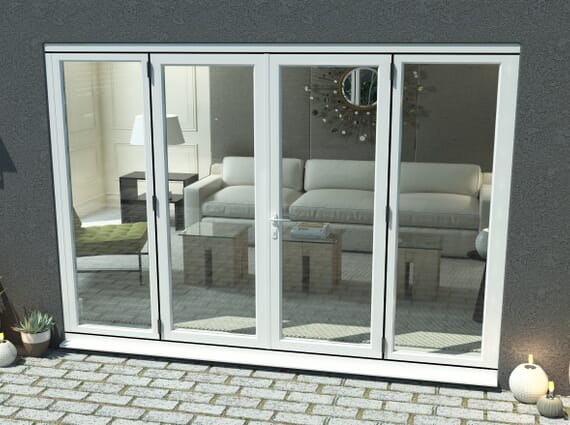 If you want to introduce the feeling of space and light to your home, installing a set of glazed external French doors (also known as French windows) is the ideal way to make a difference. Their large glass panes will help you bring the outside in, maximising your living space with their convenient hinged opening. Choose from smaller external French double doors or larger systems with added sidelights. If you're creating a period look, try Georgian bar French doors for a more traditional approach.
Our External French Doors options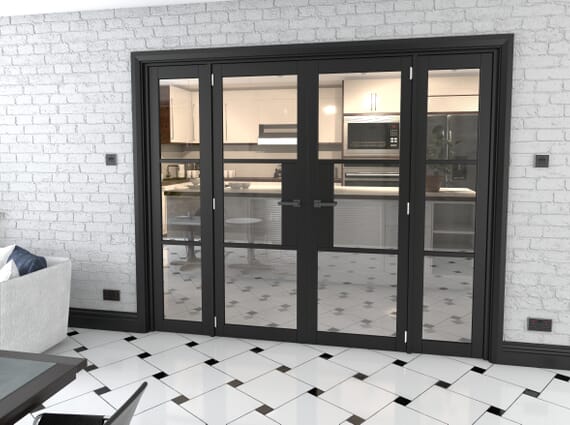 Installing a set of interior French doors is an ideal way to let sunlight filter through your home. The large glass panels in these internal double doors allow natural light to flow between rooms whilst dividing your space into clear zones. This style of internal door is perfect for making sure your home has an easy flow and open feel. Our wooden internal French doors can be used anywhere in the home, from connecting your dining room to your living room, to connecting your bathroom with your bedroom. Browse our range below and buy internal double doors online today!
Our Internal French Doors options
Some of our best selling French Doors
---
Common Questions for French Doors


Why Is It Called a French Door?
Funnily enough, French Doors are named as such because they originated in the south of France. French Doors are a product of Renaissance thinking. It was a period of time where science, politics, history, architecture and so much more were being innovated, revised and expanded upon. It came after the Dark Ages, which is popularly known for its lack of innovation and progress, although that isn't strictly true at all. The Renaissance was an explosion of ideas, and amongst it was French doors. A solution to the lack of light in homes in the Middle Ages, we've written more about how French doors got their name here.
What Is Considered a French Door?
The dictionary definition of French Door, also referred to as French Windows, is 'each of a pair of glazed doors in an outside wall, serving as a window and door, typically opening on to a garden or balcony.' However, French doors don't always have to be external, as our comprehensive Internal French Door range demonstrates, it's more to do with the design style.
Are You Looking For What Style Is Right For Your Home?
French Doors have made a worthwhile investment for so many homes. If you're still think about whether French doors are right for you, then check out this handy guide we wrote on sizing and fitting so you can begin to visualise how they could transform a space in your home. We also have included information on installation and its costs, too. Whether you want a more seamless transition from the inside to outside, or some classic style in your home, there's a very good chance our French Doors will make a big impact.
What's the Difference Between French Doors and Patio Doors?
French Doors open outwards on a hinge. Patio Doors open in a sliding motion along a track. French Doors don't exclusively open up to the outside and can be used throughout the home. A patio door will open up to the outside and its big windowpanes allow for an unfettered view of the outside.
Worried About How Much French Doors Cost?
High-quality French doors can be quite the investment. Our internal French Door range starts from just under £400 and our external French Doors start at just under £800. You will also have to factor in labour costs on top of this, unless you're confident enough in your DIY skills to have a go yourself. If you're getting old doors replaced with new French Doors, you can expect a handyman to charge around £900 for that job, but of course those prices will vary. You can expect that number to grow if you're going completely from scratch and need a new aperture put into your wall. A good figure to expect to pay altogether is in the ballpark of £2,000.
What is the Upkeep Like?
French Doors are low maintenance. Internal French Doors will benefit from being cleaned fairly regularly, particularly their windowpanes. Eventually, you might want to give them a lick of paint, so they look fresh again.
As for External French doors, these are liable to decay faster as they are outside. But this can be solved with varnishing and again just making sure they're clean and looked after. Here's some of our maintenance tips for wooden doors.
Will It Be Warm?
All of our wood patio external doors are incredibly thermally efficient. Our External French Doors are, of course, no exception. For example, our NUVU range offers a U-value of 1.6W/m2K. The ClimaDoor range checks in even lower, at 1.5. Read more about the thermal efficiency of French Doors here.