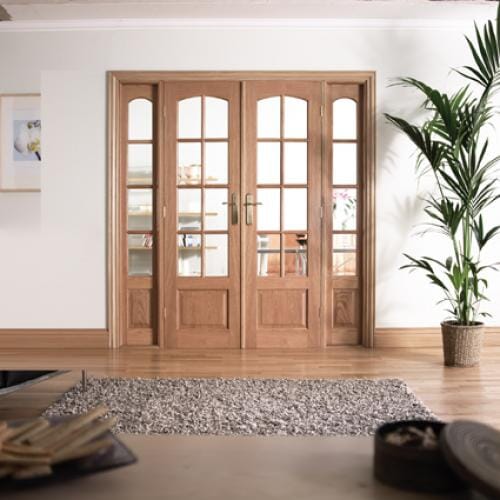 W8 Hardwood Room Divider
Frame Size: 2478x2031mm
Opening Size: 2488x2041mm
---
Only £810.00 Out of stock

0
This item is currently out of stock. We are not sure when this will be back. You can continue to order this item and we will fulfil the order when it comes back in stock.
* On orders over £750. To most mainland locations
Description 〉
Product Information:
Hardwood room divider doors provide you with a timeless style that looks great in any home. These stunning internal French doors allow you to divide open space without blocking out the light. You can also open space up easily and quickly when needed.
Choose to install a standard internal pair with a frame, or opt for a traditional interior French door set including sidelights. Either option will look the part, with the striking panelling, glazed bars and curved top panels adding delicate detail.
These doors are sold unfinished so you can add the paint or stain of your choice. This allows you to match your new hardwood room dividers to other doors or windows if you choose.
Glazing: Clear Bevelled
Wood: Engineered Hardwood
Finish: Unfinished
Colour: Natural Hardwood
Style: Traditional, Classic
Sizes: W4 (fits a 4 ft opening), W6 (fits a 6ft opening), W8 (fits an 8ft opening)
Features & Benefits:
The Hardwood room divider range has an engineered core, which provides extra strength, thermal efficiency and durability.
These internal French doors are great value for money.
An all-round popular seller, this product has stood the test of time making it a true classic!
Colour matching: finish as you desire!
Specifications 〉
Material
Engineered Hardwood
Glazing
Clear Bevelled
Standard Frame Size (WxH)
2478 x 2031mm
Structural Opening Size (WxH)
2488 x 2041mm
Code
W8HWD
Brand
LPD