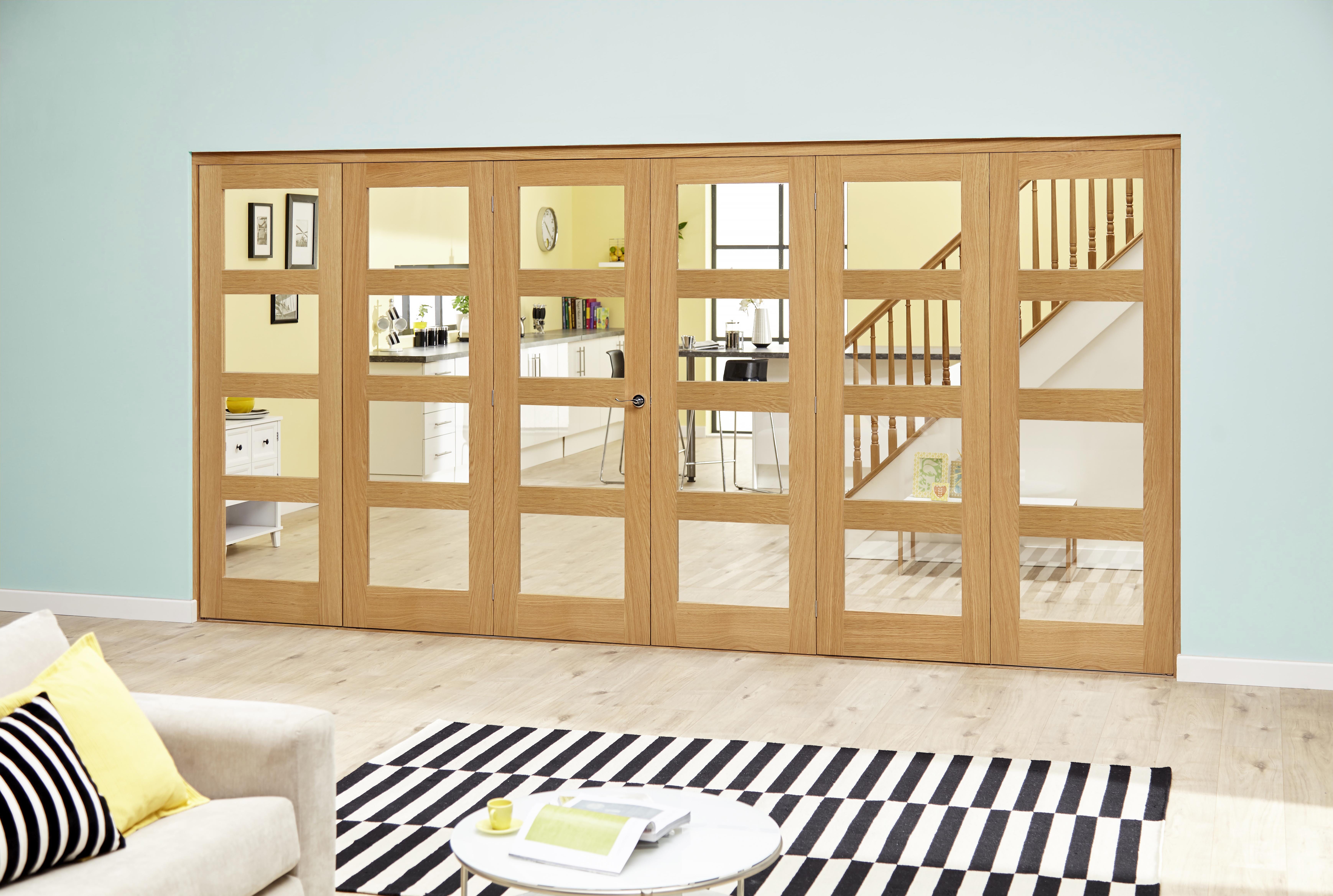 Oak Prefinished 4l Roomfold Deluxe (3 + 3 X 610mm Doors)
Frame Size: 3740mm x 2078mm
Opening Size: 3750mm x 2085mm
---
Only £1,169.10
Was £1,299.00
200
Description 〉
The Pre finished 4L Shaker Roomfold Deluxe internal bifolding door system from CLIMADOOR provides a superb contemporary look to your room, with shaker style glazed doors.
This prefinished 4L oak shaker door pattern has clear glazing and gives you a warm appeal to your room. Available in 3, 4, 5 and 6 door door systems, using either 533mm, 573mm, 686mm or 762mm internal doors you ensure that installation is made simple with no planing of doors on site and a simple installation routine to follow to assemble the doors and frame in the opening. Joiner recommended.
To decide on the best solution of which interior bifold doors are for you, take the time to review the opening sizes and product sizes available before selecting the option to buy.
This top hung system is offered with prefinished frame, head and base track, running gear, hinges, drop bolts and prefinished glazed doors. (Handle and latch excluded)
Please refer to our storage and decorating recommendations before installing the doors. All doors MUST be decorated before installation.
Specifications 〉
Material
Engineered Solid Core (Heavyweight)
Glazing
Clear
Size
6 door - 3740mm x 2078mm
Standard Frame Size (WxH)
3740 x 2078mm
Structural Opening Size (WxH)
3750 x 2085mm
Thickness
74
Hardware
Chrome effect
Finish Details
Pre finished clear lacquer
Door Pattern
3+3
Code
RDOPF4LC-33-610
Brand
CLIMADOOR
Hardware
Top Hung Hardware with Stainless Steel hinges and drop bolts