Reviews
Richard Bishop :
Good Quality, good value, Good service.
Mark Martin :
a good shopping experience with a good product delivered on time
William Stewart :
Good quality products with great delivery times
steven ratcliff :
Very good in general, was going to contact yuo as not received a vat receipt or any receipt, If could supply one would be great thanks steve
N Burgess :
Cannot fault the product or service or delivery. Delighted with everything and would recommend.
G Church :
Excellent products and fast delivery, thanks
S Chipperfield :
Always difficult buying something online from a company you do not know but I am delighted with the service offered and the doors are beautiful. Very happy to recommend this company.
B Porter :
Lovely door, better than the picture.
P Reeves :
1st class easy to use site,communication and delivery,5stars
D Batty :
Was everything you said it would be
K Sutterby :
A simple and pleasant experience
C van Bentum :
Very good quality product at a reasonable price
M Auger :
overall very satisfied
G Dunn :
Excellent hard doors would recommend to anyone, did have a damaged door on delivery but that was sorted out easily with good customer care from Adam, so well done Vibrant Doors
J Mellor :
Excellent service, far superior to other online door companies.
J Heather Taylor :
Lovely doors and perfect in place of my patio doors between lounge and new garden room. Few problems with my fitter but not your fault. Put architrave round which stopped them folding flat. All sorted now, finally!
K Clark :
Order placed easily, delivery prompt with clear communication of time. Excellent
J Papa :
not bad at all
J Talbot :
very smooth.
A Wilson :
great doors, great price, great delivery
A BURTON :
The office staff were excellent with all my phone queries, they replied when they said they would. Overall they were very helpful. Thank you very much.
V Murtagh :
Fair Price. Fast delivery. Satisfactory product. Would use again
A Barraclough :
Very good experience, carry on as is, great !
J Gent :
Very helpful and delivery was faster than expected
E Darby :
Easy to order and fast delivery. The door is exactly what we wanted and fantastic quality. Everyone comments on how good it looks.
M Baillie :
Lovely product at reasonable price and great delivery.
S Wing :
Very satisfied.
M Liston :
quick and efficiant service with friendly staff. Will definatley use them again
K Pauling :
Doors delivered within 24 hours, amazing. Thank you
C McMillan :
Before buying I had to obtain advice on how much could be trimmed from the tops and bottoms of a selection of doors. I received a precise reply promptly. I made my choice and am now delighted with my purchase.
G Lopez :
great product, exactly how it was described on the website, easy transaction. No problems with delivery or the doors. Recommended.
C Hall :
easy to order and delivery quicker than expected
S Bennett :
Very good product, delivered on time and as described. Good communication throughout delivery process. Very happy...
P Joyce :
We were told that the doors we ordered were difficult to get but they managed and delivered on the day we required them. I will be shopping at vibrant doors again. Nice quality doors look lovely when varnished to bring out the beautiful grain.
H King :
Nice doors when hung
M Lewis :
Excellent quality doors, well packed and delivered when they said they would be. Thank you
R BAYNTON :
I ordered the doors from the pictures on the web. But they were even better than the picture showed. All glass panels are bevelled and look amazing. I would certainly recommend you.
P Tenwick :
First class product and delivery
C McGivern :
Doors are even better than expected. Thank you.
M Anstee :
Very satisfied.
P Gallant :
Really great service especially as you delivered a wrong door but all credit to you, you had it re-ordered and delivered within 2 days.
Our Response...
Thank you for your feedback. We've had a look in to this order and it looks like there was a picking error at the distributors, we're glad it all got resolved quickly and efficiently our end and we hope you're happy with the doors.
A Large :
Very satisfied.
R Turner :
Very good service.
D Haldenby :
Excellent service and excellent quality!
K Morgan :
Great product and a great price and service first class
E Brown :
After hours of searching both locally and online I could find no other company who could fulfil my order for 16 matching but varied size doors.A quick phone call to Vibrant and they could tell me that most of the doors were in stock and that the two or three that weren't would be very shortly.The remaining doors did indeed come in within a few days and my order was dispatched.All the doors were individually wrapped and in good order,exactly as described.The whole shopping experience from start to finish was excellent.
S Bramwell :
Excellent product, and excellent price will def use again
M Johnson :
Very Satisfied.
S Lowe :
Really pleased with the product and good value, delivery was slightly longer than expected but only by a few days, Would recommend, Thank you
J Davers :
Easy and enjoyable.
S Coll :
No hesitation recommending buying from you. From making initial enquiries to arranging delivery date n time, service was excellent. The door were very carefully delivered n promptly. Wonderful experience.
M Lawrence :
Next time we need doors, we'll be back!!
K Cousins :
Quick and easy to use the website and delivery was on time.
M Dzimitrowicz :
Excellent quality doors. Great range of sizes Good communication about delivery. Doors delivered in perfect condition.
V Cream :
Doors look great. So pleased with the quality. Delivery driver was nice and friendly. Will definately use this company again.
S West :
Excellent service, even over the bank holiday weekend. The doors are now fitted and look beautiful, thank you.
J Underhay :
Good website, excellent door so pleased with them even better than expected. Neutral comment for tech support was just that I didn't use it
N Parkinson :
I ordered online and was immediately contacted by Vibrant Doors to say they had received my order and when the door was due for dispatch I would be contacted by the delivery company, which I was, and the door was delivered when they said it would be delivered. Excellent product, excellent service, excellect company, I would use again.
R Berry :
Very pleased with the result - excellent quality.
G Earl :
Everything was great! Love the product, arrived on schedule
J Hall :
good strong door
P Axon :
Excellent product fitting instructions worked ok
Mr A Saunders :
Very satisfied.
A Smith :
generally good and to be recommended
M Adams :
A good and efficient experience.
M Dzimitrowicz :
Really happy with the doors and the delivery. The doors are good quality and finish. What I liked was that Vibrant Dors have a wider range of door sizes than is common. I wanted some smaller than usually available. Communication on delivery was courteous and timely.
E HILLAN :
very pleased. will be ordering more in the near future.
C Lochrie :
Nice door, good price
C Kenna :
first class service.
J Harrison :
These doors were purchased for my rental property. I've not seen them yet but my tenant sent a photo and said they look fab!
M York :
Perfect shopping experience, quality products, quickly delivered.
R Watts :
Everyone has been very complementary of our doors and we've recommended your site and doors to number of people! Thank you.
A Locock :
The perfect internet shopping experience, product information, communication with Vibrant Doors and delivery met all my expectations.
P Smith :
Very satisfied.Thank you.
C Spicer :
Great service, product and delivery
P Allaway :
Great product and very quick delivery. All up and installed the house looks a million dollars with them. Makes all the difference Thanks
B McDonald :
An easy pleasant efficient experience.
C Howard :
Excellent customer service, we had 2 marks on the doors on delivery and Vibrant doors sorted out the problem quickly and replaced the doors.
B Aldous :
Our carpenter was very impressed with the quality of the doors, especially for the price paid. Thank you.
G Taylor :
excellent service and product. thank you!
N ILLINGWORTH :
Great value and quality.
M Harris :
I was extremely happy with your sales team, The doors were very competitively priced, fast delivery and beautiful quality. Many thanks.
K Morton :
Great product at a great price. Staff very helpful.
C Taylor :
The doors are beautiful. I had 15 oak veneer doors installed in my bungalow refurbishment. Several people have commented on the quality and price and have said they will contact you for replacement of their doors.
J Kirkbride :
Excellent friendly service, good communication about delivery delay. Delivery man was great, very helpful.
M SCOTT :
No problems. Fast, efficient
D Jenden :
Can't fault the service...keep up the good work.
M Majeerathan :
good supplier
R Sercombe :
Excellent all round service. Will deal again.
T Dowley :
Extremely satisfied with my buying experience from Vibrant Doors. Their customer service gave me accurate and comprehensive information and their prices were extremely competitive. Delivery was on-time and their packaging and carrier were chosen carefully to avoid damage in transit. A first class reliable seller.
J Higgins :
First class from start to finish. Could find no fault with quality of goods or service.
D Hardman :
Good customer service Doors are great one was faulty but was replaced very quickly Very satisfied with finished product
P Davis :
We found just what we were looking for and had excellent advice from John about trimming doors to fit our 1930s semi. Great service. Many thanks.
D Daniels :
Very satisfied.
J Bateman :
Really good service. Very friendly on phone. Very pleased with the look of the doors. Would recommend them.
J Leech :
fantastic service,knowledge of product, very helpful with any advise needed, my joiner says quality is really top notch,overall great experience,,,, many thanks
A Pritchard :
Excellent, will definitely return when we do the doors upstairs. I collected the door, but your service was great. Thanks, Alison Pritchard
L Mallon :
Excellent from start to finish - we are really delighted with the doors, they are superb quality and look great in our home, thank you
A Shah :
Very satisfied
P Docker :
Great experience throughout. The care taken in packing and delivery was superb. My 'neutral' mark for Support is only because I didn't need to call on them – I'm sure it would match the rest of their service though.
R Murch :
High quality product. Delivered promptly and a great addition to our flat.
C King :
A very good and speedy experience.
E Crichton :
Excellent customer service throughout
A Chaudhry :
Shopping has been very easy and delivery was efficient. I also spoke with your office just prior to ordering who were very helpful. I would definately use your service again. Thank you
M Gilmour :
Very satisfied.
S Parsons :
Good experience with sales staff in direct contact, unfortunate that website suggests items are in stock when they are not. would happily use again though
A Thompson :
Excellent doors. Efficient delivery. Quick to supply missing part
H Finlay :
Excellent product - a great price for such good quality doors. I am hoping they will help to sell my refurbishment property! Excellent service and technical support for my builder whilst he was installing them.
A Spicer :
Very satisfactory, would use again.
D Brown :
The staff were great, very friendly and a 'can do' attitude which is very refreshing nowadays. Delivery was a big problem, but the staff did everything they could to get them to me on time and nothing was too much trouble. They de-stressed what was a stressful problem for me. The doors were perfect and just what I needed.
S Blanchard :
a good experience. the quality of the doors for the price is exceptional
P Richardson :
Very pleased with the doors you supplied and will be placing further orders with you in the future Regards Paul Richardson
J Usher :
I still haven't fitted them yet but the product is as described, delivered on time by a very courteous man who carried the doors in for me.
K Topple :
I ordered a second door because I was completely happy with quality, service and delivery of the first one. No better praise
A McWilliams :
Very satisfied.
J Pottinger :
Beautiful doors.
S Holloway :
Will use again!
K STEWART :
Can't fault Vibrant Doors. My experience with this company has been nothing but positive. Quality of doors is exceptional. Ordered doors online and they arrived within 3-4 days. The only thing I would say is that I did request a call prior to delivery so that I could arrange for someone to be home but no-one called and it was just pure luck that the doors arrived on my husband's day off. All in all I would recommend this company and definitely use them again.
S Taylor Hilcrest Design :
Very satisfied.
J Blumire :
Door not fitted yet. Delivery driver a credit to himself and his company.
S Rue :
Excellent value for money and vast choice of doors. Frosted glass excellent.
J Jeeves :
Excellent doors for an excellent price! And good service too!
S Kingston :
Very pleased with finished product.
N Harness :
Excellent, very straightforward, delivery exactly as stated. Would happily recommend to others.
E FOTHERGILL :
All round an excellent service.. thank you.
Z Rae :
Really pleased with the door. Great quality, great delivery and great value. Everyone says "Oh I like your door, where did you get that from". Thankyou
J Peat :
The doors I bought are good quality and fitted in very well, the delivery was quicker than expected.
J Henney :
Look lovely, took a little time to understand as frame bigger than needed, however got there in the end. Great quality Thanks
T Churchill :
excellent service, good delivery time, easy to fit, well made and looks good. very pleased with the doors.
C Attwood :
Excellent product, excellent price and good, helpful staff.
J Platt :
I am delighted with the doors I received. Brilliant quality and I will definitely use you again in the future. I will highly recommend you to family and friends. Many thanks julie
S Culliford :
Very satisfied.
P Banyard :
easy and efficient
C Trevelion :
Many thanks great allround service
K Keene :
efficient service and good products
C Bell :
Excellent well done very happy with my doors and a lot of people comment on how nice they are
k mackenzie :
First class service would defiantly recommend
A Pacitto :
Very good. But not suitable for d.i.y. but as a tradesmen was not too much of a problem. Good quality doors. Thankyou. If only you did bi folding internal doors with clear glass would place another order. Andy (A.M.P. Builders)
P Harnett :
An easy and efficient way to purchase doors.
R Dawson :
cannot fault the service , price or delivery - more than happy , will return in the near future for more doors
A Balch :
Very good overall, nice product efficiently delivered.
S Patel :
Good Service, excellent promise to the delivery dates
C Spacey :
Very happy with the doors, particularly as this seemed to be the only company that did the sizes we needed. Good communication and very helpful on the phone before I placed the order. On the whole, would use again, but perhaps the delivery service might be improved in terms of checking for damage before despatch and again on delivery. We could not afford the time and hassle of trying to return just one door, as the joiner was booked to work on the doors the following day.
Our Response...
Thank you for your feedback. We would like to apologise on behalf of the couriers on the way your delivery was handled, we put a lot of trust in to delivery drivers to handle the goods with due care and attention.
We are however very happy that you are pleased with the product and the way the team here handled your order.
K Downey :
We are delighted with our beautiful internal doors, and would highly recommend your company to anyone.
A Hardy :
Beautiful Doors. We bought 4. Each individually wrapped. Service excellent. I needed technical advice before purchase and got the answers I needed. Nice phone call after order placed to check proposed delivery date would be OK. Happy all round. Thanks very much.
K White :
I was contacted and updated on my order. The doors look great and are good quality. Best value on the net.
W Mckeating :
Excellent service and quality of products. The delivery driver could not have been more helpful.
F Walker :
Couldn't be happier! Superb.
A Turner :
Very good service, did have some issues which the team sorted out with excellent communications. Doors are great value, quality and construction. Would use again
D Harding :
The original delivery was short of one part. This was provided later after a phone call. So bad was not a complete shipment, but good was that this was corrected quickly.
E Carrieri :
Brilliant service! Ordered door which was wrong size had instant refund! No problems! Excellent customer service! Would strongly recommend!!
M Shaw :
product as described. Prompt delivery
R Charles :
The whole process was excellent. The doors are exactly what we wanted and suit perfectly. The only issue was that I missed the comment on the web site about the doors not coming with handles. This was my mistake, but perhaps it could be a little more prominent. In addition you may want to offer handles as I still haven't chosen any - I am looking for something that is flush - I don't want to match others in the house - so this may be a good opportunity for you.
D Holroyd-Doveton :
Vibrant doors were very helpful when the first set of doors delievered were not what we ordered. They arrange for them to be collected and the correct ones delivered at the same time. They look lovely now that they are up and really finish the room just how we wanted. Thank you.
H PATEL :
VERY GOOD SERVICE
Caroline Barnes :
doors, delivery etc - all very good - telephone communication not so great -bit 1980's !
Duncan Lawton :
Great products at good prices delivered quickly and on time. Will recommend Vibrant doors to anyone.
R Burden :
Extremely good, I have never had such rapid response to my queries. My only comment I would make about the doors themselves is size of some of the components in particular the bottom pivot bracket fixing nut which extremely small and requires a weak pressed spanner to tighten which must be done at an angle.
J Fleming :
will use you again
D Martin :
Very good product, would certainly recommend to others. Only problems I had were with the extremely poor printing of the instructions. Better to throw away the supplied set and print a set from the webpage. Other than that very impressed.
K May :
Good quality doors sold at a competitive price, delivered on time as promised. Even phoned to ensure the delivery date was convenient for me.
M Leonard :
I have to say that your delivery man was excellent, helpful and very friendly, happy to,put doors just where we wanted them. The doors are excellent can't stop admiring them and as I saved about £50 per door over a local supplier, who also wanted a delivery fee, I am more than happy.prompt response to my question about trimming them, all round, an excellent experience, I would recommend them to anyone. A big THANK YOU !
L Watkins :
Would recommend you to friend lovely doors very pleased .
N Griffin :
Great door thankyou
J Amabile :
Very impressed with the very quick response and correction to my complaint about damaged doors. All involved, Producer, Agent and Delivery agent all responded quickly and kept me informed all the way though with new doors and collection of damges being done in 36 hours. It is good to see that service is of importance to you. Thank you. J.A.
A Granlund :
Excellent service
J Robin :
Fast service excellent advice you had the doors I needed in days when others quoted weeks and twice the price
M Potter :
Very please with the product. The fitted perfectly!! Thanks
V Parry :
Very easy to negotiate data regarding product requirement. Courtesy call to confirm delivery date and time on completion of order. Delivery on time and items securely packaged and in good order will return to Vibrant Doors as top of my list in the future.
S Johnston :
Very satisfied
G Jackson :
Quick and easy from ordering to delivery. Very friendly staff. Thank you.
D J Clark :
The support I got off the team was tremendous. A couple of problems were sorted out in a very professional manner and extremely quickly. Recommend other to use as I certainly will. Dave C
T Madden :
Very easy to order. Exactly met my needs and communication was ok
C Chapman :
A very straight forward experience
N Lloyd :
Great doors and service. I ordered the wrong size for one of the doors and a replacement was delivered within three days excellent service.
P Coler :
I spoke to a really hepful guy, who kept me up to date about the availablilty and delivery of the door, my door style had become obsolete, so he sourced a similar door and had it delivered as soon as poss. Thanks a lot Nick
G Talbot :
Very efficient customer service. Delivery team kept me informed & were right on time. Door are brilliant value & very good quality for the money. No problems recommending vibrant doors to others.
R Thompson :
Very positive
S PAYNE :
All in all very good the only complaint is the sticky plastic on doors absolute hell to remove!! They have come up very well considering our wonky floor .
S Halford :
Very competant service. Receiving goods by delivery undamaged is rare these days. ordered 5 doors , very well protected and no damage at all. good product. will use again
C Minshull :
Very pleased with the doors but free delivery wood have been very nice
Our Response...
Thanks for your feedback. Whilst all our deliveries are free on orders over £750, we clearly state our charges for delivery below this. We appreciate you are very satisfied overall, with the service and product, and we still hope that the doors (including the delivery charge) were still very competitive as a total delivered price.
A Coaten :
Good all round service
D Parslow :
Good service and price - same door in Screwfix is £600 more. Couriers delivered a day earlier than they booked though so good job I was in.
A Morris :
extremely good and have already told friends for future use.
S Tolley :
Overall a good experience particularly when I had any issues or questions tom that I spoke to was very helpful and prompt
W McFadzean :
Thanks folks will use you again
G Walker :
Helpful advice on the phone, straightforward ordering and a really good set of doors.
B lee :
Very good and would reccomend and use again!
L Ashton :
Excellent! Have already recommended you to our friends. The whole process was extremely smooth, from ordering to the doors being delivered. The quality of the doors is fantastic! Thanks so much. They look lovely and just what we wanted (and more!) Lois Ashton
Our Response...
Hi Lois, thanks for you great feedback, so happy you like the roomfold system!
B Margetson :
The product arrived quickly. The quality is good and the Builder said it was easy to fit. There are large gaps above and under the door - I am unsure as to whether they are necessary for the mechanisms to work or whether is was not properly installed.
Our Response...
Glad the doors arrived quickly and you are happy with the quality. In terms of gaps above and below the doors it sounds like an installation issue, if you want to give us a call one of our technical team will be more than happy to give advice.
M Mutch :
Will recommend your company
R Blann :
Great value product, a small nick in one of the doors which we filled (it was already hung), instructions were clear and easy to follow and worked extremely well. The doors look great.
M Willmott :
The shopping experience was very good. I was pleased though that I had an experienced joiner to assemble my doors. They do look very good and I am delighted with them.
S Read :
Website very good. Clear product details. Ordering straight forward. Delivery information non-existent - had to chase up delivery. No apologies for delay, only excuses. Good service, once incorrect delivery had been established. Assembly and installation instructions suggested it would be a lot simpler than it was in reality. however, now fitted, the doors look and work great!
C Jackson :
great service from web site to delivery for a quality product at reasonable prices.
J Mapp :
Excellent service high quality product
N Bishop :
Fabulous doors, wish I had found you years ago much better quality than similar ones from b&q.
J Clark :
very satisfactory
P Smith :
Excellent Product at the right price and very good service overall. Thank you.
G dandridge :
Very easy to deal with. Doors easy to fit, but surprised hinges not fitted. Also frame was not primed. Client looking for a solution for handle not to protrude to allow doors to open fully. Overall very pleased
P Roycroft :
On fitting we found several of the doors were warped, not something we could tell before fitting. Luckily I had a very skilled carpenter to install them. Overall I was happy with the 'quality V price' of the doors, and they do look very good and work very well and hopefully they will last.
D York :
Would recommend this company to other people
S Dalton :
Delivery was good but several bits were missing. This was attended to promptly by John who organised the bits being sent out.
W Wood :
Quality product at a good price, service was excellent
M Smith :
I was called to arrange delivery, they turned up on the correct day, the driver was friendly, the doors had a few line marks in the white primer and i was hoping not to paint them but they will touch up. The door kit itself looks really nice, we had to sand some of the paint out of the door frame slots to make it fit togehter but overall very happy.
Our Response...
Hi Mark, apologies for the slight issue with the primed finish, we hope having touched them up they now look the part. Glad you're happy with the product!
J BLAKEY :
Excellent and definitely shop again
J Thompson :
shall definitely use you again Thankyou!
J Leggett :
Excellent all round
l Edgar :
web site easy to use , products excellent . delivery spot on , what else is there to say will use again and would recomend
R Boulton :
The fire door I ordered is fantastic quality, and really enhances our office space. I originally ordered a different door, but was given advice to go with the one we opted for - and I'm delighted we did.
P Wilkinson :
Excellant , would not hesitate to use Vibrant Doors again.
C Harrison :
We bought 2 FLB doors - Seems to be good products at a good price - excellent communication from Vibrant Doors
K Murray :
What can I say it was great!! did everything they said - the door looks fab. Will use again in the future Many thanks K Murray
T Maynes :
Vibrant doors were great but some problems with the delivery company - all resolved when vibrant doors got in touch.
J Smith :
This was a very easy purchase , the website was easy to browse and contained all information required. The product was exactly as shown and of good quality and value for money. Would thoroughly recommend this supplier.
M Slattery :
Very good, when I rang up to find out when the doors would arrive the man I spoke to was very helpful
N Walker :
Easy to use web site.Product was exactly as described.Delivery was straight forward.Overall a perfect buying experience.Thank you.
Graham O :
Great doors, great price, great service , and fast delivery, highly recommended.
Our Response...
Thanks Graham, glad you were happy with the product.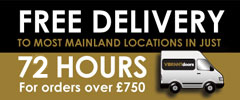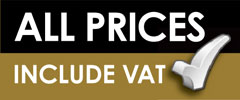 Related Information