LPD NuVu Oak - Prefinished

44mm Fully Finished Doorsets
These Oak French doors are the perfect option to add style to your home, at a price that cannot be beaten. The modular NUVU Oak Patio doors are manufactured using a high quality Oak veneer that gives an outstanding appearance and delivers on performance. Whether you are looking for a patio door to install in a new build or refurbishment project, these oak French doors are the perfect solution. We supply patio doorsets in standard brickwork opening sizes, which will to suit most projects.
Reasons to buy:
Fully Part L and Part F compliant in accordance with Building Regulations
Attractive design that will fit with both a traditional and contemporary style home
Multi-point locking system for complete security
Supplied fully finished - sprayed with a tinted lacquer to give a striking finish
Standard sizes that are available from stock
Continuous Head and sill on vestibule frame options
These modular french doors come with premachined flat pack frame, hardware pack, and premachined doors ready for immediate installation.
* Please note vestibule frame options are supplied with universal frame packs and will require cutting down on site to suit the sidelight sizes.
Additional Documents / Fitting Instructions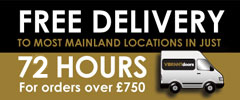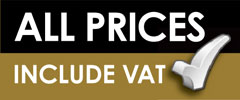 | | |
| --- | --- |
| Model | 1200mm (4ft) French Doors |
| Product Size (WxH) | 1190 x 2090 |
| Brickwork Opening Size (WxH) | 1200 x 2100 |
Only £849.00 Find out more and buy
| | |
| --- | --- |
| Model | 1500mm (5ft) French Doors |
| Product Size (WxH) | 1490 x 2090 |
| Brickwork Opening Size (WxH) | 1500 x 2100 |
Only £949.00 Find out more and buy
| | |
| --- | --- |
| Model | 1800mm (6ft) French Doors |
| Product Size (WxH) | 1790 x 2090 |
| Brickwork Opening Size (WxH) | 1800 x 2100 |
Only £999.00 Find out more and buy
| | |
| --- | --- |
| Model | 2100mm (7Ft) - 1500 French Pair + 2 x 300 sidelights |
| Product Size (WxH) | 2090 x 2090 |
| Brickwork Opening Size (WxH) | 2100 x 2100 |
Only £1,529.00 Find out more and buy
| | |
| --- | --- |
| Model | 2400mm (8ft) - 1500 French pair + 2 x 450mm Sidelights |
| Product Size (WxH) | 2390 x 2090 |
| Brickwork Opening Size (WxH) | 2400 x 2100 |
Only £1,599.00 Find out more and buy
| | |
| --- | --- |
| Model | 2700mm (9ft) - 1500 French Pair + 2 x 600 Sidelights |
| Product Size (WxH) | 2690 x 2090 |
| Brickwork Opening Size (WxH) | 2700 x 2100 |
Only £1,709.00 Find out more and buy
| | |
| --- | --- |
| Model | 3000mm (10ft) - 1800mm French Pair + 2 x 600mm Sidelights |
| Product Size (WxH) | 2990 x 2090 |
| Brickwork Opening Size (WxH) | 3000 x 2100 |
Only £1,809.00 Find out more and buy